Dear readers,
First and foremost, please apologize me for not updating this blog with interesting things ! I know that Ive neglected this blog for ages !!! Im so sorry for that.. Im sure you all know that all moms are busy ! ;D I dont really have the time to be an active blogger ever since I become a mother, but at least Ive tried to post pictures of my recent works on my clients here n of course in my FB page. Hope that doesnt stop you all from stopping by once in a while ! TQ, really appreciate if u r still coming back to check whether Ive posted something here ;)
Actually I have lots of things to share, and that 'lots of things' already become outdated haha. Im not a good writer and ... Im just lack of ideas to write.. sorry if you find my blog bores you ;( I prefer something that is less writing and more pictures, thats why I love Instagram now ;) If you are interested to follow my activity, you can find me on Instagram ! Im quite an active Instagram user ;) You can search me under the name annaismail, Ill be soo happy if you can be my follower on IG ;)) Im sure not all of you can access to Instagram via phone,so if anyone would like to view my instag photos in my blog, please respond in the comment box !
Ok enuff babbless ...
Here are some pics of the make up looks that I did a FEW MONTHS ago, cant exactly remember in which month ;p LOL. I've already uploaded 1 picture in my FB page and promised to reveal all the products I used in my blog a few months back .. so here it is .. sorry for the longgg delay (ni pun curi masa sikit suruh my hubby jg baby ;p)
Tools n Make up stuffs to achieve the look! Ive been loving Nars ever since I bought some of their products via my internet friend, last year in August ! I planned to blog about the stuffs and was so excited to share with you guys before, but I couldn't ..since there was no Internet access at my parents house in my hometown.. I was in my confinement at that time, back in July-Sept 2011.. Its been almost a year.. if anybody interested to see my Nars purchase ? let me know ! Ill try my best to review 'em in my upcoming post ;)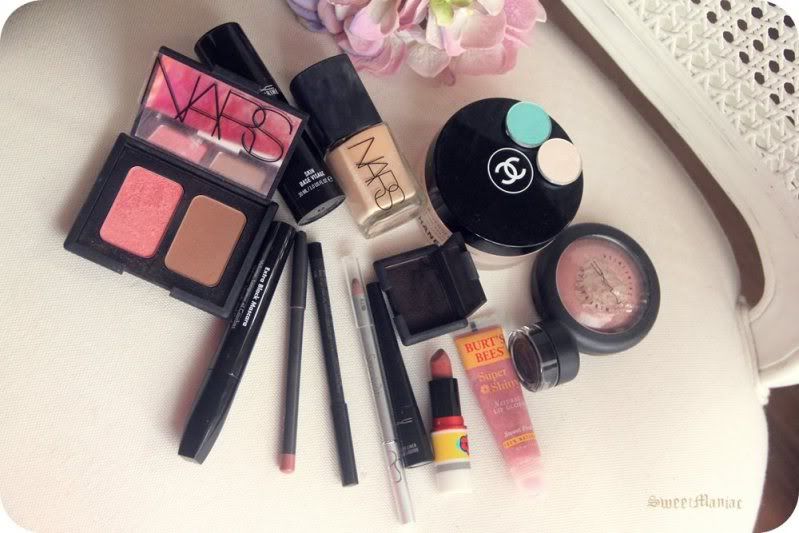 more Make up stuffs pictures .. because I Love taking pics of 'em !
For Face make up
Prep n Prime Mac
Nars Sheer Glow Foundation - Punjab ( In LOVEEE ! )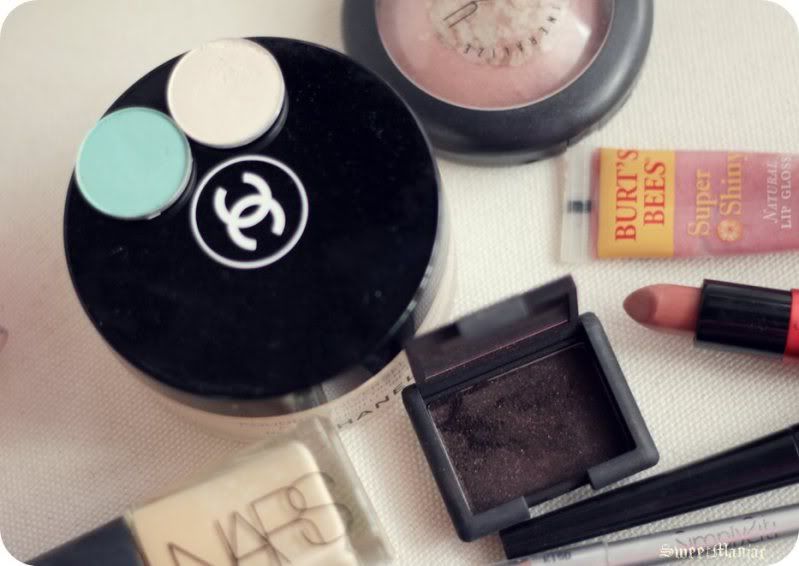 Eye Make Up
lid: Mac Haunting
crease: Nars Mekong
browbone: Mac (cant remember the name) , but any highlight colour will do
bottom eyes: Black eyeliner and smudge with Nars Mekong
Eyebrows: Simplysiti ! ( pretty cheap great eyebrow pencil , great colour suitable for asians with black hair) Im lovin' it !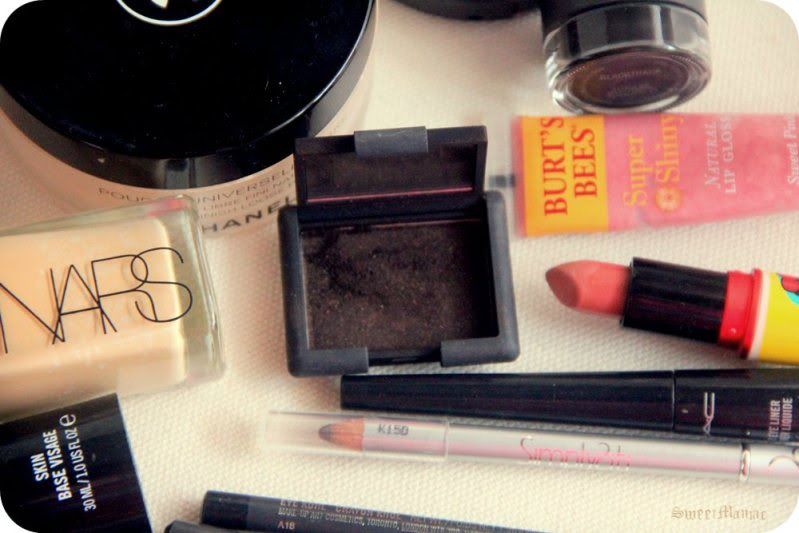 Lips:
Mac spice lipliner
Mac Mocha lipstick
Burts Bees lipgloss in Sweet Pink on top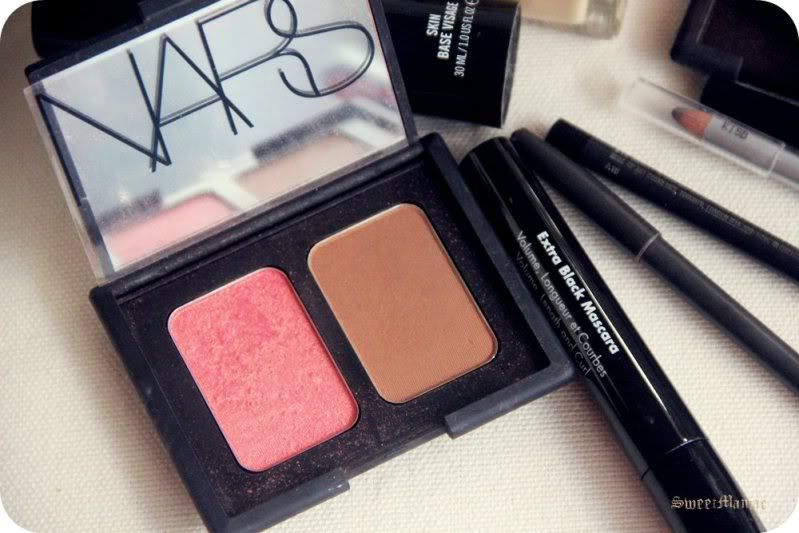 Contour and Blush:
The duo Nars Blush bronzer : Orgasm n Laguna (Deeply in love with Orgasm Blush)
Here comes the Full Look ! The pictures were taken in a dark room, hence the poor quality and lots of flash !! But the good thing is, you can see how beautiful the blusher and how lovely n dewy the Nars sheer glow are when they catch lights !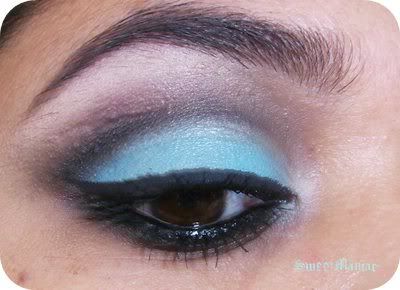 Work in progress... need to blend blend blend some moree :D
Pics of me n my baby. He's already 10months + now ;)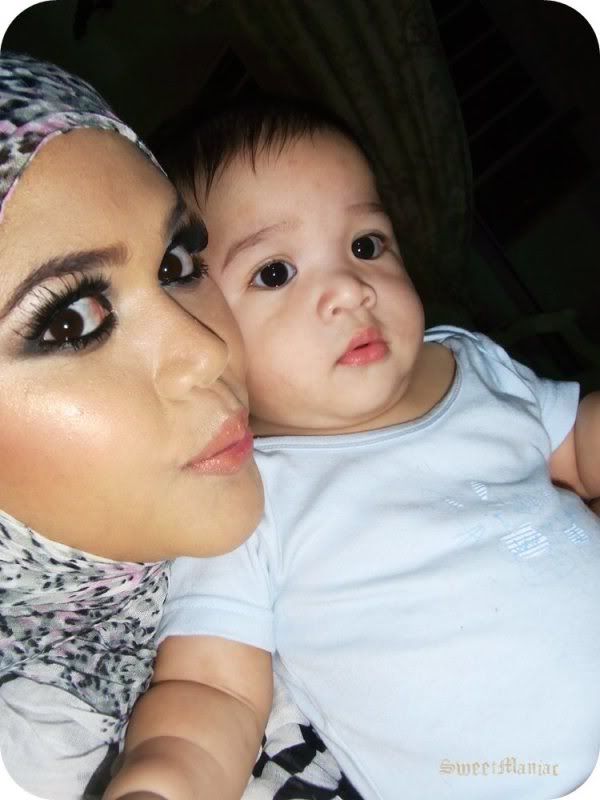 Duck Lips .. wooo
So you see.. too much flash really affect the way your make up looks in pics... natural looking pictures n beautiful makeup looks best with great lightings! and the best is captured under real lights ( during the day)
And last but not least... the pic that Ive posted in my FB page a while ago ! this was taken without flash under yellow light ... I had to crop this since I was not wearing my hijab.. but I kinda like how I look in this pic *wink*
Ok, that's my update for tday. I hope its been useful for you. Have a great day ahead ! TQ for dropping by ;)