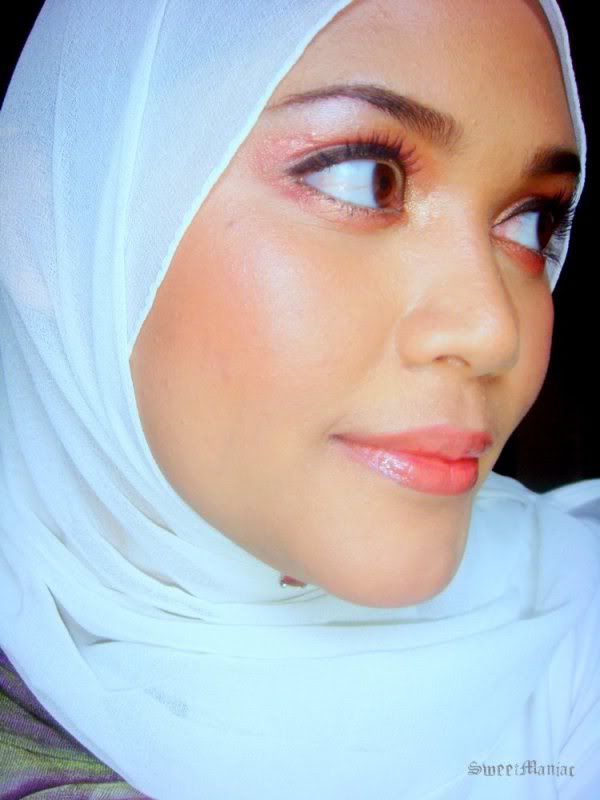 Simple Daily make up ~ coral looks using Revlon Photo Finish Foundation (Natural Light + Flash )
I was super excited to try this out coz I need a foundation that will give super gorgeous look in photos, hence the name.. Revlon Photo Ready. Plus, people been raving about this product coz it gives the similar performance with high end foundation, so thats the reason I bought this.. to experiment and compare with what Ive tried. Honestly, I find this to be great for daily use coz it makes my skin Glow. This is maybe due to the tiny shimmers in it. But from what I have encountered, I dont think this is overall good for those who have oily/combination skin like me. It makes my face so terrible looking in photos !! Unless you snap your pictures in great lighting (Day light is recommended for a flawless and smooth effect).


There are only 4 available shades selling here (except Nude) , and I bought the shade Golden Beige. I find this to be not a 100% match for my skin tone .. but Cool Beige is too pale for me and it looks very ashy when applied to my skin. Cool Beige is suitable if you are fair and you have a cool undertone (more pink than yellow). If you are not too fair or too dark go for medium beige, whereas, if you have slightly tanned skin, caramel suits you best !
Let me just summarize the good and bad sides of this foundation:
- The price is not bad at all. RM54+ ( I got this on sale at watsons). Normal price is RM60+
- It gives light coverage, in other words.. its just like a tinted moisturizer to even out the skin tone but does not cover any of my blemishes at all ! Its great for daily wear, though (coz you wont probably want to spend so much money buying expensive products for daily basis) .. and 1 more thing. I dont even give a damn to hide few blemishes on my face when I go out leasuring . Its normal ! So, Im okay with the coverage this foundation give.
- The bottle is nice with great black cap and pump is included ! 1 pump is more than enough to cover your whole face
- It doesnt give a smooth finish. Captured using flash + micro setting. about 2 inches from my face. LOL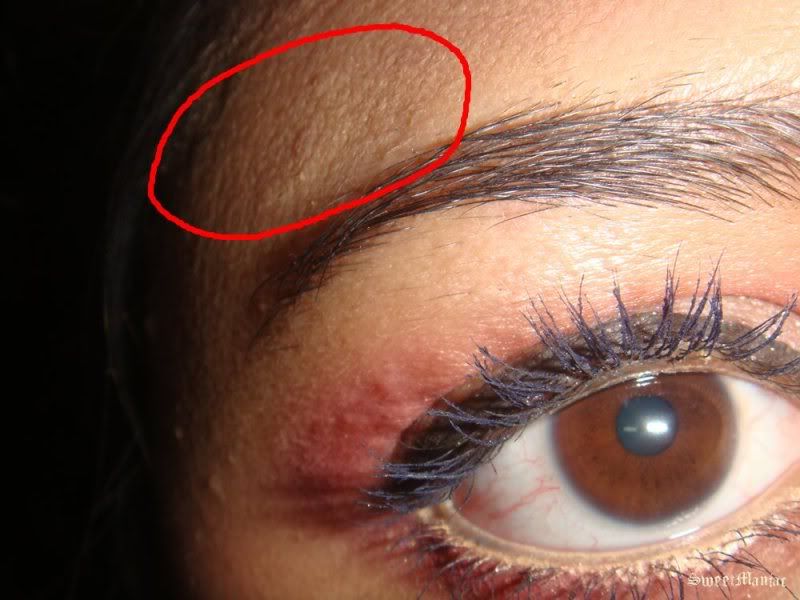 - Very low intensity so, I just use my fingers to apply this all over my face, but It does appear blotchy /uneven on some part after it is set with powder ;( I'd say this as very hard to blend.
- There aren't so many shades available. Thats the disadvantage of buying foundation at drugstores.Avoid this, if you have more budget on foundation n powder. ( For me the only product safe buying at drugstores are mascara, eye shadows, lipsticks n gloss ... and the pencils for brows/eyeliners/lipliner)
- It doesnt last longer... appear darker after 4-5hrs. I conclude that, this foundation tend to oxydize very fast! Maybe the use of fixing spray can help it stays longer. But bare in mind that, some fixing sprays will help oxidation process happen faster.
- And last but not least, 1 SERIOUS problem occured after a week testing this product. Im suddenly starting to get PIMPLES growing on my face .. A LOT OF IT, BIG !! and some area seemed to be like rashes or something .. (some part drying). I noticed I get spots on the cheeks too which is rarely happened to me. Im not sure whether this is due to the foundation, but I never encountered any problems with any foundations before. Its very dissapointing ! I have stopped using this.I usually will not buy anything that gives me skin trouble so I would resist trying/buying this foundation again.
So, I conclude that. This foundation is not for oily/combination skin. Avoid this if you have very sensitive and acne prone skin. Maybe it works just fine for those with dry/ spots free/scars free/blemishes anything but its really not for me. So, have anyone tried this foundation ? What say you ?
I have lots of work to do ! But let me end this post for t'day with a few other makeup looks that I did a week ago + list of products. I hope you benefit something from this!
Revlon Photo Ready + Chanel Natural Finish Loose Powder
Tenderling Blush (MAC)
Eye Makeup:
Nanogold all over lid to browbone... and Paradisco+ Hot Hot Hot on the crease
Blue Denim Mascara ( Extreme Party Mascara~ Bobbi Brown)
Eyeliner ( Blacktrack Fluidline~ MAC)
Ok guys, Ill be back with more updates on my cosmetic hauls and reviews ! Come back soon ;)