Hello Everyone ! Hope you r all having a great week ;) Im sorry for my dear embroidery lovers out there. I havent updated about embroidery for sooo long ! I've got so many orders, Its just that I dont have the mood to embroider these days.So, I dont have much to share with you ;( Anyhow, Im not gonna turn this blog into a totally Makeup Blog.. no, I wont ! I will share anything that I enjoy doing in this blog, no matter what. Hope you guys enjoy visiting my blog (Well at least you enjoy viewing the photos .. I know some of you are too lazy to read .. hehe. fine with me .. coz I know that my writing is horrible. LOL )
Well, back to this embroidery thingy ... One thing that you people should know is, embroidery is a good stress reliever, believe me ! I feel so calm and relax inside when Im embroidering. In the old times, I was so addicted to this ! It used to be when I first got up in the mornings I went straight up to embroidery before anything else. Everyday was a must for embroidery, even just for 10mins doing it. I felt so relieved . Well, If I've never mentioned before.. I started learning doing bullion embroidery 10 years ago. It started as a hobby but slowly turned into a business, since a few years back.. the embroidery hijab trend was so in demand. I still believe that this "voile" head cover is gonna be all time fav. hijab because it feels so comfortable wearing it + the best material for embroidery! Very English look which I really loveee ;)
So, anyway, enough babblings for now ! hehe.. Though I dont have much recent embroidery works to be shared here....I dont wanna dissapoint you guys. Im gonna share a few of my personal hijabs collections which I embroidered 3-4 years ago ! They still looks NEW and the swarovski crystals still well attached to the embroidered pieces ! Worth the price and the time doing it ;)
Sadly to say, I only have a few pieces in my personal collections, and Im gonna show you my most fav. ones ;( Even my MUM got more of my handiwork hijabs than me *sobs*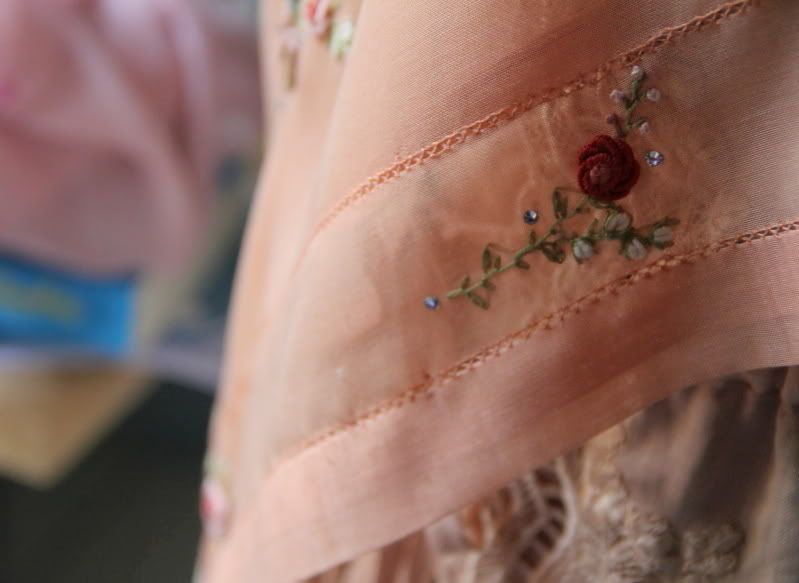 This is gonna be my first and the last double "hem-stitch" that I did on a hijab, seriously, it was like doing on 4 pieces !! So time consuming.. I received so many compliments on this, though... and many people asking me to buy this from me. I said "NO WAY!" hehe ..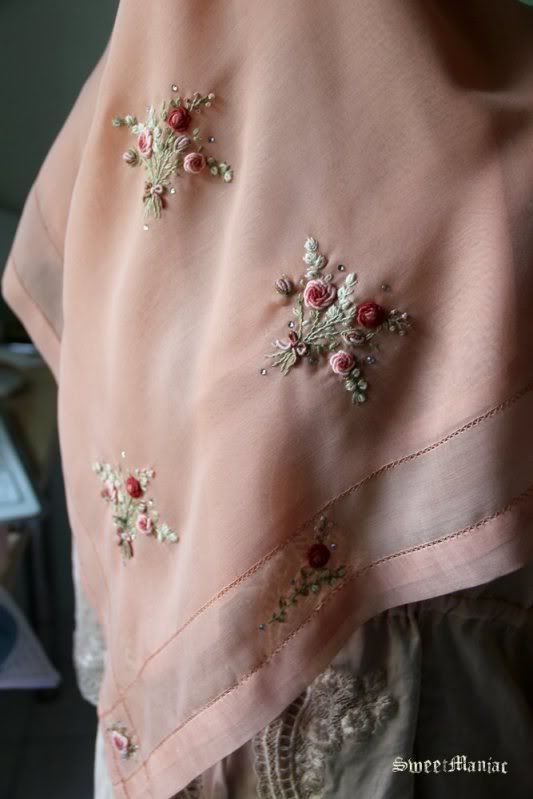 If Im not mistaken, It took me about approximately two-three weeks to finish up the piece.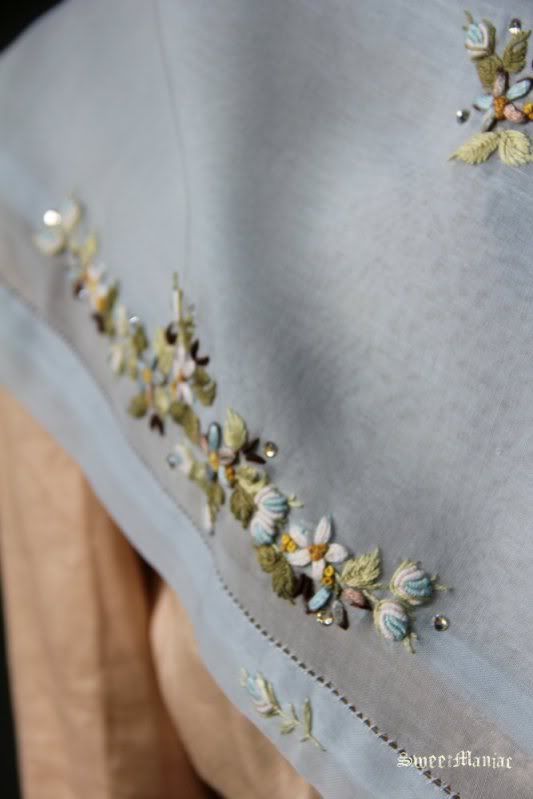 A combination of apple blossoms+ rose buds on a baby blue voile.One of the hardest and longest time to finish !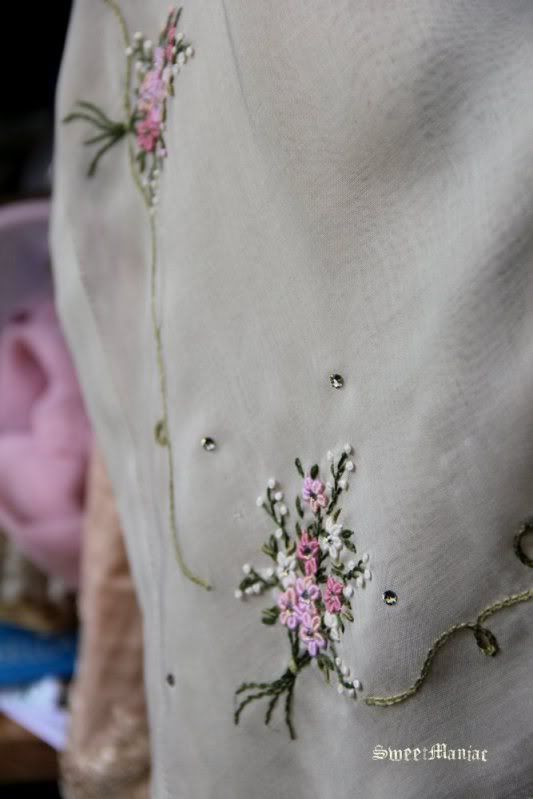 Colourful daisies with chain stitch rope on a light green voile.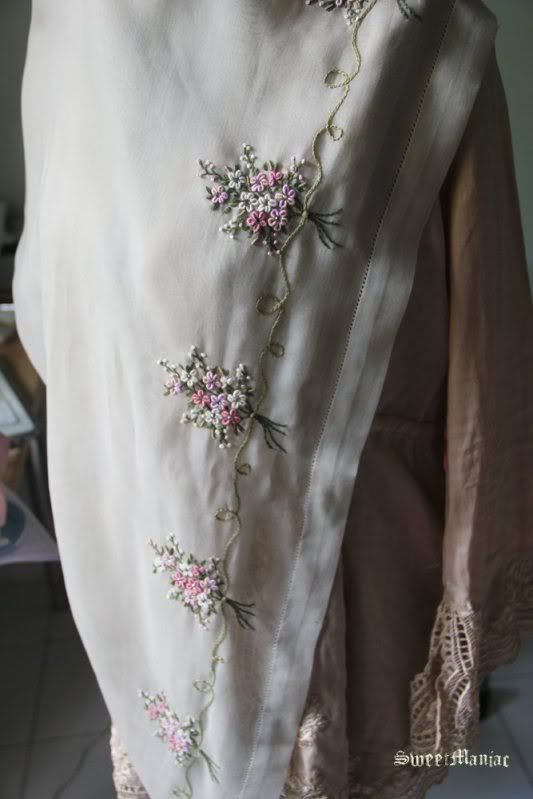 This is my most fav. hijab.. I love this pastel green voile, it matches with most of my shirts and kurung ;)
Pastel Pinky Rosebuds ... the most easiest and simplest one. I did this a month ago for Eid'10 ;) Oooh I was damn busy during the fasting month.. so I chose this pattern coz it only took me a day to finish it up!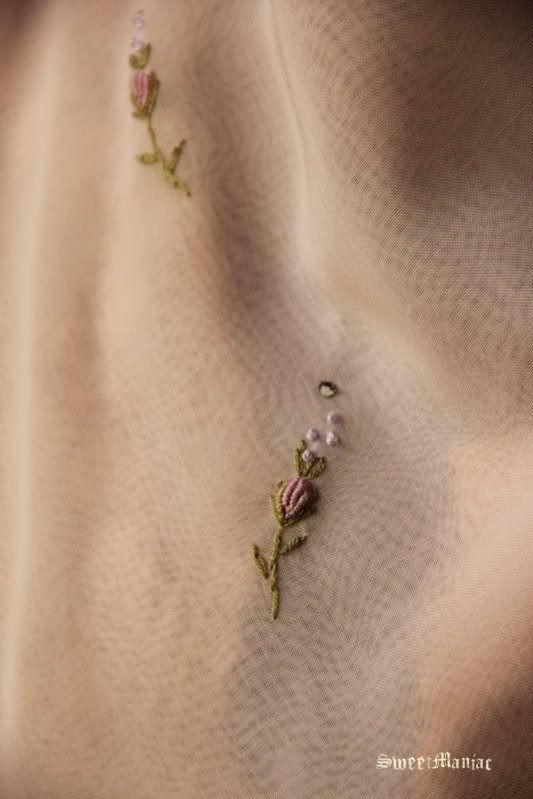 I love simplicity. So this style is the one that I feel comfortable wearing for daily outing.
Here are a few photos of hijabs that I did for my customers during the fasting month...I was able to only work on 2 hijabs, lol .. the one that I already sent to the buyer.. and the other one is still in progress ! eww. my bad.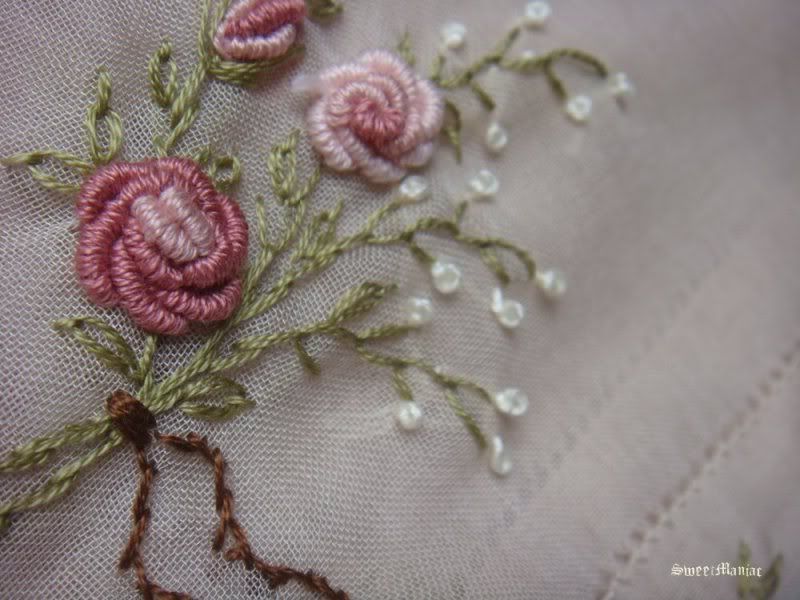 dusty pink roses on a cream voile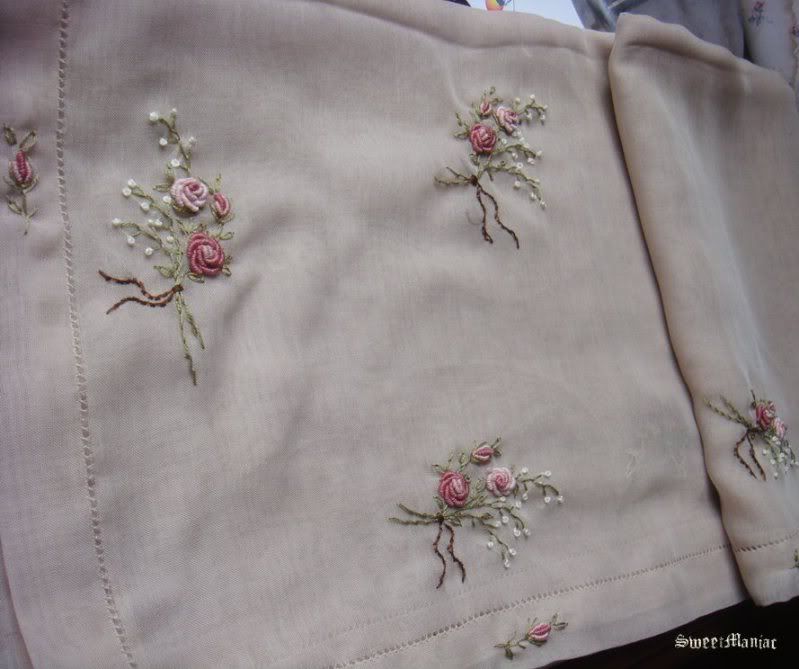 ....
...
.
and this one is similar to the one that I've already posted in my previous post... the same colour of voile but slightly different colour of embroidery pattern
still working on this ...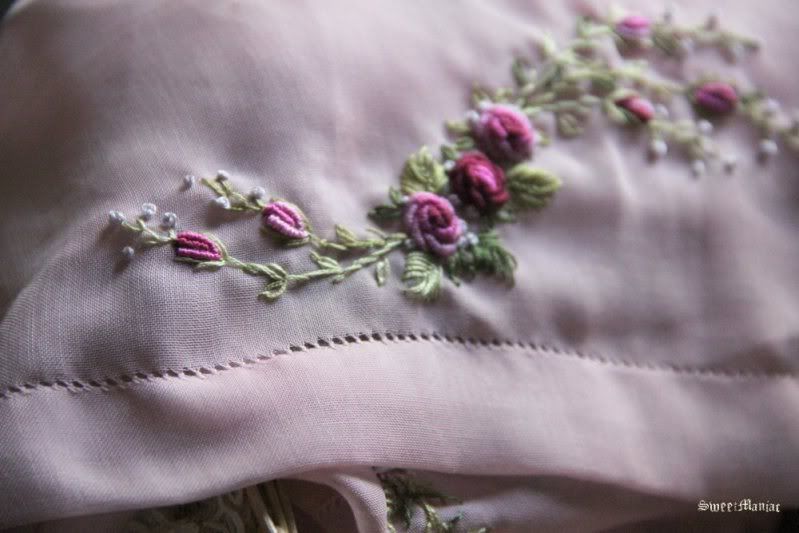 Hopefully, I can finish this up by tonight !! stresss
Ok I think thats all for now. Hope you enjoy viewing the photos ;) Have a great day ahead ! xoxo