If you are looking for a perfect lip colour that feels like not wearing anything on your lips , this is the one !! Oh this is my new LOVE lipstick ! love the scents (It has very soft vanilla roses and fruity raspberry scents .. but I feel like it has slightly a scent of paper too , haha weird.. but I love to smell certain papers, for real ), , the black packaging looks pretty smart, the embossed chanel initials on the lipstick is a fab thing, long lasting , very light weight formula so it applies smoothly, doesnt dry up my lips coz the formula contains a compound called Hydratendre Complex to soothe and soften lips. The moisture is not sucked up by lips even after long hours of wear .. well everything is perfect! I feel like collecting a few more colours from this range.. but not at once for sure ! Its pretty expensive for a lipstick but worth the investment ! :)
Lets compare Coco Rouge with my other fav lipsticks.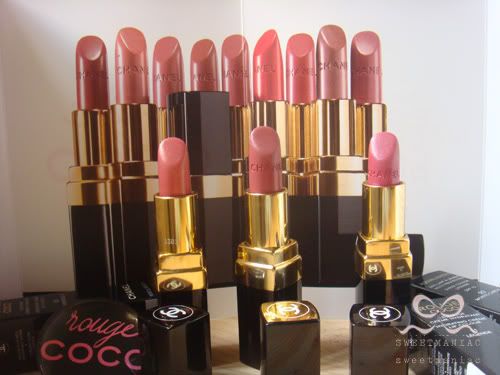 1 Aqualumiere which was given to me and 2 Rouge Coco


Coco Rouge
NET 3.5g / 0.12 OZ
~ Hydrating Creme, sheer to intense finish RM95
Mac Lipsticks
NET 3g / 0.1 US
OZ
~ (Many types of finishes) Price: RM63
Bobbi Brown Rouge
NET 3.4g / 0.12 OZ
~ Creamy and Semi Matte,impart very good coverage RM70
Bobbi Brown Pot Rouge
NET 11mil/0.3fl.oz
~ Cream-based formula which is great on both cheeks + lips.. very sheer and stained finish RM95. worth buy coz it can be used for 2 diff applications.
So among these three .. of course Chanel is the most expensive but you are getting a different feel, i guarantee! I like Bobbi Brown ranges too coz it has more earthy natural colour ranges which I loveee so much ! It has many selections of pink/peach brownish colours gret for rosey looks ! While MAC has more variety of colours and different finishes to choose from. Besides, the price is affordable yet the colour ranges are more FUN to play with :)
The swatches, Mademoiselle 05 is the most popular colour in Chanel's Coco Rouge collection which Vanessa Paradis is wearing (according to source from an article in a magazine)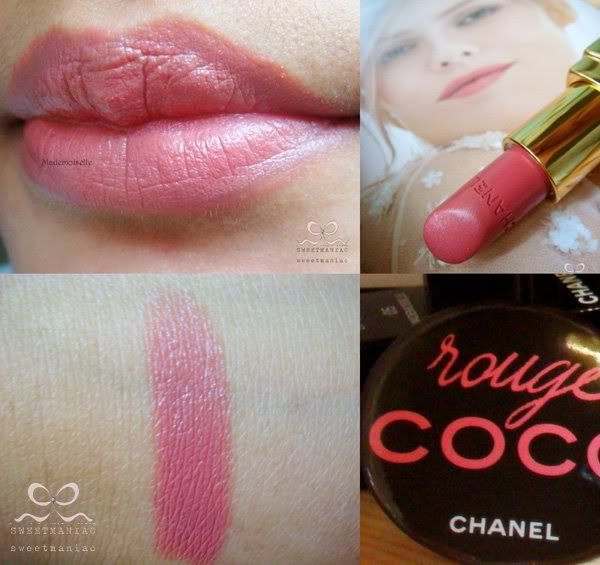 This is how Mademoiselle looks on my lips. It is a pink colour with a hint of brown (creamy rose colour) which is supposed to be flattering on all skin tone ! I would wear this shade during the day .. very natural colour but also suitable to be worn during night time.. and I must say it compliments smokey eyes too ! esp. brown smokey eyes :) It looks pretty matte .. so add up a tiny bit of gloss on top for a glossy look
L-R: Mademoiselle, Tulle Brown (Bobi Brown) , when I got back home. I found these two are quite similar... hmmm. Its a great dupe if you are looking for cheaper price lip colour. This is my no #1 fav. so far among all other colours from this collection.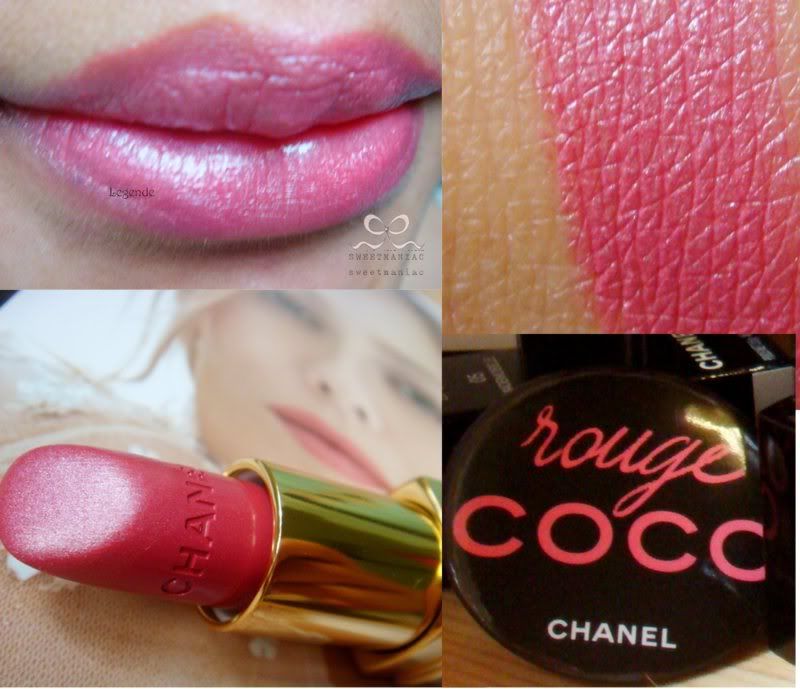 Legende is a more pinkish, doesnt show up really matte compared to Mademoiselle.. it has slight shine ... more to fuschia colour but not too striking. For me its pretty natural too and can be worn during the day
Aqualumire~Monte Carlo ( Which I got for FREE :p) is pretty sheer .. its like just applying gloss but of course not feeling sticky at all. Its a light coral colour with some gold sheen but not too frosty. Perfect for daytime. Aqualumiere is great for dry lips as well , very moisturize, not creamy, it applies smoothly. I love this lipstick and the colour too.. is amazing !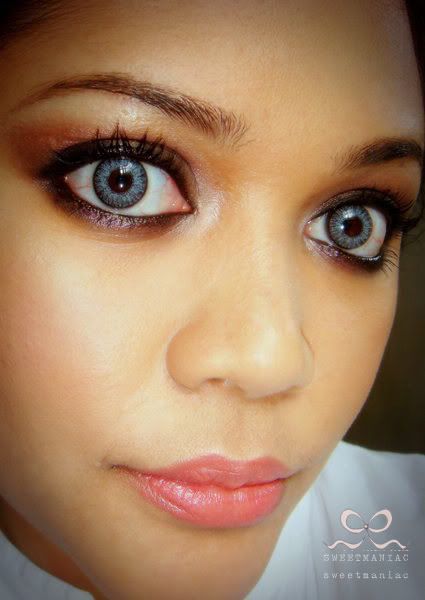 My daytime look wearing Mademoiselle under yellow light with flash
Under natural light without flash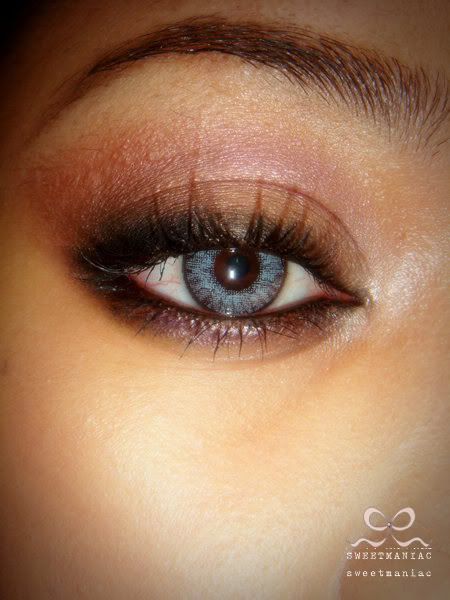 Close up eye make up , suitable for daytime.. very natural brown, black smudgy eyeliner and I blend a lil bit of purple colour so that it doesnt look too boring with just brown eyeshadows. This make up would make the grey eye colour pops out.
p/s: Crazy over Mademoiselle... at the moment, this lipstick is what I always carry in my handbag whenever im out anywhere :)