MAC has launched creme blushes for Spring 2011 and they are already in stores worldwide ;) I believe some of the blushes are repromotes from the LillyLand collections which was released early last year in 2010, and that was being called BlushCreme. From the reviews, the cream blushes this time are more sheerer and lighter.
The blush display at mac stores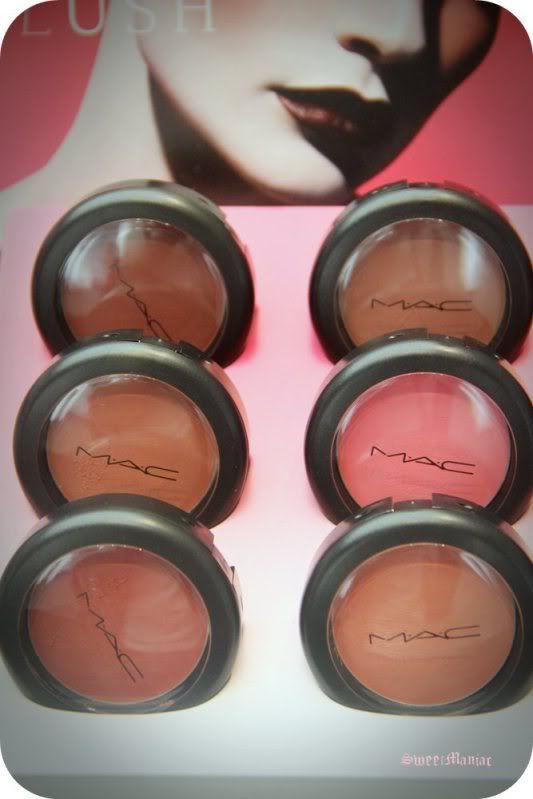 Good news is, these blushes are going to be in their permanent line.. so, no rush ! I managed to get all of the blush swatches and had picked up two of them for myself ;) I can say that I loove the creme blush coz it gives a natural finish and can be built up whenever I need them to be more intense on the cheeks. It suites dry skin (my skin got dry sometimes), I love applying it just after my foundation, dot small amount on the apples and blend slanted towards the temple (coz ya' know, I have a chubby face, so thats the trick to make your face slimmer) ;p and sets them with loose powder. It gives you a hint of colour just like you pinched your cheeks, Wallah ! As stated by MAC :
" A blush that manages to make a simple blush state-of-the-art. Creamy, easy to blend medium coverage formula imparts a natural finish that's smooth, dewy-fresh, long lasting"
So, these are the swatches for all the CremeBlend Blush
All the swatches taken with flash
All the swatches taken without flash straight from the counter ;p
As seen above, the CremeBlend Blushes are the following:
So Sweet So Easy -
Bright Yellow Pink
Brit Wit -
Dusty Rosey Mauve
( I think this one is more suitable for face contouring )
Lady Blush -
Warm Neutral Coral
( A creame version of Instant Chic Blush)
Tea Petal -
Mid Tone Reddish Brown
( Also best for face contouring)
Something Special -
Light Coral
So, among those six ! I tend to pick up these two first for my collections ...
Left: Posey, Rightt: LadyBlush
And I have no regret buying these two colours coz there are gorgeouss ! ;)
This CremeBlend Blush is best applied using your fingers if you dont have any synthetic brushes .. or I normally use #130 brush (A mini stippling brush) the best for applying creamy/ liquid product either blush, contour creame or foundation. This is one of the best brushes I ever used ! Lovee it ;)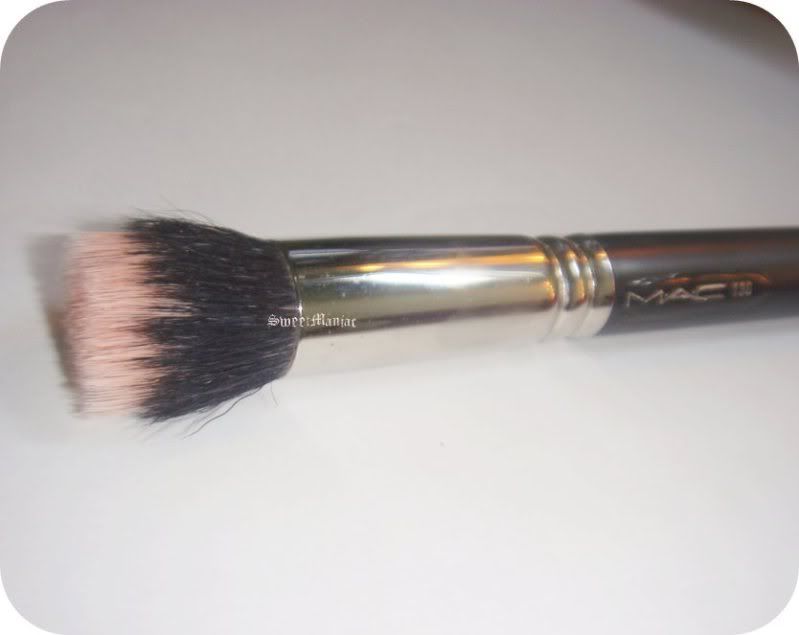 Please excuse my dirty brush ;D
So thats all for now, till then. I will post up my Wonder Woman hauls in my next post. Please keep coming back will ya !