Hi my dear readers ;)
Its been a looooong time since I last post my FOTD look in my blog. Its due to lotsa works to do at home + laziness for sure. I did this look last week but havent had the time to post it earlier. Actually there were lots of pictures to resize and crop because I took a step by step picture tutorial to achieve the eyes ! Oh my it was really a hard time, coz I had to hold a camera in one hand and the other is like acting on what I did step by step, it was really freakin' time consuming ! This is actually a classic smokey eyes using one main black eyeshadows but it is still wearable. I would say that I only would wear this as night make up /dinner make up coz Im not a make up person... for daily, I normally do foundation + powder, blusher and just lipcolour ;)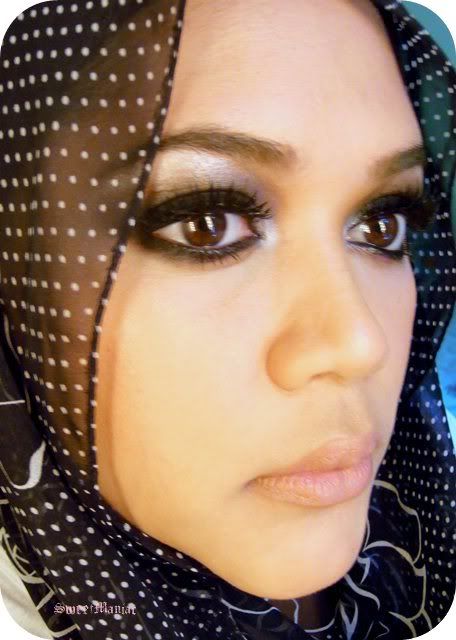 Unflash version
I've received a few emails and if im not mistaken there was someone who dropped a comment asking me to show how to use only one black eyeshadows. Believe me its not difficult at all, in fact this is the easiest eye make up to do. Many make up artist likes to do this kind of eye make up, coz its simple, suits most of eye shapes and skin tones, but gives big impact provided that you use the right techniques and tools to achieve a tone like shading eventhough u are using only one main black colours. If you notice, Kris Jenner (Kim Kardashian's Mum) always opt for this make up look. Black smokey with nude peachy tone lip colour.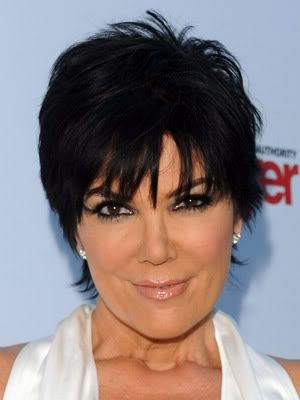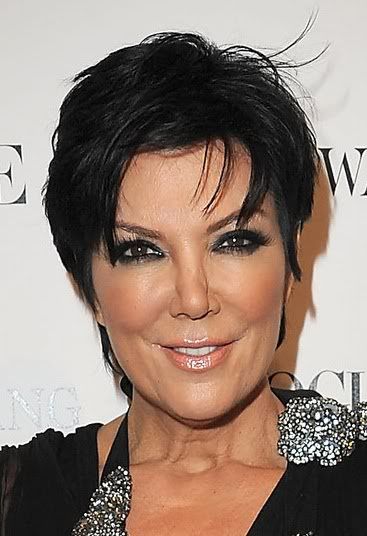 photo source: google image
The tutorial that Im gonna share later is something that you can actually use any colours as you wish, if you want to go for smokey look.. choose any dark deep colours and for a natural version use a medium colour depending on your eyelid tone. You can change the eye make up a bit by blending any lighter colours on the crease ... lots and lots of variations you can do using black as your main colour on the lid ! Its all depend on your creativity and how you would want it to be ;)
Before that , I want to share the pictures of the look on myself first, and will be sharing a step by step picture tutorial on my next post. Ive taken a few shots using a different camera and diff. settings.. with and without flash coz I wanted to study how the make up looks on different exposure. Actually to be honest, I just bought a new camera ;p ... but not feeling satisfied with the direct flash coz my pictures turned out to be sooo bright and in my opinion the make up look a bit too much for me ... too flawless .. lol. So I've captured the without flash version of this make up look as well.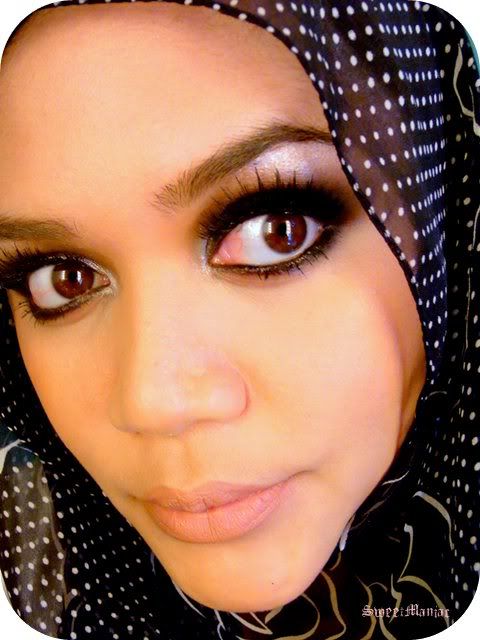 Both pics are the unflash versions with false lashes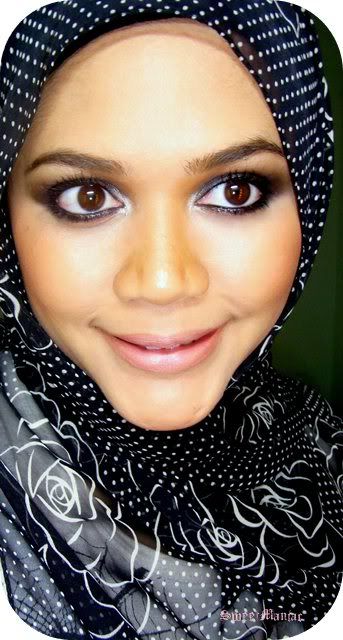 The flash version of me smiling ;)) The overall look is actually using black eyeshadows on eyes, a peachy tone blusher as well as lip colour and like I always do... eyebrows that looks like your eyebrows ! I never like eyebrows that looks its been drawn with a pencil or something coz it will look so fake .. so what I did was, I only brushed it up using a sprool brush.. and fill in with a powder eyeshadow using an angle brush.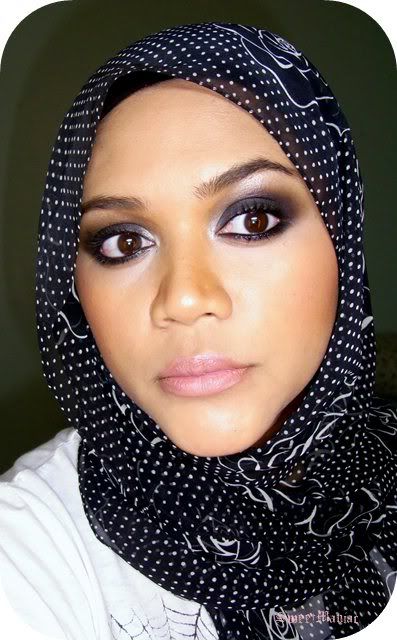 My serious look ..ewww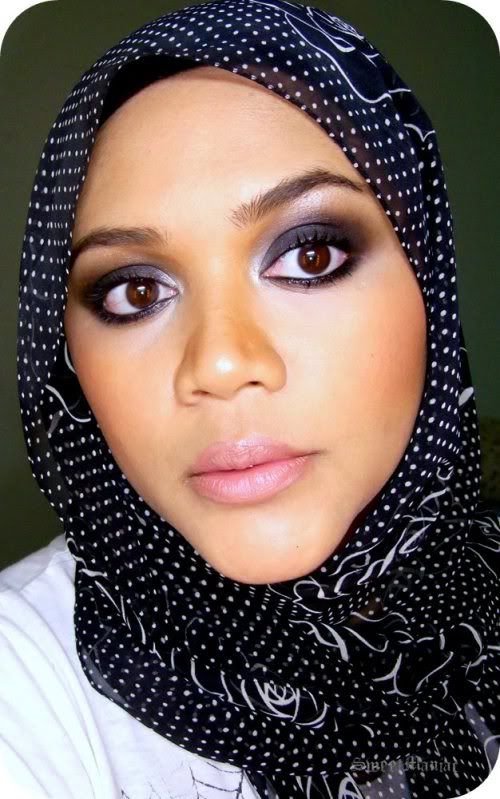 honestly.. I feel so ashamed to post up my pics coz they are all look so 'perasan' ...!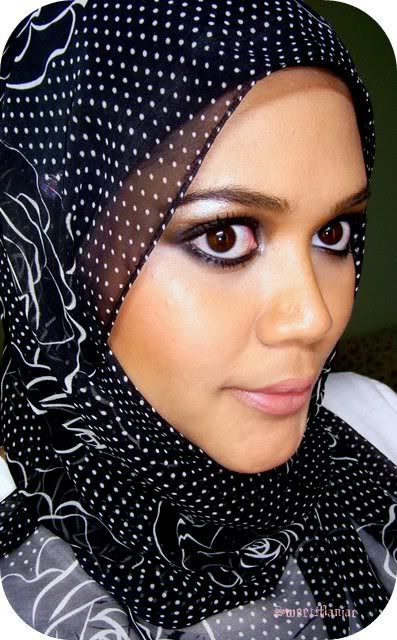 All the flash pictures above are without falsies.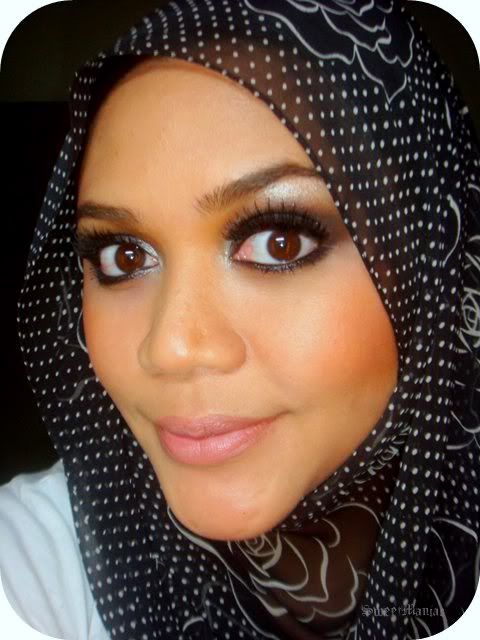 Last but not least, this picture taken, using my old sony cybershot digital camera. The looks is with falsies .. I dont really look white in this, a bit yellow.. but I prefer this one coz it looks more to my real skin.. the real colour that I used to create this look. Hope you all enjoyed viewing all the pictures of my FOTD and keep on coming back, coz I will post a picture tutorial to achieve the eye make up ! ;) Ill try to post it a.s.a.p .. but I dont promise hehe. Till then, have a great day ahead !