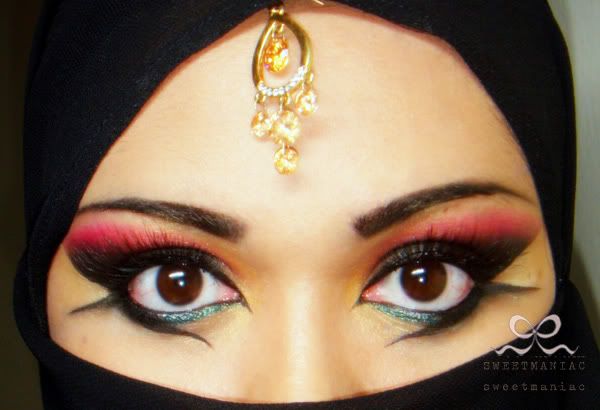 Hello ?? Im not a Ninja or Samurai ok !! hehe ...
Hey guys... I've tried this Arabic Make Up look by using the Manly eye shadow palette, since there are variable selections of bright colours ! Well .. I like to do variety of looks just for fun .. maybe I would try out some gothics .. fantasy .. and many more in the future ... Im not a PRO .. so I have to practice and practice ! :D Besides, this is my hobby !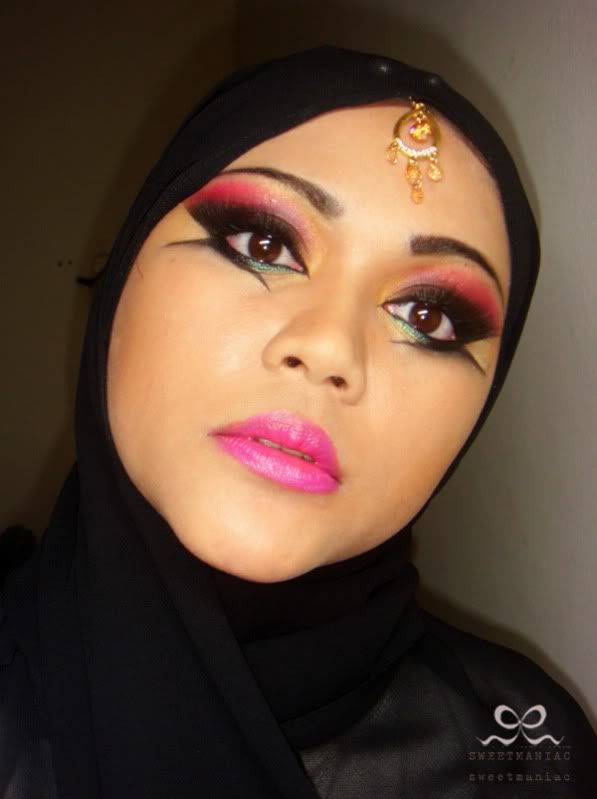 Here are a few pictures of my version of Arabic Make Up Looks for your viewing pleasure.. Most of Arabs tend to use bright colours of eye shadows and lip colour. They also like to use a lot of black and very thick eyeliner on top as well as on the lower lashline. But this look is not a wearable one. To make it wearable for dinner make up for example ... just dont bother to put that curvy eyeliner on the lower lashline and make the outer V simpler ... :)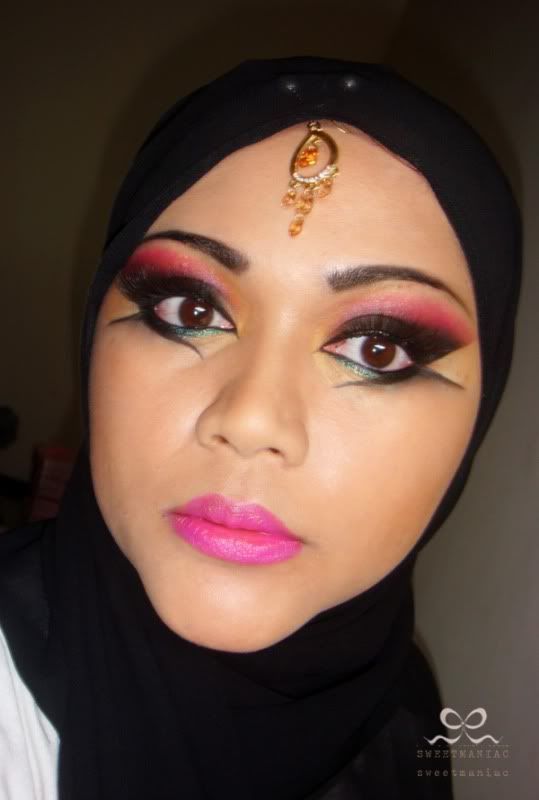 Some people loves heavy face make up ... I mean very thick foundation and looks like you are wearing powder. You can apply liquid / stick foundation that has "full coverage". I dont prefer that cakey looks coz on the safe side.. I like my face to be flawless and looks like my own skin :) I try as best to apply just very lil foundation in my daily make up routine so that it will look natural and wont look like im trying too much to cover my face .. hehe. But I admit, in some situations , like ( bridal or event make up) Malays pefer their make up to be heavy. .. coz you know, not all people have good skin right ? Luckily I dont have skin problems, its just that my face has minor scars plus my skin type is a combination one (oil + dry) so I have to avoid foundation that produce oils. But at some circumstances, I dont mind my face to look a "little" oily or best describe as glowy ... coz I think it means ur skin is healthy and looks fresh ! :p (well its my point of view) dont be mad at me ... hihihi ...Preferably, if you have oily skin ... look for foundation that has a Matte finish and use powder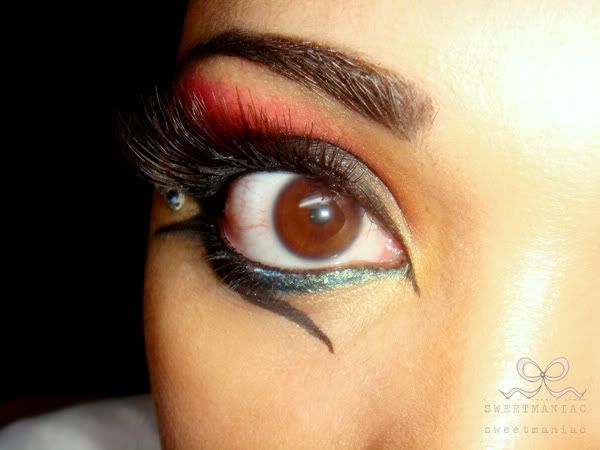 that absorbs oils.
And.. it depends on what look you want to achieve too...
either you want it to be a dewy look ..? matte finish ? ... less coverage ... or very sheer ? it depends on ur taste buddy ... and your skin type !
There are many selections of foundations that you can choose ... lots and lots ... from different brands ..
Sometimes, Im confused too ! But the MA will help you at the counter ... no worries.
Okeh ! Forget about my daily make up routine .. I'll talk about it in my next.... next.... next ....next ... post ok ! I will share about it .. the time will come :) Maybe those that have the same type of skin as mine can benefits something from me... and I can benefit something from ur daily routine too ! Lets share :)
For this Arabic Make up ... I coloured my eyebrow with Black Eyeshadows :)
Head Accesories: I just took my earring and tied up with a necklace and pinned up the necklace to my hair .. lol .. I dont have that head accesories .. so I had to be creative with just what I have ! hehe