Hi dear readers. I know that its been quite sometimes since my last update on my recent purchase of Make Up products. Im sorry for not updating and sharing here. There are lots of things that I missed sharing here especially my MAC haul , I was too lazy to blog about that if I dont find it interesting or if it was just a super mini haul ! There are some that I already took the pictures, and unfortunately havent had the time to talk about 'em. I hope ill be more active to blog about anything, other then just uploading pictures of my recent make up job on other people ;p So for todays update, Im gonna share about my recent MUFE product that Ive been longing to try out that comes in a set which I believe, is a limited edition stuff.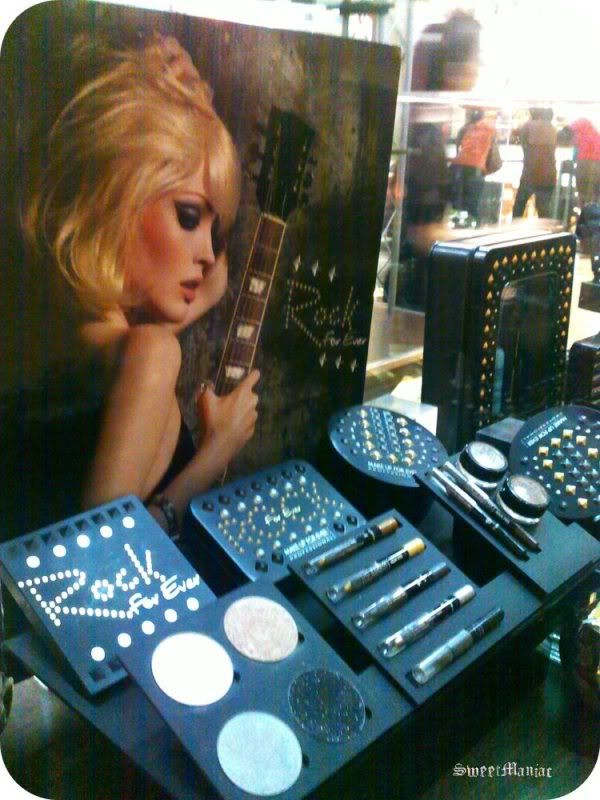 Make Up Forever Rock Collections
There are several sets to choose from.. all of 'em are eye and face products
I chose to have this among other four sets ,which is Best Of Rock For Ever Kit. I bought this stuff, since a month ago, but only have the time to blog about this today. What ashamed! Im not sure when exactly the stuffs arrived in Malaysia, though I know this is actually one of MUFE 2010 holiday collections. So it was supposed to be in stores Internationally last December , maybe early this year in Malaysia (ketinggalan keretapi, heh ;p) Since their limited edition stuffs are always consists of regular/permanent line products.. so, I think its not really awkward for me to share with you guys about some of the products in this kit even its too late for some of you to grab this. You can still check 'em out at any of MUFE outlet, you might be the lucky person ! who knows ;)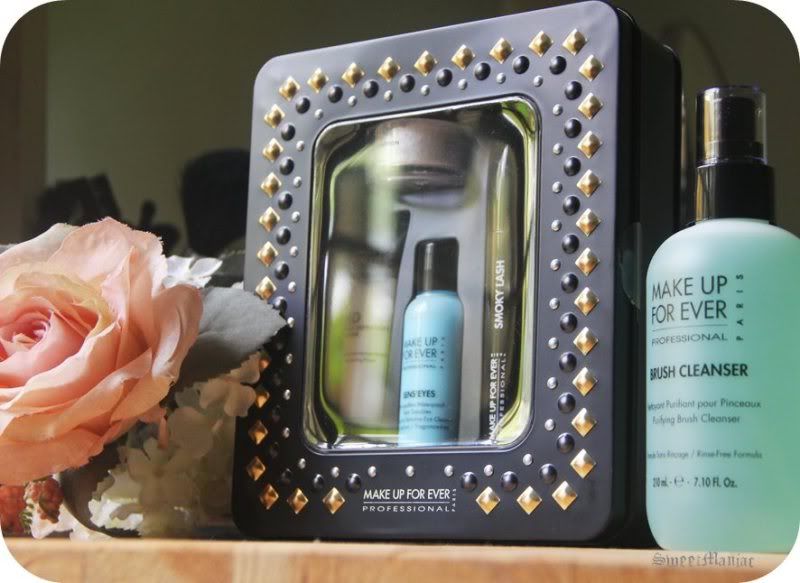 I bought this along with a MUFE brush cleanser and Ive tried it. I can say that the packaging is better than MAC brush cleanser because it is provided with the spray nozzle/dispenser. Anyhow, I prefer MAC cleanser than this one coz MAC cleanse better and faster, and cheaper too! Im not sure of any other brands, though.
Other sets in this collections are, the Rock For Ever Star Powder & Aqua Eyes which is a mini set of iridescent powders and Aqua Eyes Eyeliners
Make Up Forever Aqua Eyes
If you are an eyeliner freak, this set is the right one for you. I can say that Aqua eyes eyeliner range from MUFE is freaking awesome. Its waterproof and the colours are so intense.
Rock Forever Eyeshadow palette
Just the perfect palette for smokey eyes, consists the must have shadows that you can carry everwhere. All shadows are available in the permanent range.
Rock For Ever Stars and Diamond, which consists of two new shades, and one full-sized diamond powder
Photos courtesy of makeupforever.com
The only set that caught my eyes is the 'Best For Ever' set
.....Because Ive been longing to try the HD powder, Primer, smoky Lash Mascara and the aqua liner pencil ;)
so this is a great opportunity for me since products in sets are much more cheaper than you buy it alone.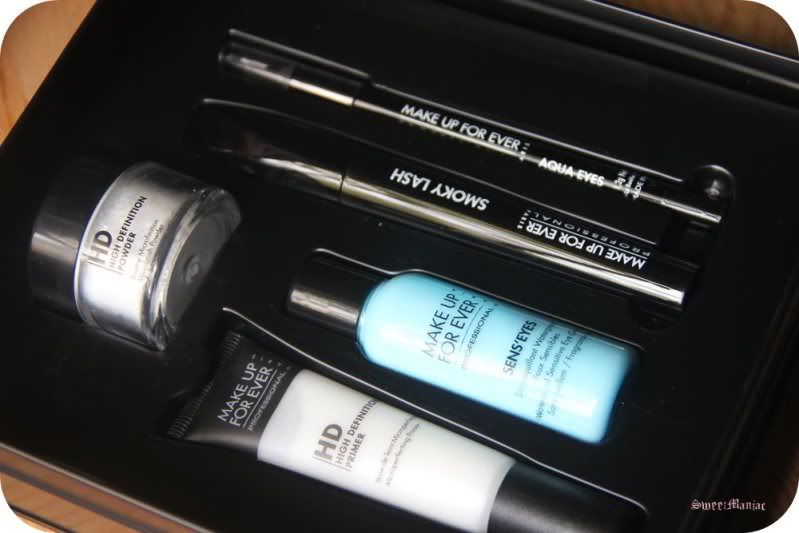 HD Powder- white powder that sets invisible/transparently hence suits every skin tone. It can be worn alone or applied over foundations, but only a tiny amount is neccesary as ur face will appear terribly white in pictures as this leaves a white cast on ur face. Its one of MUFE bestsellers products and most used by many celebrity Make Up Artist worldwide (im not sure of malay MUA though ;p ) So far, Ive tried MAC invisible setting powder, and I dont really quite like it.. I havent tried this one yet.. will experiment this, for sure !
HD Primer- Its a microperfecting primer which is more to moisturizer to me. I havent tried this one yet, so cant tell more on this. All I can say is, its so light weight and has a nice light scent. I prefer a thicker texture primer with silky feel, coz I think thats the factor of long lasting effect to foundation and smooth out your complexion even more.
Sens' Eyes - Its a cream cleanser, very effective for removing waterproof products, very gentle and non-irritating to the eyes. Its a fragrance free ! Recommended for those who has very sensitive eyes.
Aqua Eyes- A Waterproof eyeliner pencil in black. A real black matte eyeliner, glides on smoothly. Im not sure the performance of this on the waterline coz I dont think waterproof pencil works best on the waterline. I prefer a non waterproof formula to be applied on the waterline.
Smoky Lash - Extra Black Mascara to volumize, lengthen and curl the lashes. Honestly for me, its just a regular mascara that you can find it in drugstores ! I admit that its very black, thickening and lengthening but I dont like the fact that it flakes like crazy ! The formula also very thick and clumpy. I dont like the wand coz its very big, hard to apply.. which tend to smear on the lid when applied, I think its not worth the money if you buy this alone.
Before applying the mascara. My short thin lashes and I dunno why the iris looks quite black here ;p
after applying several coats. see how clumpy it is ? If this happen, try to brush the lashes with a clean mascara wand.
I dont actually bother to buy an expensive mascara coz it has to be discard after approximately three to four months for hygiene reasons. There are good quality mascara selling at drugstores as well i.e the maybelline magnum volume express. I tend to buy the expensive ones sometimes to experiment the different effect n quality of it so I can get to know several products in stores to study n make comparison. What an expensive habit ! *sigh*