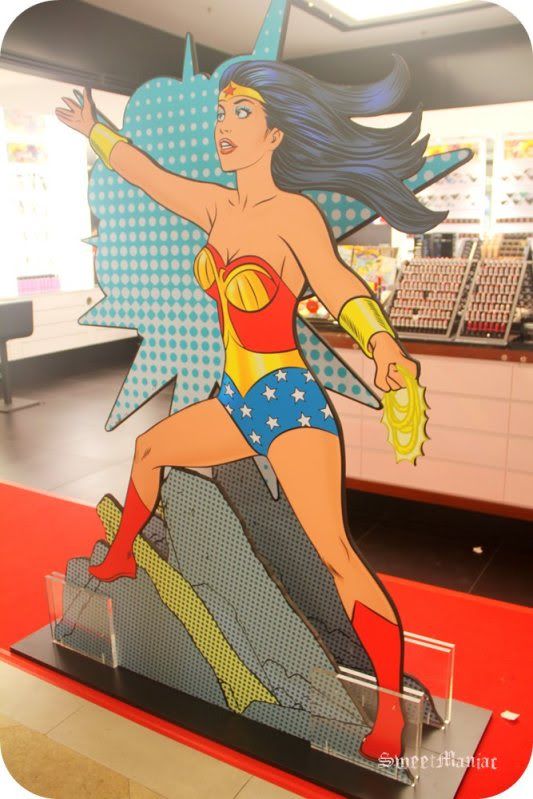 The new MAC collection which is inspired by the comic character, Wonder Woman created by William Moulton Marston hit the counters on early March 2nd. I reserved some of the products from my MUA the day the products came out, coz I knew the stocks are limited and some of 'em were gonna sell out so fast. They were having a MAC event on last Saturday where you get the opportunity to photograph your image with a model wearing a Malaysian version of Wonder Woman costume ;p The picture taken is printed out in a comic form. I dont wanna publish it here since I look super duper chubby and short coz I was standing besides a model that was super skinny and very tall ! lol. But nevermind, I will let you know how the model was like ... :D

Taraaa ...
So since on that day, they (the MUAs) werent being strict of taking pictures of the product display, I managed to take a few pics to be uploaded here in my blog for your viewing pleasure ;)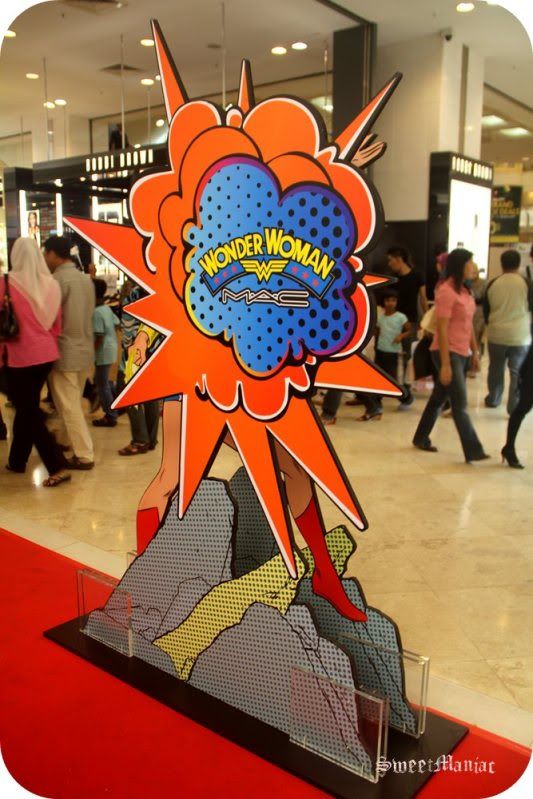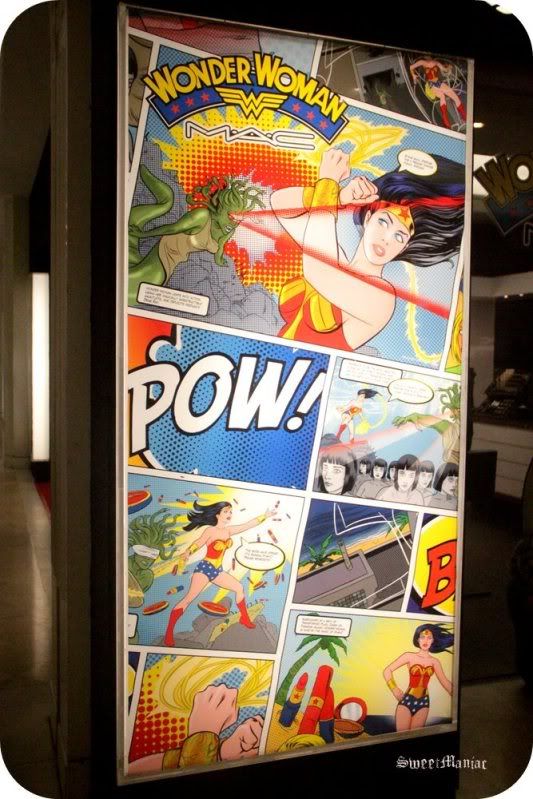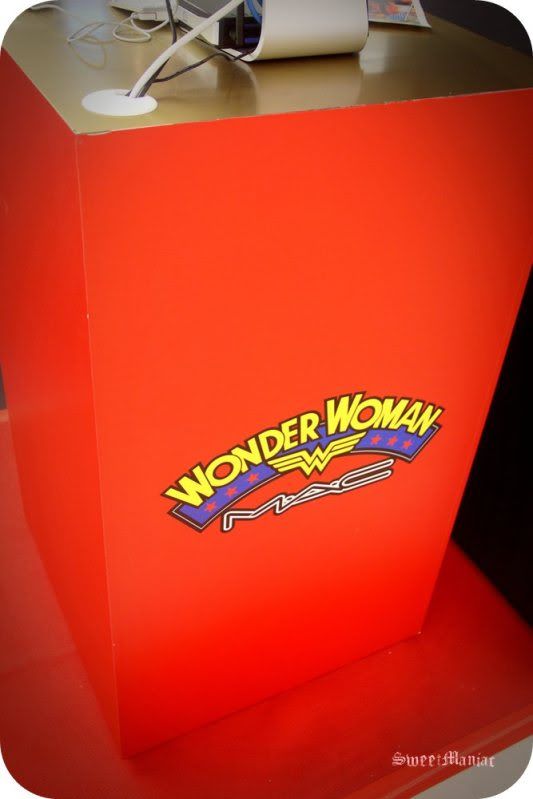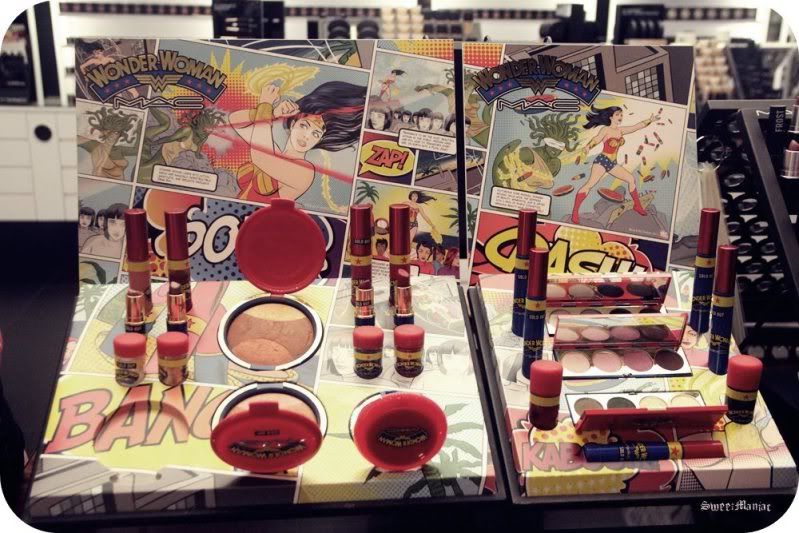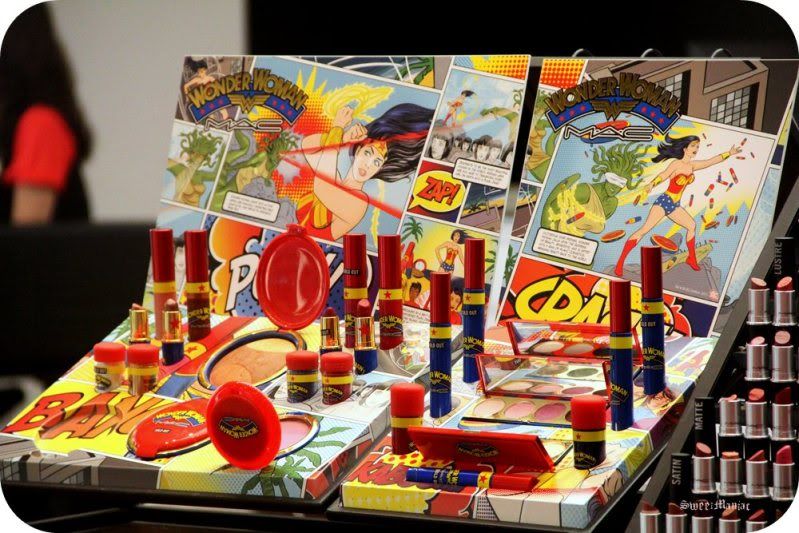 One of the blushes was missing when I took this picture ;( This collection has some great supersized products like the Lipglasses and Mineralized skinfinishes. Others are, nail polishes, pigments and reflects glitters, 3 beautiful coloured mascaras + 1 black permanent colour in special packaging, two blushes, 4 nice shades lipsticks, a super easy pen eyeliner and 3 eye palettes. The product packaging is designed with blue and red theme which in my opinion look very cheap. I dont fancy the packaging though I find the supersized ones are interesting ! Oh, one thing to take note is... products in special packaging means you have to pay extra money for that too ! They are selling these items at higher price than regular ones where the price for 1 blusher is RM100 ! compared to normal range blusher RM 75. ;)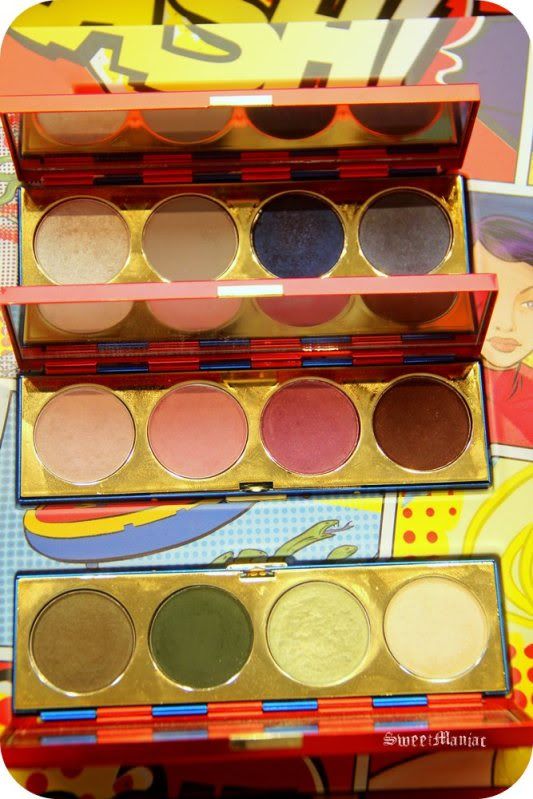 The three eye palettes. I didnt capture the swatches of the eyeshadows. Wasnt interested to grab these palettes coz some of the eyeshadows are repromotes , some are similar to what I already have from the permanent line and that makes me skip all of them ! If I were to choose either one of these, I would have taken the blue palette ! but gladly, I already own Deep Truth (one of the eyeshadows in this palette) ;) This palette is RM155.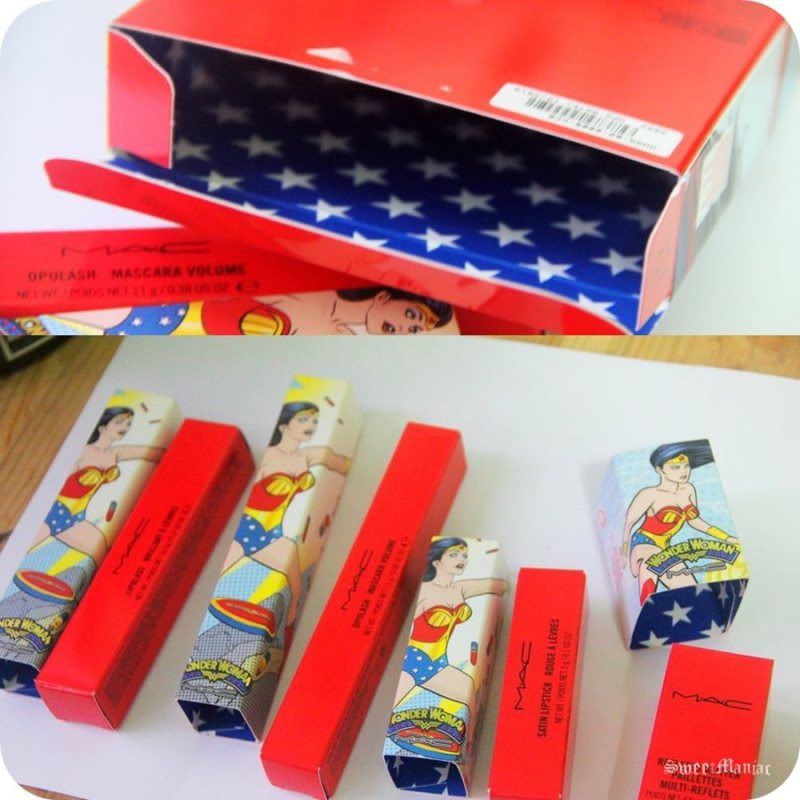 Besides that, the products are also packaged in a very fancy boxes in blue, white and red theme printed with wonder woman cartoon and stars on the insides. Love the prints! Im gonna keep these boxes and frame it one day ;p
I only grabbed a few of them which are One of the Msfs, a lipstick, a lipglass, a mascara, a pigment .. and ... yeah thats all !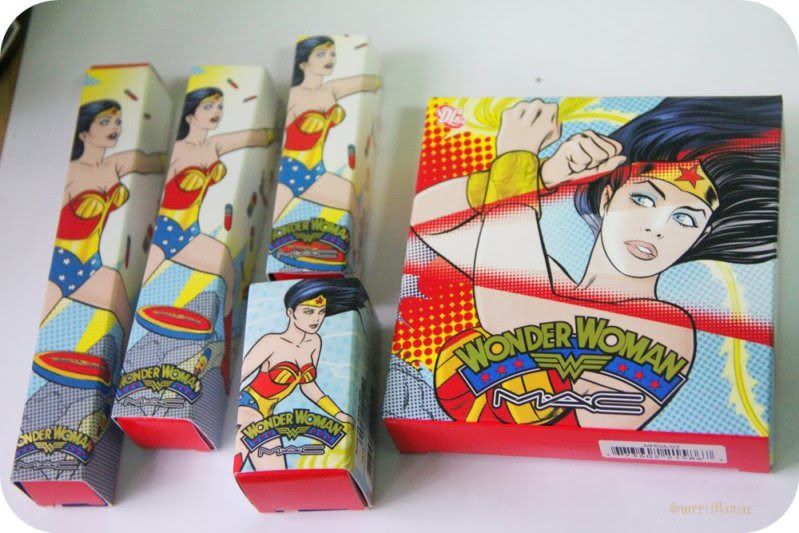 My Mini Haul ;) Reflects pearl, Victorious Opulash, Emancipation Lipglass, SpitFire lipsticks and Pink Power MSF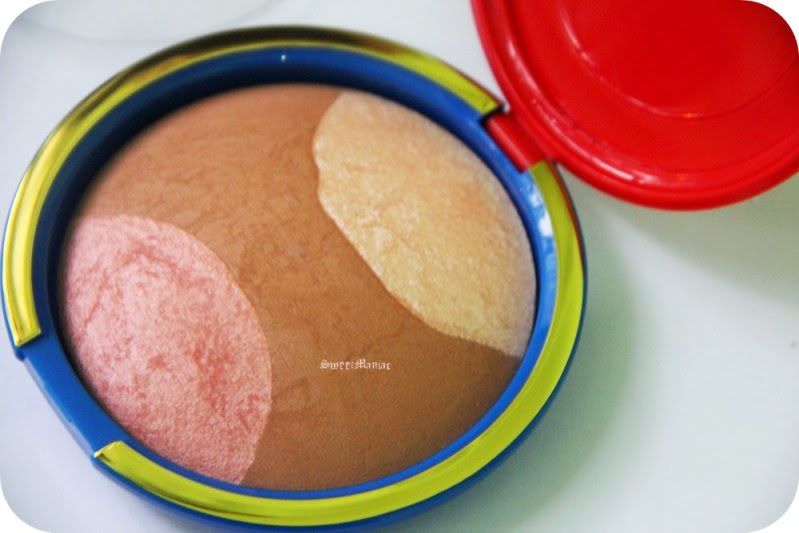 This Msf is freaking awesome coz its super large than the regular msf.. it looks like a baked cookies. yummy. Though I dont think the colour palette is special, it suits fair to medium skin. What is worth is, it comprises of blusher, highlighter and contour face powder in a single msf ( a great all in one face kit). It prices at RM145 compared to regular one which is RM105 but the size is doubled the normal msf ;)
Lets see how it compares to the regular MSF:

My Msf In Perfect Topping (L), Pink Power (R)
Volume: Normal ( 10g/0.35 US OZ), Pink Power ( 20g/0.70 US OZ)
* Double the size of the regular one.
The swatches: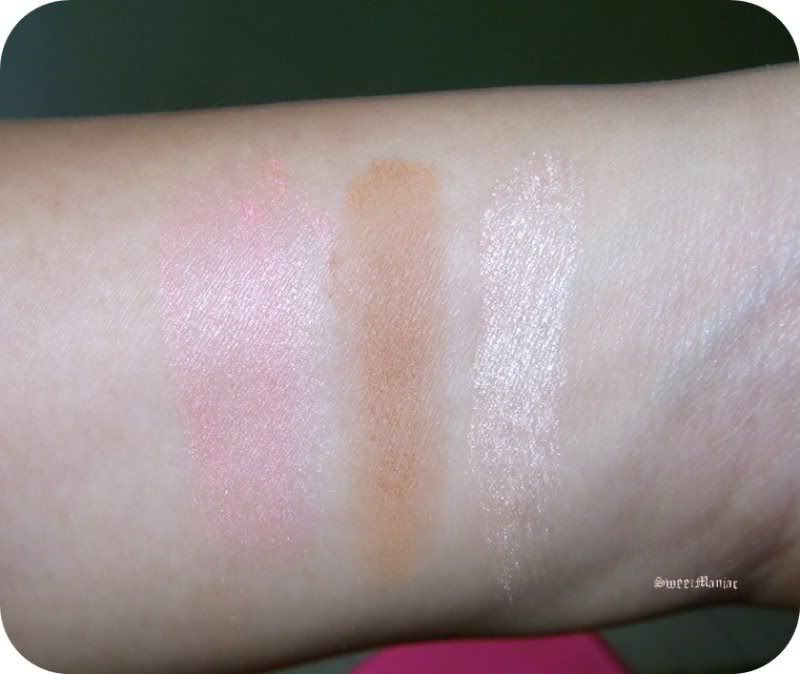 Flash swatches of Pink Power MSF:
From L-R: Blusher; Peachy Rose with shimmer, Contour; Soft Rosy Bronze, Highlight; Soft Shell Pink with Fine shimmer
Unflash version of Pink Power MSF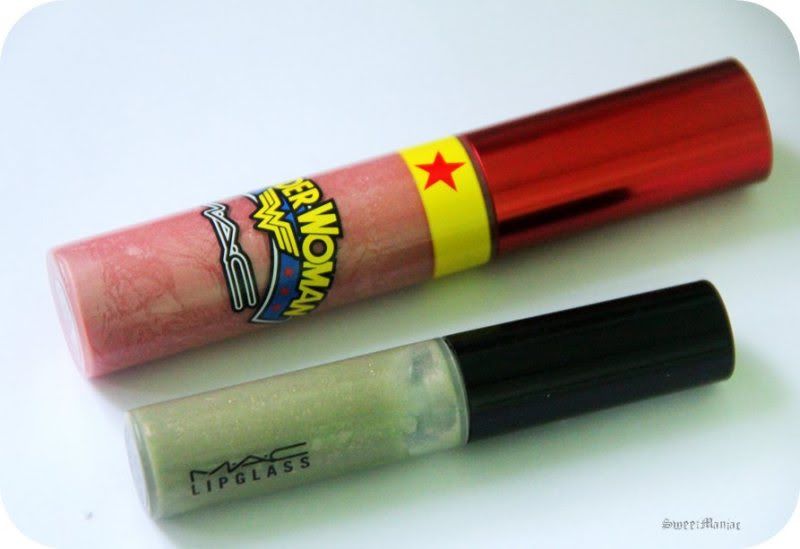 The supersized lipglass of wonder woman compared to the regular lipglass. I picked up Emancipation l/g. Its a pale neutral pink but it looks pretty brownish pink / peachy pink to me, doesnt look good alone on my lips... so I prefer this to be on top of a matching lip colour.
The supersize wand/applicator !! pretty big isnt it. This lipglass price is RM88 compared to the regular one that cost only RM65. The volume of Wonder Woman is doubled the regular one though which makes it worth the value. Wonder Woman ( 10.5g / 0.37 US OZ) while regular l/g is ( 4.8g / 0.17US OZ).
The lipsticks in this collection is not supersize though.. the size is just the same with the regular one. I picked up only one out 4 .. which is SpitFire (A bright creamy Magenta) I loveee this colour so damn much ! Cant resist any lipsticks from the purple range. Its a satin finish that does not dry on your lips but neither really moisturize your lips. I love to wear this alone without any coats of lipglass.. it gives a matte look that stays long ~ couple of hours.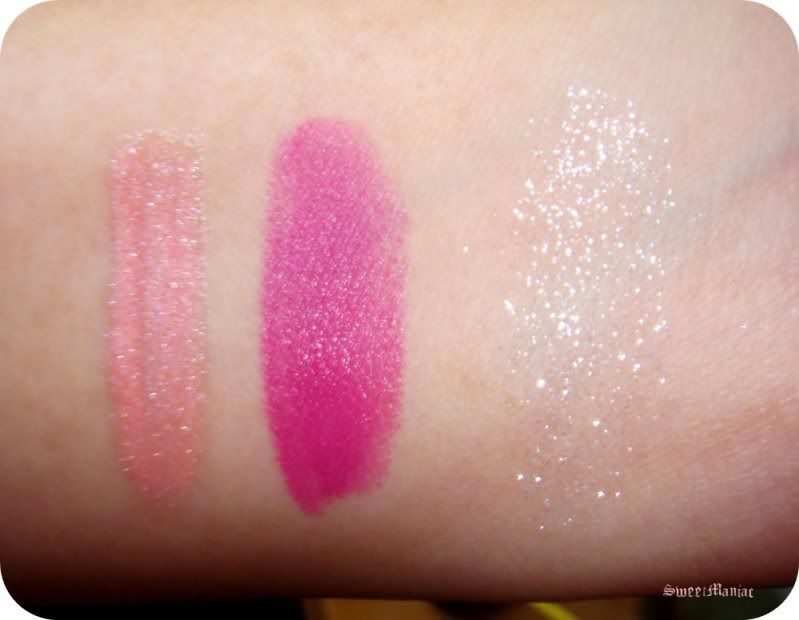 From L-R: Emancipation (l/g), Spitfire (l/s), Reflects Pearl (Very fine particle with pearl sheen). I admit that I bought the reflects pearl just for fun ;D
Comparisons of Spitfire and other magenta, fuschia colour lipsticks of the same family that I have in my collection.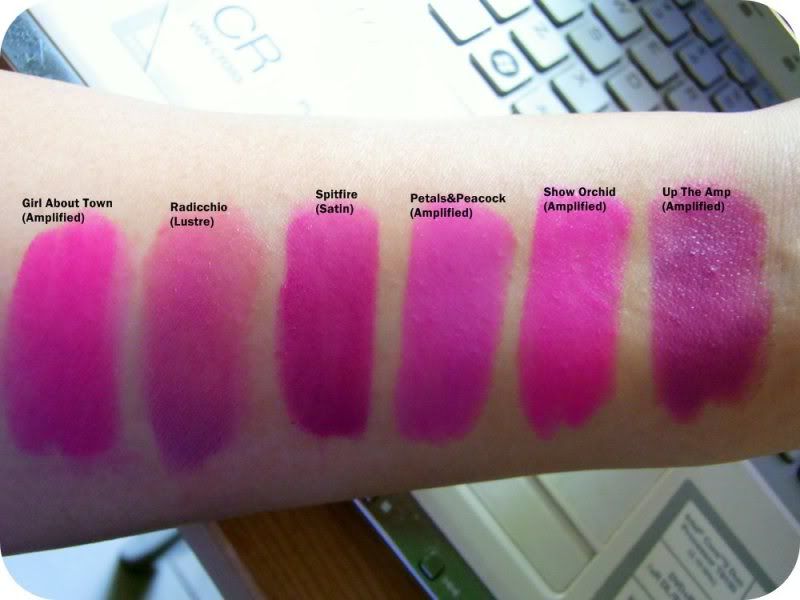 The swatches taken without flash. Spitfire is definitely has its own unique colours. Pretty magenta colour that suits every skin tone in my opinion ;)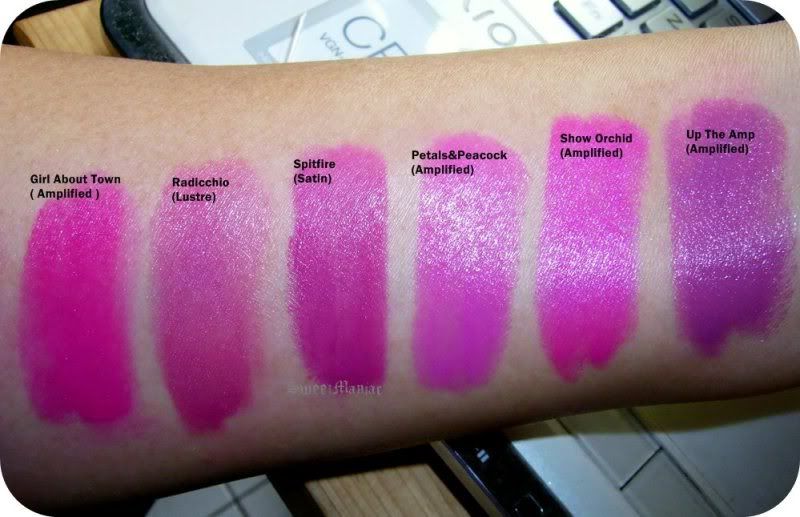 The swatches taken with flash. I like to tone down it a bit for daily wear combining it with a nude pink lip liner and almost identical colour of lip liner for night wear .. its suits well for those who doesnt really bother to do the eye make up like me ;D
And last but not least ... the purple opulash mascara, Victorious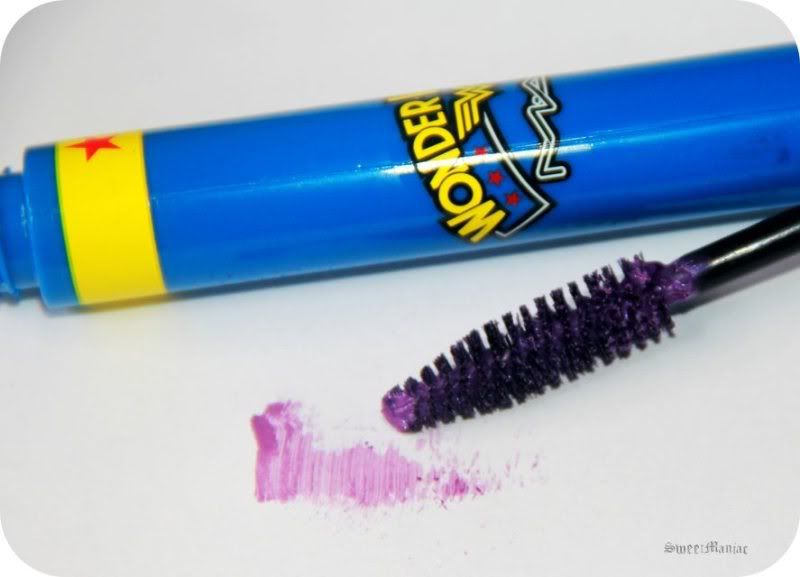 First thing that I wanna say about this mascara is: Im very dissapointed with the pay off coz it doesnt really show up on my black lashes in real life! .. well.. even I applied several coats .. it still didnt add any colour pay off. It does lengthen the lashes though .. I would say that It doesnt make your lashes clumpy at all.. so it doesnt add any volume to the lashes ! just lengthen it a bit. I dont fancy this at all even the colour is a pastel purple which I thought would be an interesting stuff to play with... but end up regret buying this ! I forgot how much does this cost me, but Im sure its pretty expensive. Not worth the value at all ! ;(
Lets see before and after the application.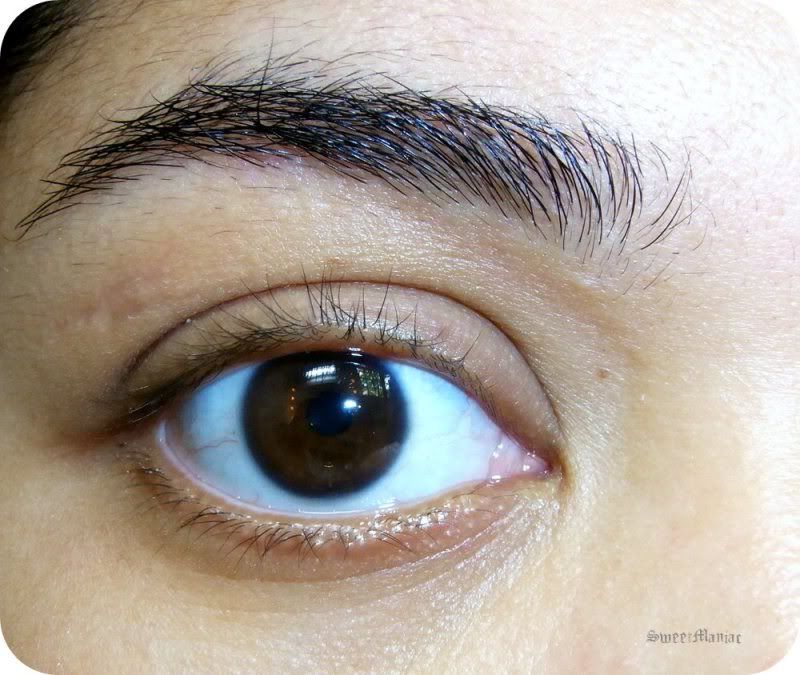 Please excuse my messy eyebrows ;(
It photographs well. Looks pretty purple in pictures but it isnt in real life. I wish that the purple is more deep dark in colour so that it would look more dramatic instead of a sweet pastel colour.Maybe I should have tried this complete with eye make up to see the effects. Hopefully it would turn out differently and beautifully.
Overall, honestly I think all the products are underwhelming for me. Its definitely a collectors items because of the fancy packaging ! I would have skipped all of them if they dont came out in supersized / in this special packaging (coz Im a collector myself) . Im looking forward for the next collection from MAC which is the Jeanius collection to launch here next month ! The hues seems more of my liking, cant wait ! ;)