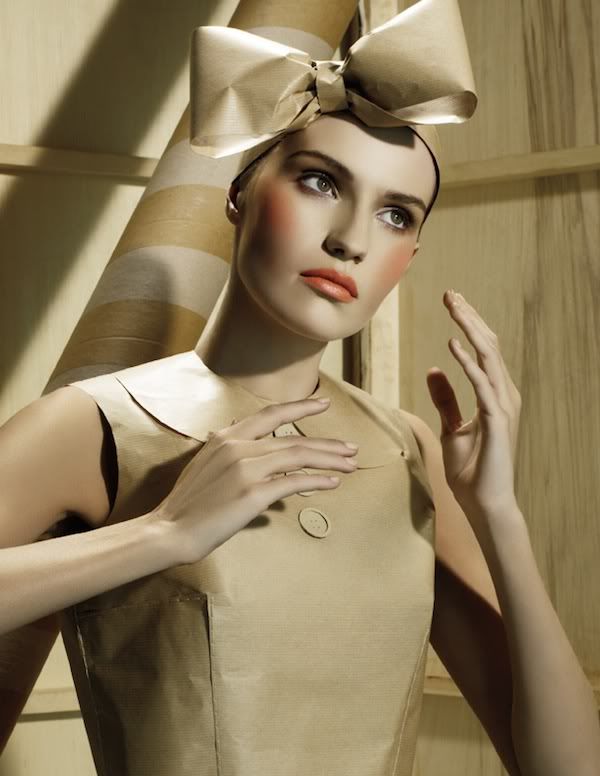 "Craft Paper Couture – an inspired idea cut like a pattern and whipped up into a frisky little "funny face" frock. Then, strip it back to its essence for Summer 2010 for a Pret-a-Papier colour collection. It was a Project Runway challenge of sorts, with paper as the source, the instigator of ideas, the beginning of something simply, basically beautiful. Lipstick, LipGlass, Eye Shadow, Paint Pot, Chromografic Pencil, Studio Fix Lash, Impeccable Brow Pencil, Sheertone and Mineralize Blushes, and Nail Lacquer in a seamless spectrum of parchment-to-vellum beiges, with an occasional, clever colour spill, coral among the most au courant."
The first summer collections by MAC which is Pret A Papier , is already in stores last 2 weeks !!.. Oh my Goodness .. I feel ashamed coz I've been keeping this post for a long time .. coz you know, I'm allergic to photo tranfers, editing , cropping, resizing .. and uploading !! It makes me sick .. coz I feel its a waste of time .. though I love photography very much :) But dear readers,, I really wanna share some infos that I know.. I'll try my best k to give the best pictures and reviews of some make up items that I purchased only! :)
Honestly... I'm not really impressed with the products though I admit that the promo pics are so attractive n super creative...Good job there !! Hence I picked up only a few goodies... just some eye things and a blush :) I didnt get any of the lipsticks, lipglasses , eyebrow pencils which is the repromote item s and I already got them from All Ages, All Sexes collections , the mineralize blush is not suitable for my skin tone , and though the nail lacquers are gorgeouss !! I dint pick up any since I dont wear them ! lol.. The collections were released in the U.S on April 22nd, 2010 and the International Launch Date is May 2010. I believe Pret A Papier is a french word which means "ready paper" (google translate) ... but some of the brochure translated it to Pulp -A- Fashion ... pronunciation: Pghet ae' Pe-pi-yer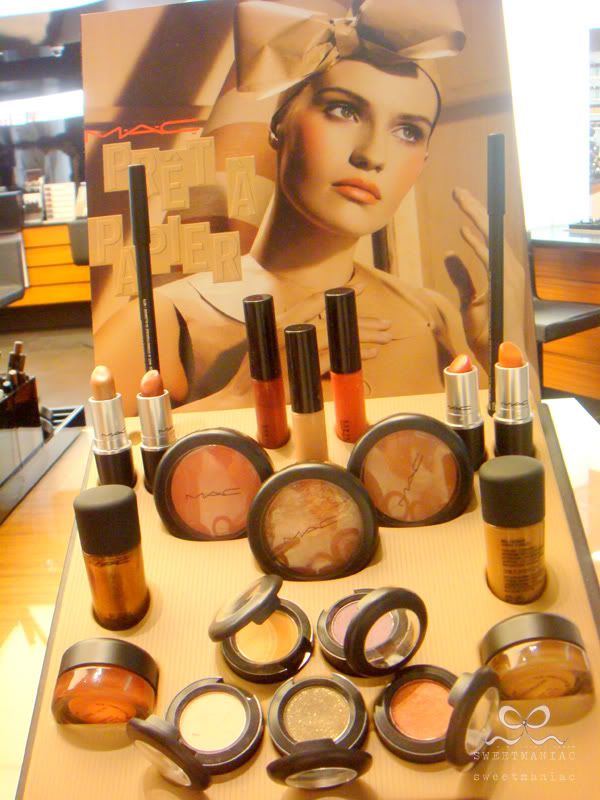 Pretty cool display at the store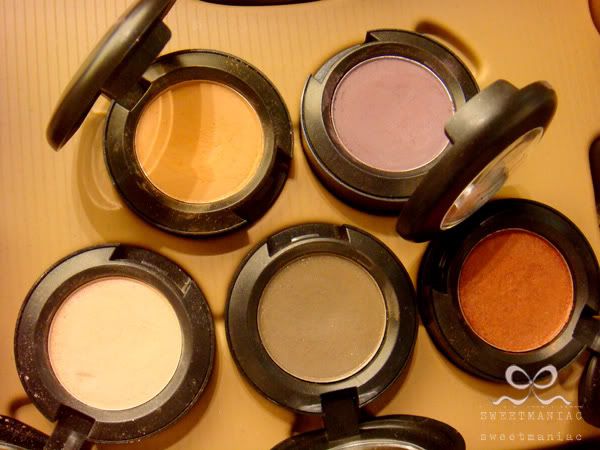 From L-R clockwise: Bamboo (Matte), Memorabilia (Matte), Cut to Fit ( Frost), Gazette Grey (Velvet), Tissue Weight (Frost)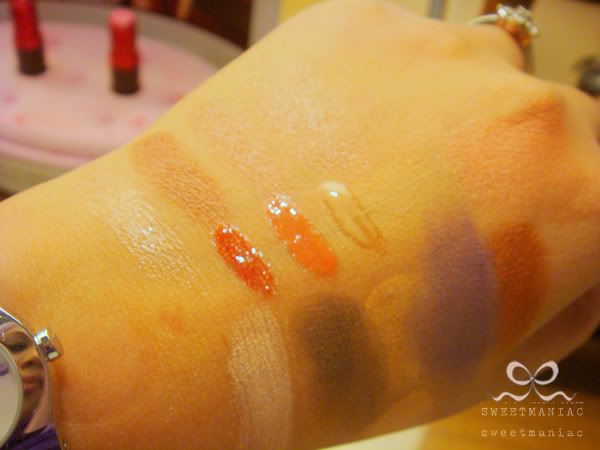 These are the swatches under not so great lighting ! sorry guys.. so its not worth to label since they r barely seen ! darn... but the most obvious swatches at the centre are the lipglasses ! great for those who loves coral ... from L-R: Pret-A-Papier,Fold-N-Tuck (C-Thru (Creame)(Its permanent .. so no rush ) and some swatches of the eyeshadows at the bottom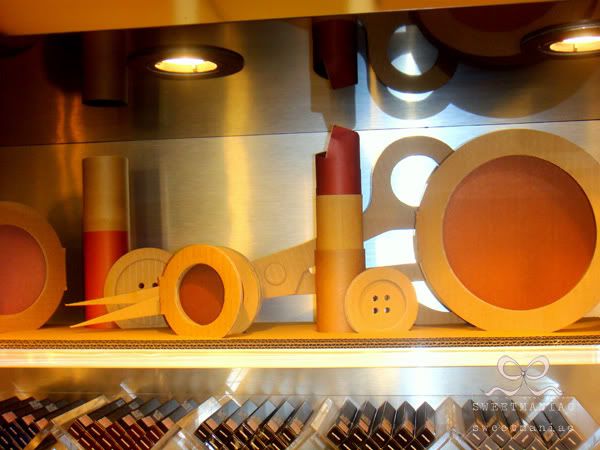 Paper crafts prototypes of lipsticks, scissors, buttons, eyeshadows and blusher as decorations at the store .. luv3x !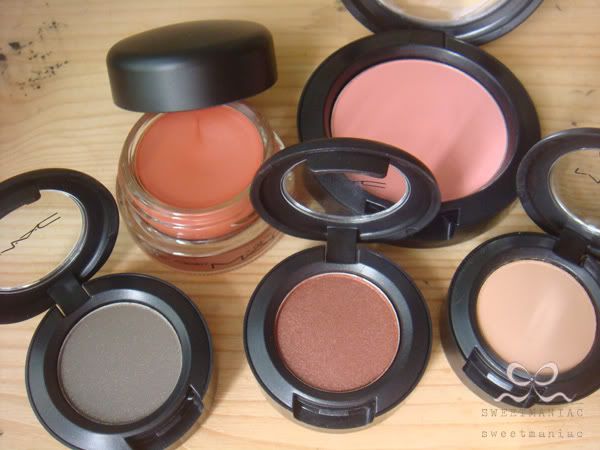 Some goodies that I had purchased. from Top Left ,Clockwise: Coral crepe paint pot, Instant Chich Blush, Bamboo.. Cut To Fit and Gazette Greys e/s.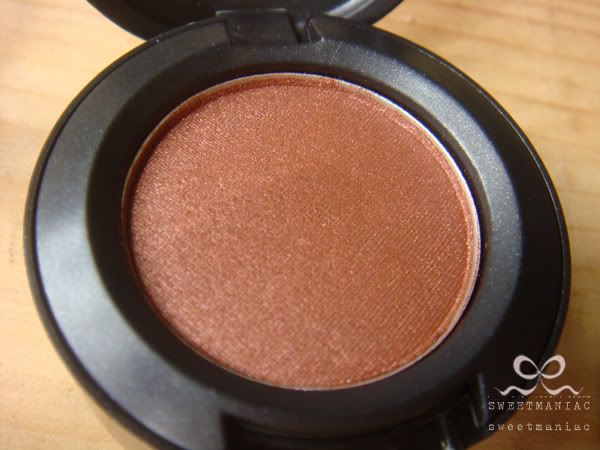 Cut To Fit (Frost) : Its a frosted Red Bronze .. very beautiful colour ! perfect for all skin tone.. well pigmented,great texture .. n blendable. its my top fav. among other 5 e/s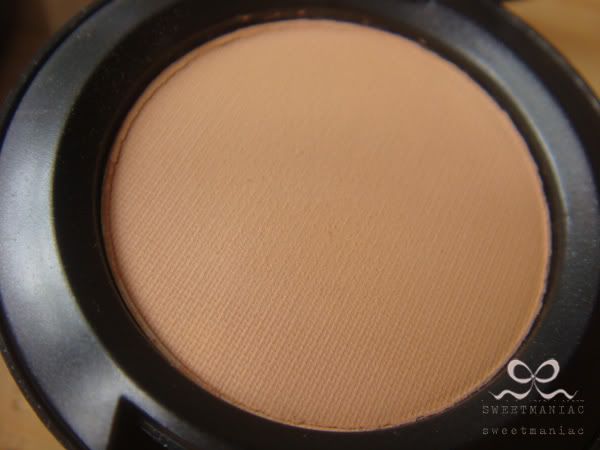 Bamboo (Matte). Beautiful light beige with peach undertone. Great for lid colour and for those who lovess neutrals for natural day time look. Contour the crease with darker shades of browns or add up other striking colours like Pink / Purple or even dark Greys/ Black. Can combine with many contrast colour ! Love this !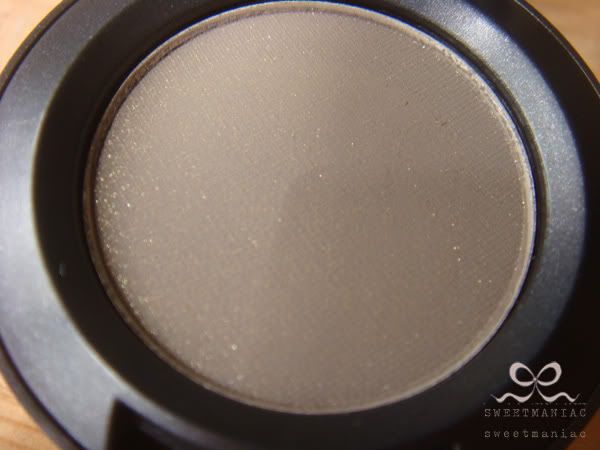 Gazette Greys ( Velvet): A unique colour ! Dark green grey with gold pearl. Great for smokey eyes effect. Love this too ! :)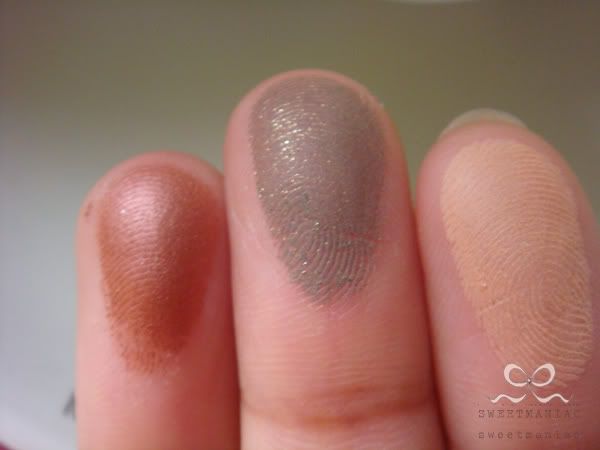 The swatches: From L-R: Cut to Fit, Gazette Greys and Bamboo
These are the only eyeshadows that I picked up out of 5 ! The purple one is a beautiful colour too .. but since I have so many purples.. I had to skip it this time *sobs* have to cut my budget on this... but Memorabilia is a recommended colour for those looking for purple shadows ! I might change my mind and go get that as well .. anytime for my collections... hehe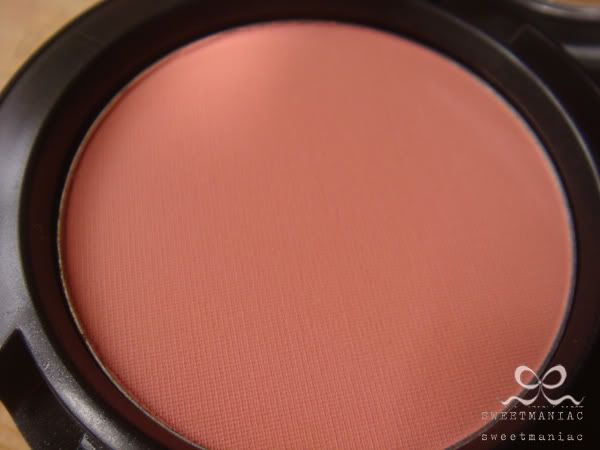 Instant Chic Blush. Very cool colour.. perfect for Asian skin ! Its very sheer since its a sheertone blush.. but can be buildable if applied many layers. An alternative blush for Melba (permanent mac range).. but its lighter colour than melba and more to corally like. Love this !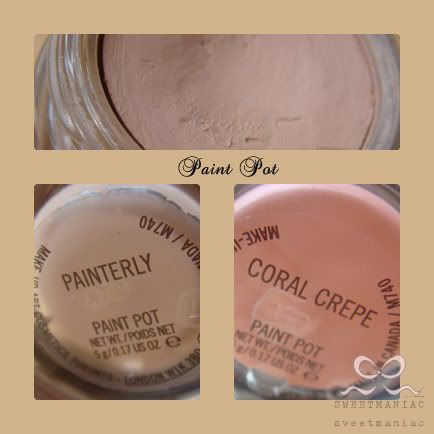 Some comparisons between the two. Painterly vs. Coral Crepe, latest edition
Swatches of the pretty blusher and coral crepe paint pot

Feel free to click this image for better view ! :)
Comparisons if using coral crepe as a base and without any base. The eye shadows stands out more, but the colour of the actual eye shadows would slightly changed on top of the base. It depends on you, what colour you would like the eye shadows to appear. This coral crepe paint pot is more suitable with pinky/coral/orange eyeshadows that has slighly peach / orange / gold undertone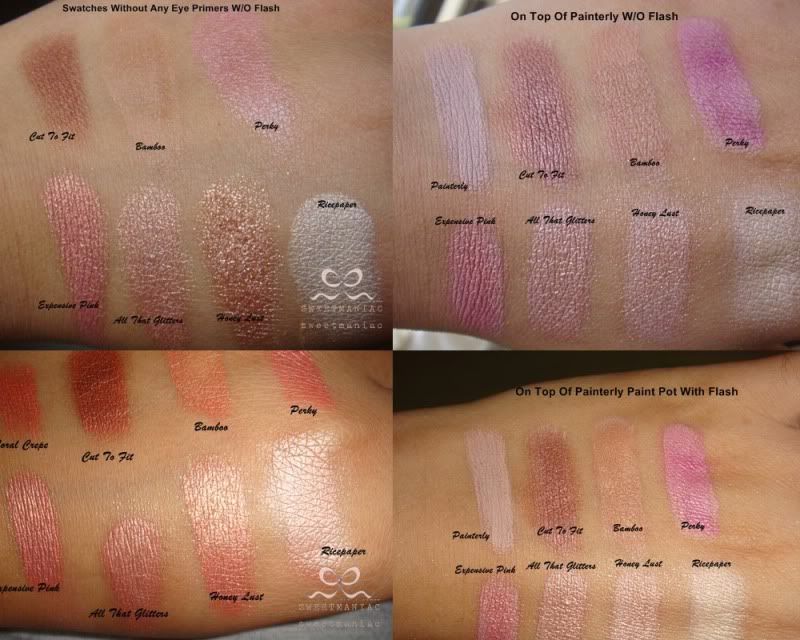 Some comparisons if using different colour eye base ..very important ! What would be the appearance of eye shadows if a natural colour base is used ? I think the actual colour would stand out more on top of natural base.
Note: For those whom are not familiar with Paint Pot and never used this product before... Painterly Paint Pot is recommended ! Among all other paint pots available at MAC, painterly is the most suitable / basic colour that suits everyone and it can be used with variteies / large selections of eye shadow colours. Painterly Paint Pot is very suitable for most of asian skin tones and perfect for those having Oily lids. Eye base is very important to reduce the possibility of eye shadow creasing / breakouts for longer hour wearing.. and its good to make your eye shadows stand out more ! I took the coral crepe coz I think it suits more for orangey/coral eye shadows .. perfect for summer .. yess definitely coz Malaysia is fairly hot n humid throughout the year ! :)
Hope its been useful ! Tq for reading :)