In The Groove Official Photo
Hi, have you all check out this collection yet at the MAC stores? It was released here since a week ago , I believe.. but the mineralize eyeshadows were just available yesterday. So, last night,I went out to take a look myself on the eyeshadow trios that people are raving about. Yess, they are definitely great indeed. Im not a fan of mineralize eye shadows to be honest, but this time, the texture is definitely improved a lot.. even softer and its velvety -matte finish isnt like the previous, which were like so shimmering and cause many fallouts ! I love all of them, but I just bought only ONE of those coz I already have quite a few shadows of the same hues. If you are looking for a great eyeshadows, go check 'em out .. its worth every penny, I swear. Its a trio and the price is just RM85.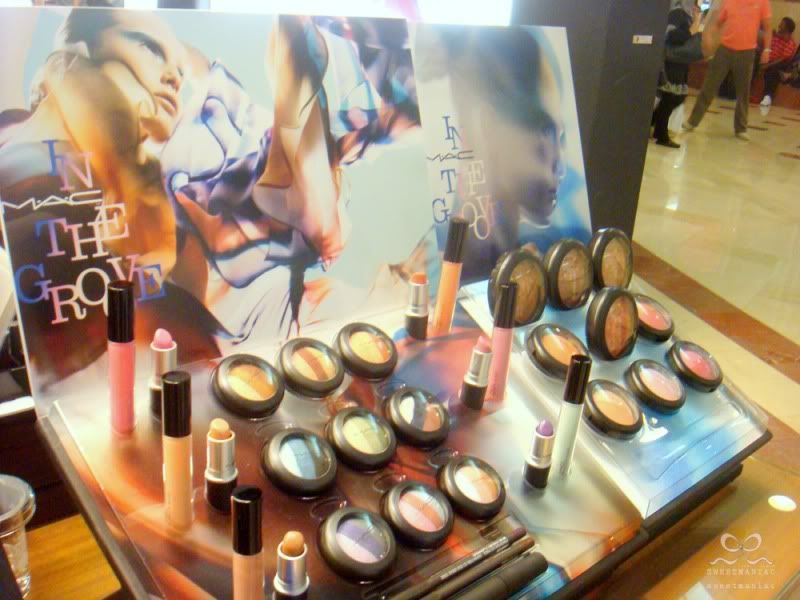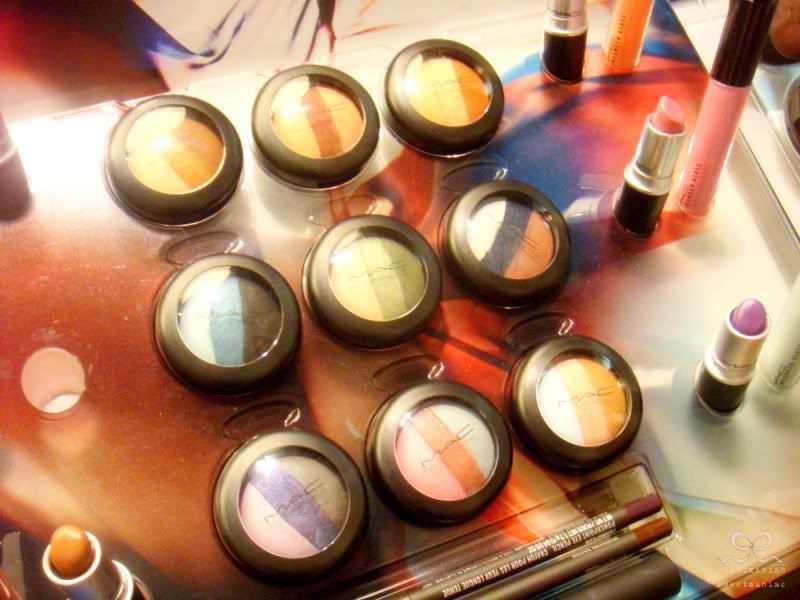 Glad, I was able to behave myself this time over those pretty stuffs. I only stick to what I wanted, oh in fact I skipped a few from my wishlist ! yeeaaah !!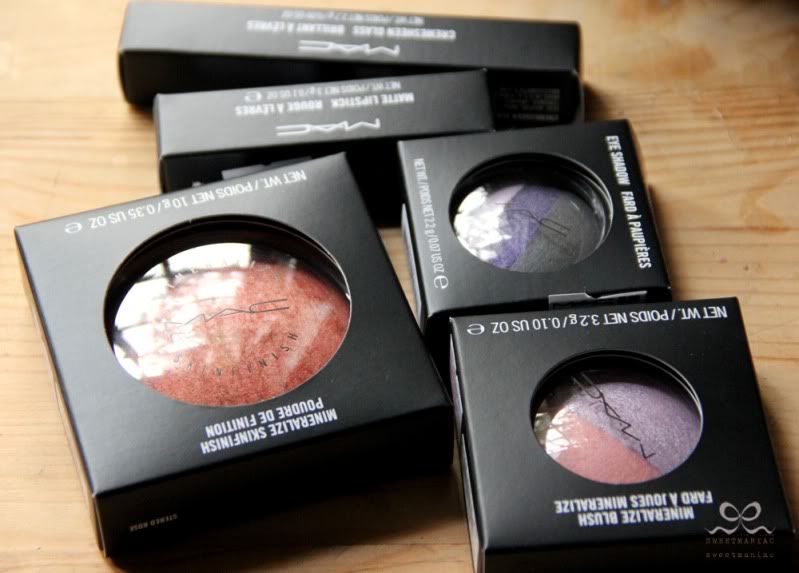 Im very lucky this time since I already bought all other MSFs from previous collections, so Stereo Rose is the only one that I need to purchase .. hehe :D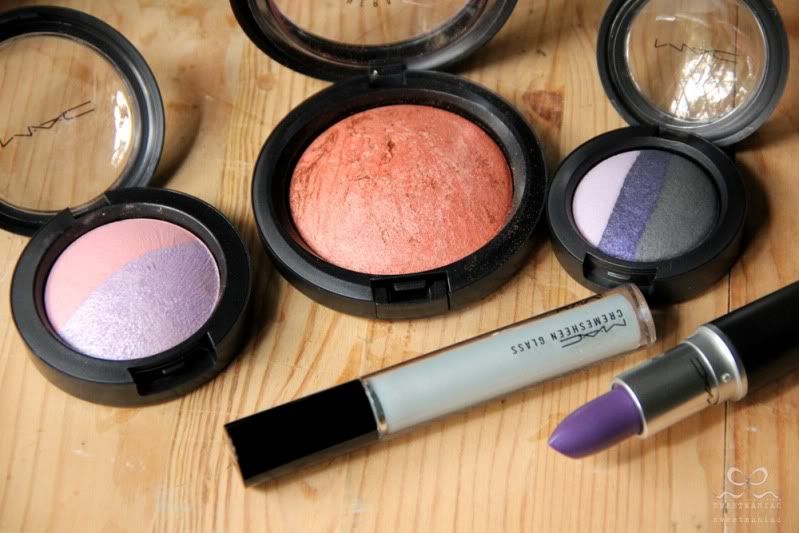 From L-R: Hang Loose (Mineralize Blush), Stereo Rose (MSFs), Togetherness (Mineralize Trio Eye shadows), Go For It (Creemesheen L/s), Chilling (Creemesheen Glass)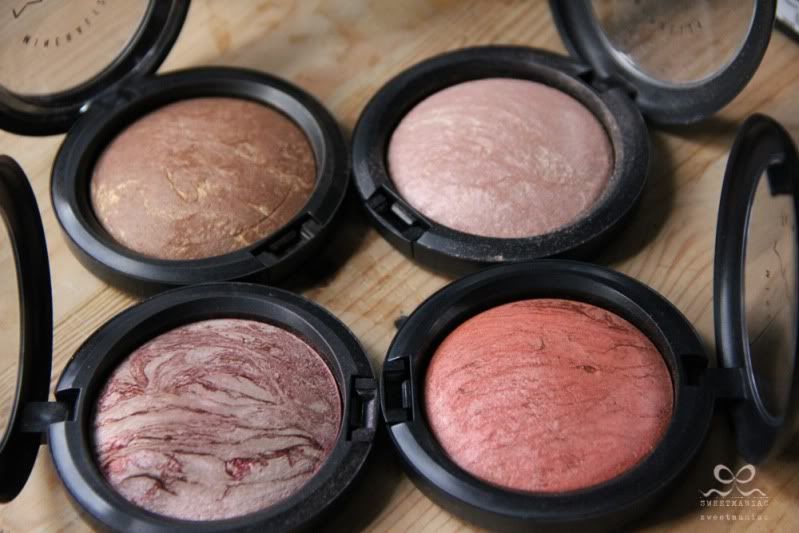 All 4 Msfs from this collection: 3 are repromote (Top L-R: Comfort, By Candlelight, Bot L-R: Petticoat, and the new Limited Edition: Stereo Rose)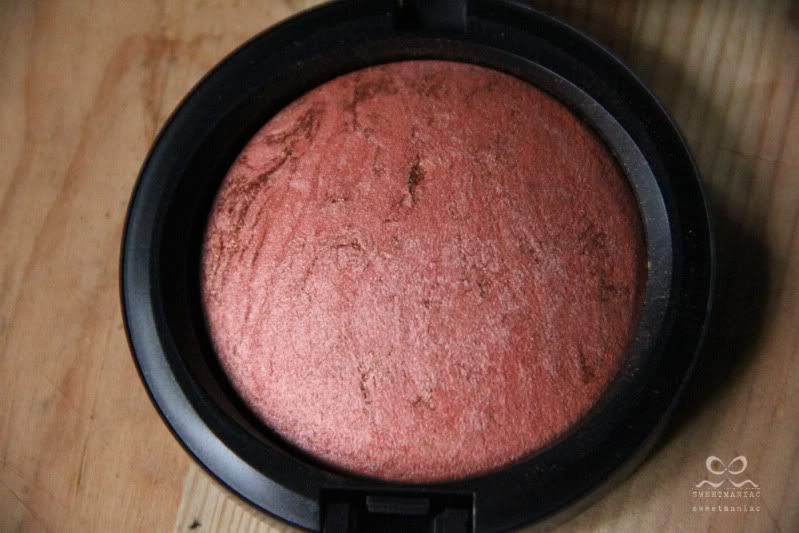 Stereo Rose MSF: Its a coral with golden/bronze shimmering nuances. Very pretty and wearable colour. Not so shimmery, I love this to be as a blush ..great for daily makeup :)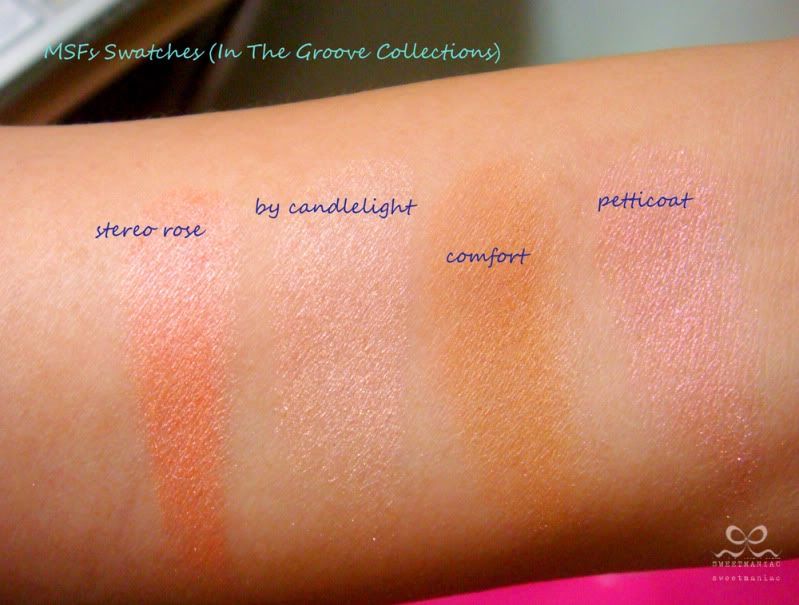 All other MSFs swatches. For me all of them are super pretty though comfort is a bit brownish. If you have very fair skin, this would be great as a blush while this one suits better as a bronzer/contouring for darker skin tone. By candle light is very sheer golden pink .. great as a highlight. But this is the least MSF that I love. Petticoat is a pale rose with amber and gold veining which suits all skin tone.I like the name as well .. petticoat.. isn't it adorable :) If I were to choose between these four , petticoat would be my number one favourite !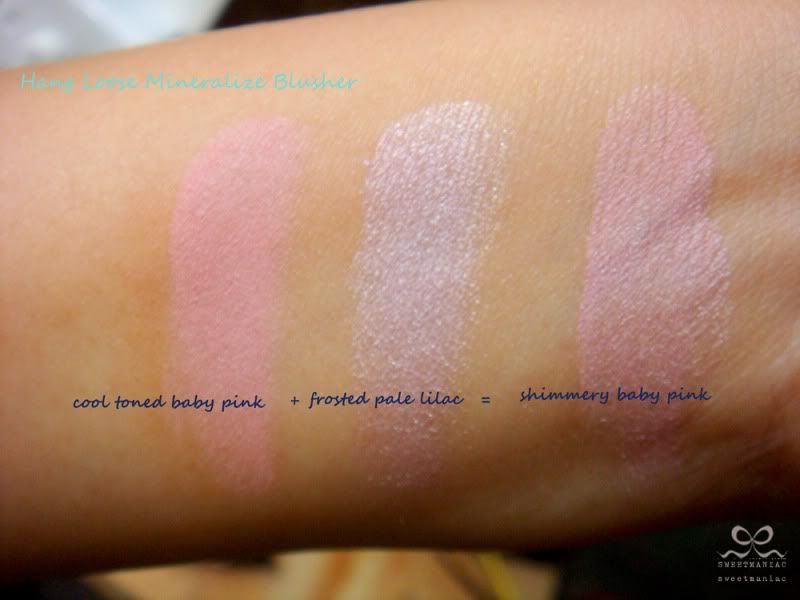 Hang Loose Mineralize Duo Blush: Its a satin bright pink / pearly lavender. Its like a blue tone baby pink blush that suits only fair skin tone ok. I dont really like how it turn out on my cheeks.. the only reason I bought this one coz its the most natural pink shade out of 5 blushers and coz its got very pretty lavender colour.. so its a pretty thing to look at :p If you dont have any of Mineralize blush duos, and wish to have it ..I suggest you look for something else which gives more vibrant colours.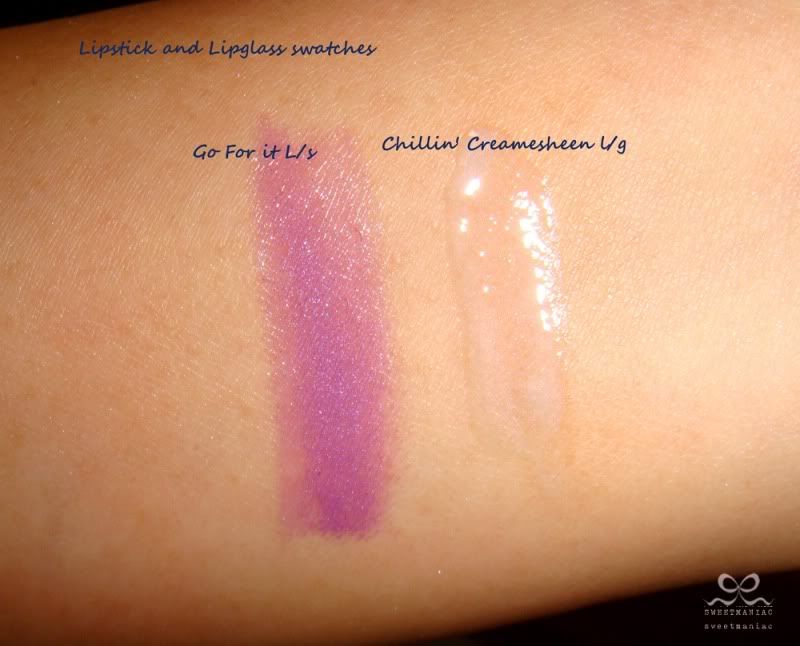 I dunno what was I thinking when I bought this lipcolour.. of course its not wearable at all !! LOL. The lipglass though is a very unique colour. Its something that we cant find it anywhere else. It is described as Light with Blue but it looks grey to me with some pearl shine to it. A weird colour when applied alone but turn out fabulously on top of other lip shade.
I already own so many pink shades lipstick.. and the coral/ orange which kind of the same thing MAC has ever produced. Its so boring. So why not purple ? Try mix it up with other lip colour that you own.. maybe it would turn out so unique and beautiful ! Give it a go !
Last but not least .. the gorgeous10x colour of Togetherness Mineralize Eyeshadow Trio. I admit that all trios that came out in this collection are all so pretty !! I'd love to have them all (eww but dont have money to grab them all, for sure :p) .. but this time and wish that in the future.. I will cut down my spending on cosmetics. Please pray for me, dear friends :) hehe. I already have so many naturals in my collection, so I skip the beautiful earthy tone Mineralize trios. If im not mistaken, there are three trios which are of natural shades. So, those three are great options for beginners. "Love to Love" is my fav among those three.
Different ways to use a trio, depending on your eye shape.. example using togetherness mineralize trio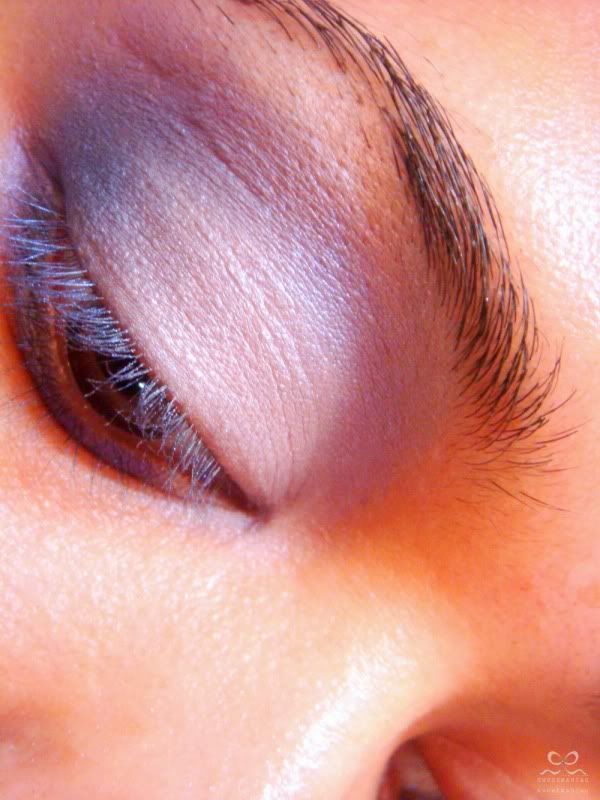 This is my fav. technique. .. using a very light colour on the lid, and blending a darker colour on the outer corner through up the crease towards the nose. But the eye makeup wouldnt be complete if you dont finish it with eyeliner and mascara ! it looks pretty dull right. If in lazy days .. I dont normally wear eye shadows. I think people would look great with just the application of mascara without eyeshadows.. but dont choose mascara over lip colour (lipgloss/lipstick or anything which you prefer)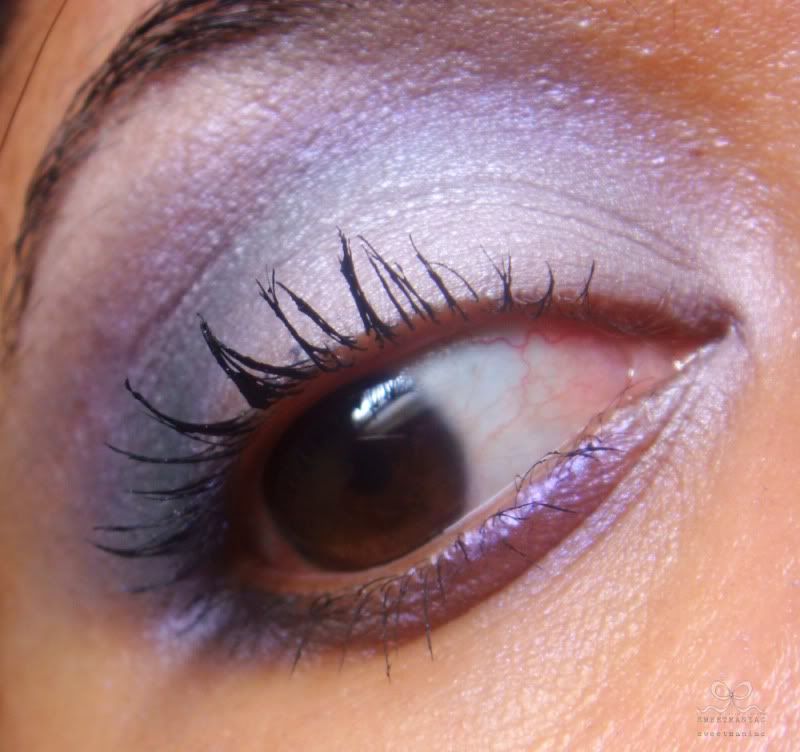 my not so long and very few lashes :( just be grateful people ! duhh
second way...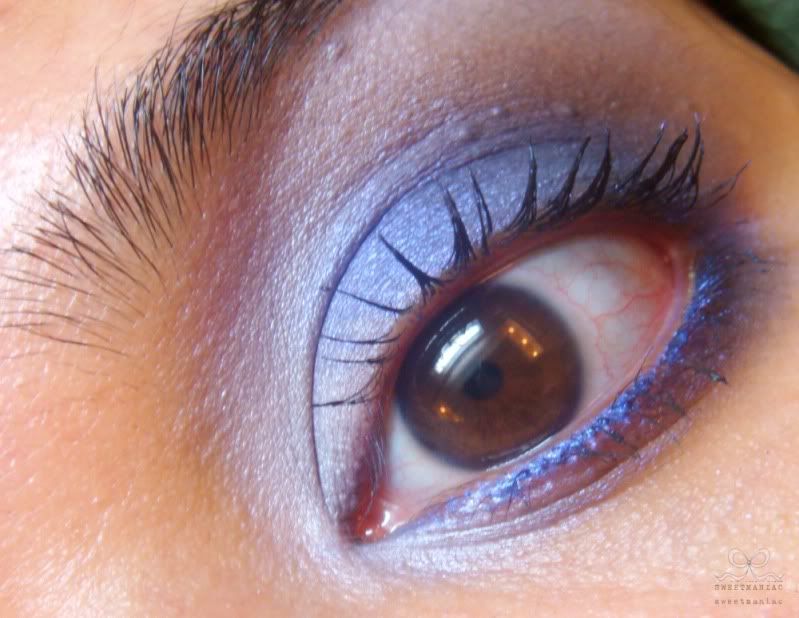 I applied my most fav. colour which is the blue one all over the lid and blended it upward with the grey on the crease... as well as on the lower lashline. The lightest colour is applied on the inner corner, of course to open up the eyes.. and very lightly goes on the brow bone. Highlighter is important to bring out the rest of the eye shadow colours on the eyes.
Do you get anything from this collection ? share with me ! :)