Yess, the one that I finally decided to buy is the Miss Violet set!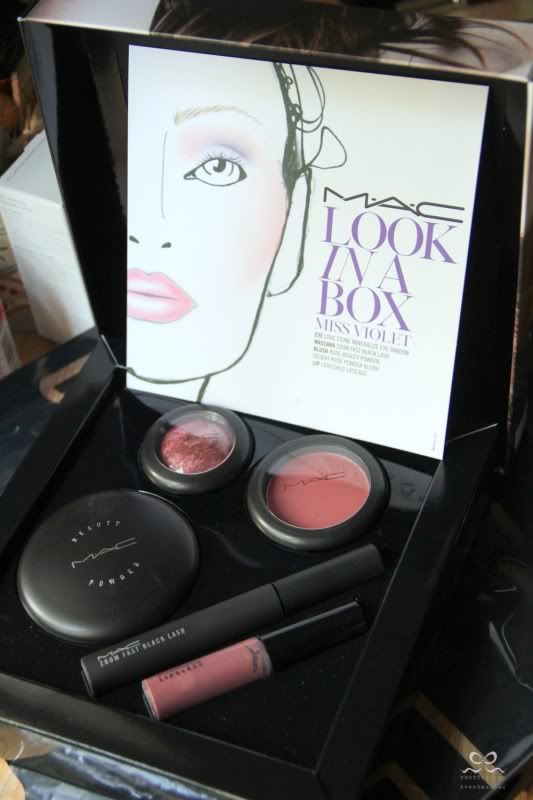 The set includes: 1 pretty beauty powder which you can use it as a blusher , a mascara, a lipglass, a matte blusher, a mineralize e/s and a Face Chart ! :)The face chart is a simple quick guide for you to create the look using this stuffs.. but trust me, I couldnt find any purple spots on the mineralize e/s to apply it on my lid .. the veining is mix up with gold pink and deep plum, though I dont deny that there's a little of lilac hues in it, but its very difficult to pick up the colour with your fingers/brush !.. so its better for you to use any other purple e/s colour on your lid, and blend a bit of this on the crease.. if you want to achieve the look as of the face chart
Product Swatches. The lipglass can be worn alone or on top of the right lip colour. I would describe it as a mauve pink with some gold glitters in it.... it can be build up for greater intensity. I love the blush colour. its really pigmented, so a little goes a long way! Just becareful with it coz the colour is really deep and the texture is matte ,you wouldnt want your face to look like a "clown" ! :p Apply a small amount and blend.. if its not of your desired intensity.. re-apply again. Thats the only way you can control of the application. The beauty powder too is a gorgeous colour. I love rose hues. Its like a brownish pink that suits every skin tone .. I would wear this as a blusher instead of powder the whole face coz my face already has lots of redness ;(
Somehow, if you are fair and look pale, this beauty powder can warm your face a bit.. I would recommend using a large fluffy brush to apply it all over the face for smoother, better application.
I did a very simple quick easy makeup using Miss Violet stuffs but didnt elaborate more on the makeup.. i was very lazy to do it ! sowwy :p So this one is just a simple eye shadow application without eyeliners, highlighters .. and bla bla bla ... but this one is great for your daily makeup :) The e/s turn out to be pinkish plum with gold glitters when blended together.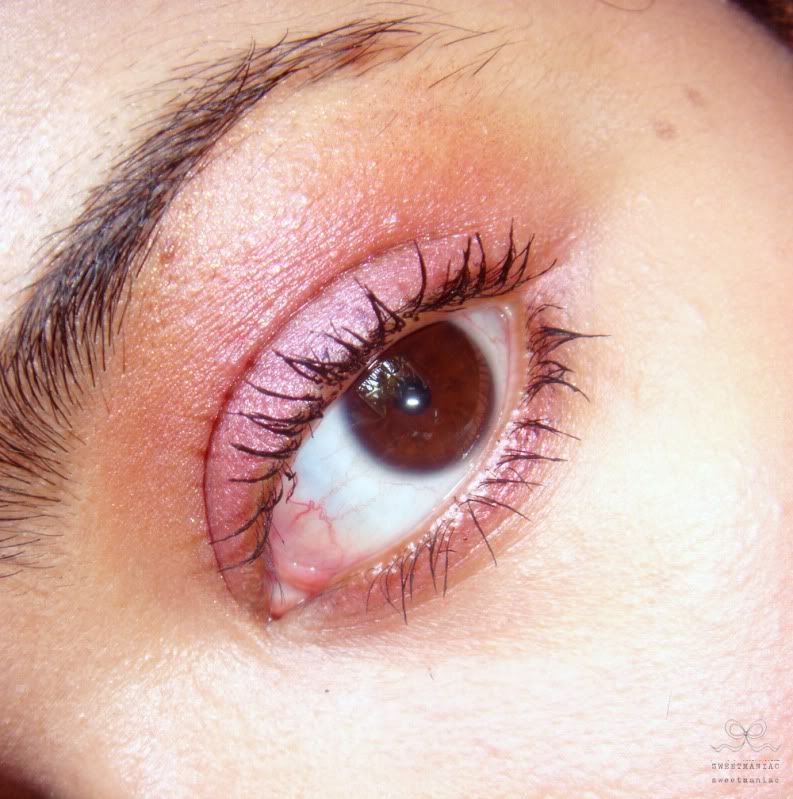 Honestly, I hate to wear the eye shadow alone. I would probably combine it with a very dark mauve brown on the crease perhaps .. and finish it with a well define eyeliner on top as well as on the waterline. for a more dramatic look, false lashes is the solution !
So, Thats all for now guys. Hope that I'll come up with more informative updates for you in my next post :) Have a great day ahead !