Here comes the most boring post of today... my random haul ! ;p
I am actually kinda lazy to write about the stuffs that I recently bought from MAC latest collections .. a HUGE collection.. which is the Fabulous Felines (coz more stuffs means more explanations).. and a few items from the previous one which was from Dare To Wear and the Digi Pop. I only picked up a few items though,.. so I will only tell a bit what I got from each of the collections.
Mac Dare To Wear Collections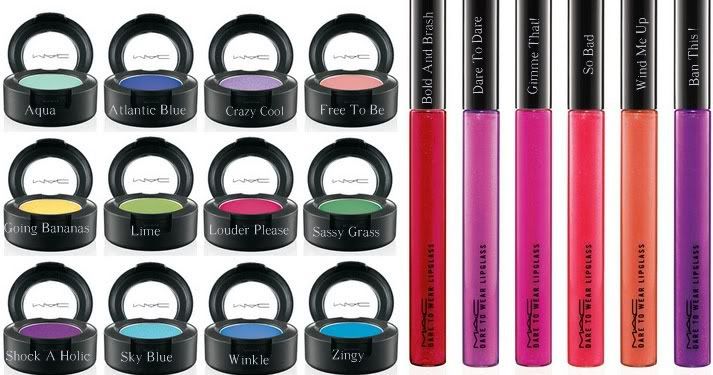 Im not really into bold, bright shadows... so I skipped most of the shadows even though I admit that all the colours are beautiful ! I picked up only 2 shadows out of 12 ! Its Crazy isn't it.. MAC released 12 shadows at a time.. i.e. If I were to buy all those, it had cost me about almost a thousand dollars... madness :p It was kinda difficult for me to make selections. Most of the shadows from this collections are matte... where matte is boring ! I love Veluxe Pearl finishes but theres only one lavender colour ( Crazy Cool) in the collections. I already have so many purple eye shadows.. so I skipped that.. no more purple .. thank you ! hehe .. I end up buying one frost (Going Bananas) and 1 satin finishes ( the only satin shadows in the collections) which is Winkle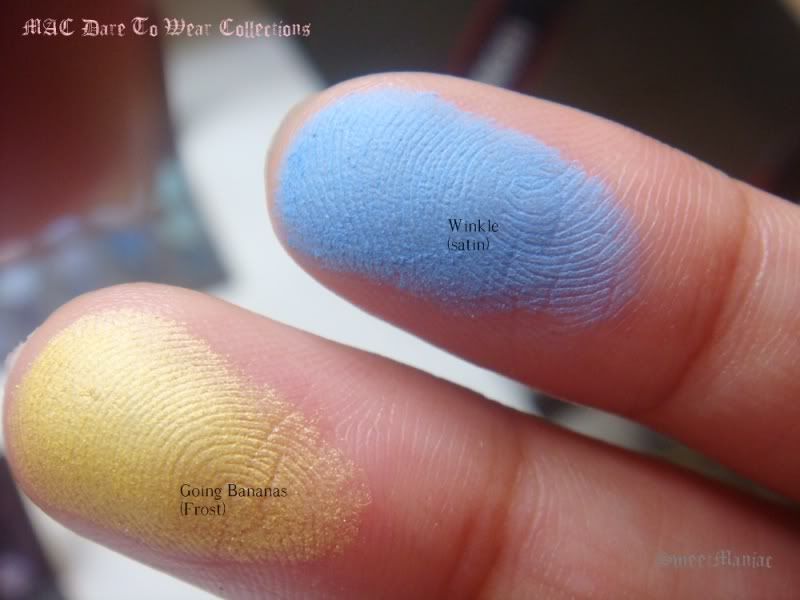 Going Bananas is described as a soft lemon yellow, re promote from C-Shock collections. This colour is quite famous among the MAC lovers, but Im kinda disappointed with it, the colour doesn't really produce a great pay off .. it appears very sheer hence good as the inner corner highlights. The colour is so intense when used with a yellow base primer, though. Winkle is a mid-tone cornflower blue in Satin finish. Its a pretty blue colour which is not too bright, suitable for almost all skin tone.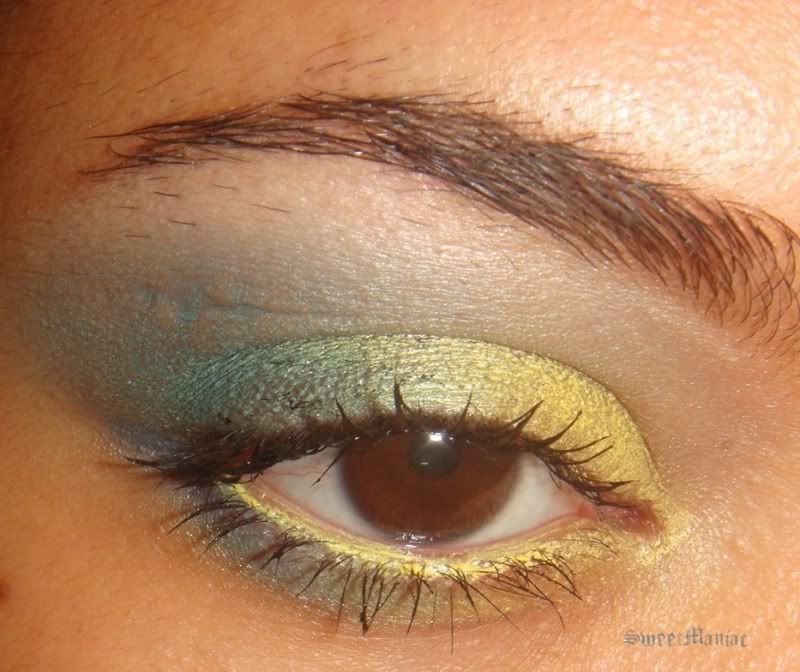 I love the fact that when these two mixed together, it turned out to be a turquoise colour. Yess, Blue + yellow = green. Damn, winkle is kinda hard to blend on my "scarred crease" .. :( I firstly applied "yellow" by NYX as the eyeshadow base on the lid before applying Going Bananas for a great pay off. Seriously.. I dont DARE to wear such colours on my eyes.. would definitely find some other neutral shades to combine with each of the colours.
Gimme That ! is the only Dare to wear Lipglass that I picked up, but honestly.. I dont like this ! I prefer the dazzleglass instead. Its really super tacky and sticky on my lips.. Gimme that is a bright fuschia which has fuschias and purplish micropearl.
This is what it looks like on my lips... never tried on top of any matching lipsticks which I think would be better. Great colour for those who doesnt like/ lazy (like me) to do the eye makeup :D
Digi Pop Collections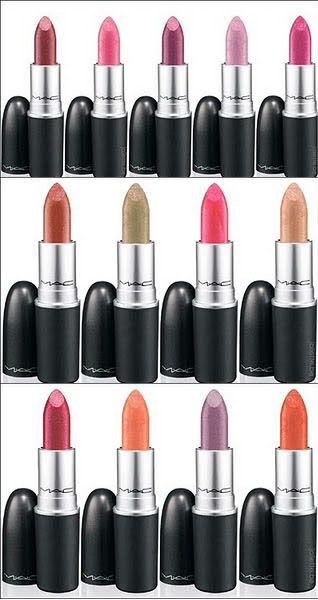 There are 13 NEW Limited edition glitter lipsticks from this collections.. though I dont really like glittery finishes, but I fell in love with this one..
Introducing.... my MOST Fav dazzle lipsticks; Liquid Lurex (Tarnished Golden~ Pearl). I Looove this so much! It looks quite greenish with silver-pink pearl but goes on very sheer on the lips. This colour would be a perfect topper on almost colour of lipsticks. It gives a silvery finish. Plan to get another one of this for back up. Its been re promoted in the Fabulous Feline released early Sept.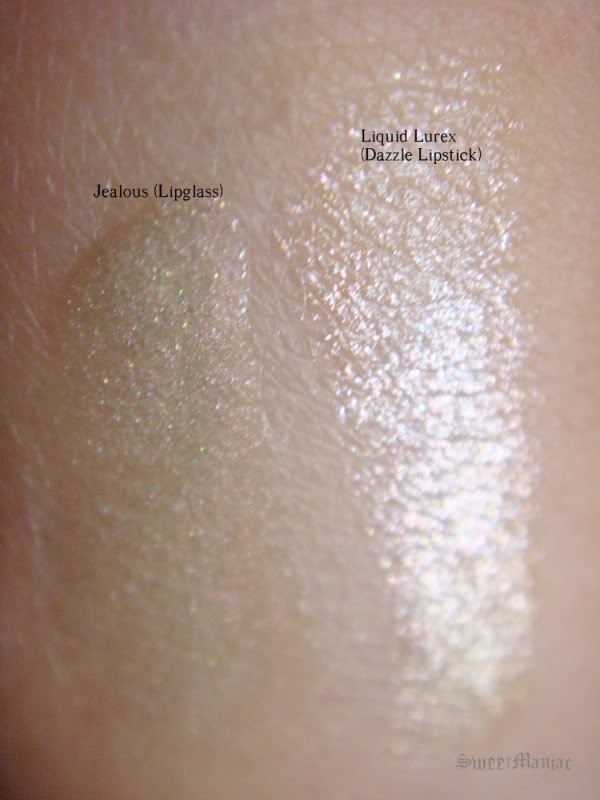 The swatches: left; Jealous Lipglass ( from the Fabulous Feline) and Liquid Lurex ( from Digi Pops, Reporomote in Fabulous Feline)
Liquid Lurex alone ... pretty sheer with multi dimensional pearl.
Example on top of MAC Laugh a Lot Lipstick..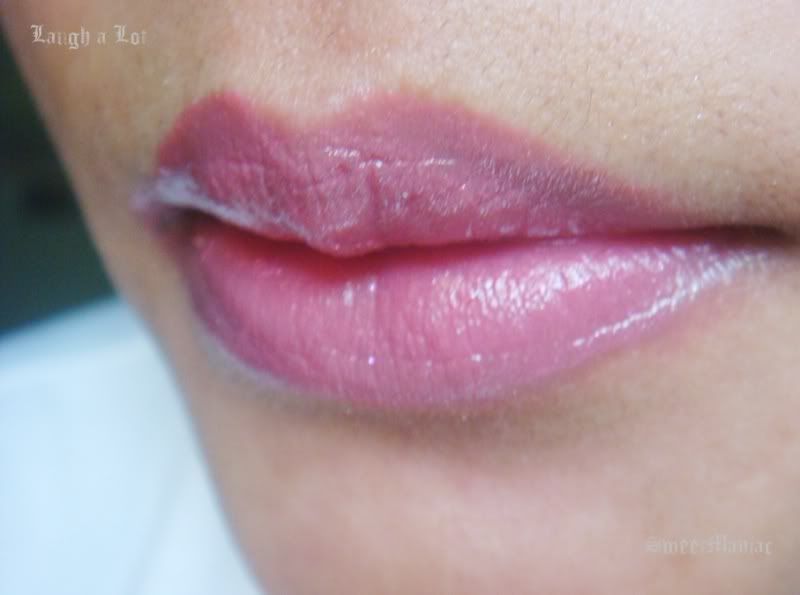 Laugh a lot alone ...
Liquid Lurex +Laugh a Lot. The green undertone of liquid lurex slightly neautralize the pink colour of laugh a lot and add shimmers to it
to be continued in Part II