This is the continuation of the previous post..
My Fabulous Feline Haul (Fall Collections 2010)
Have you checked out this col. yet at the stores ? HUGE collections, and great products as well ! Perfect choice for beginners whose looking for basic make ups, especially the palettes. Of course I recommend the one in neutral brownish shades . Its a quad with 4 beautiful colours and the price is only RM140 ( for four colourss girls ! ) Two choices, either Leopard Luxe / Burmese Beauty .. I cant tell which one is my fav... coz I love them both !! :S But I skipped that, coz I already have shadows somewhat similar to those colours in the quad.. (ermmm I might change my mind, anytime :p)
Fabulous Felines is breakdown into three parts: Burmese Beauty, Palace Pedigreed, and Leopard Luxe. Check out the websites for more infos.
Huge selections of lipsticks, lipglassess, eye liners, pigments, lip liners, palettes (some are repromotes, permanents, and limited edition stuffs). I didnt pick up any of the pigments (glad that I only love the permanent one, which is Old Gold ) the lip liners too are permanent .. and the new formula and packaging of eye liners didn't attract me much. I dont like to wear colourful eyeliners.. I only stick to black / brown.. the most universal colours for eyeliners. I did pick up one of those .. just to experiment with it and play around ...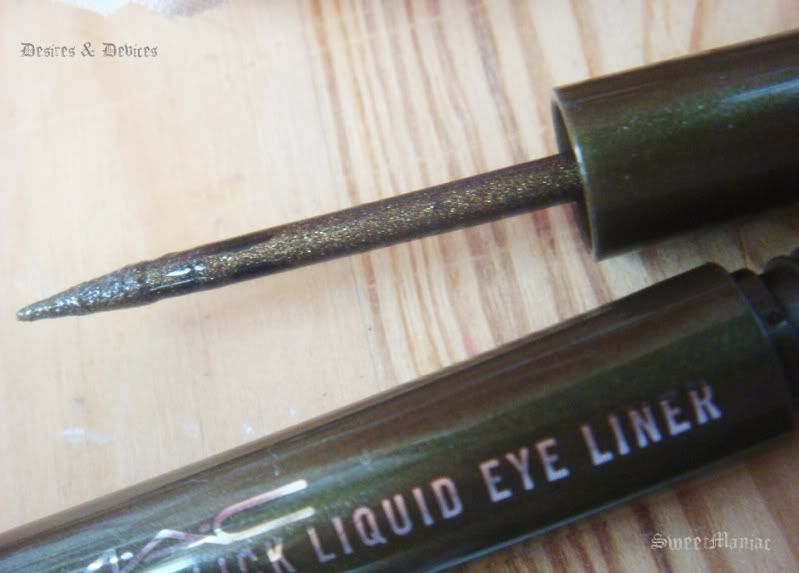 Its called, Desires & Devices ( Sparkling Dark Green) .. Damn ! I just discovered that all the liquid liners are permanent ! I dont like to apply liners with the wand ..I find the eye liner brush helps me a lot.. it gives more control.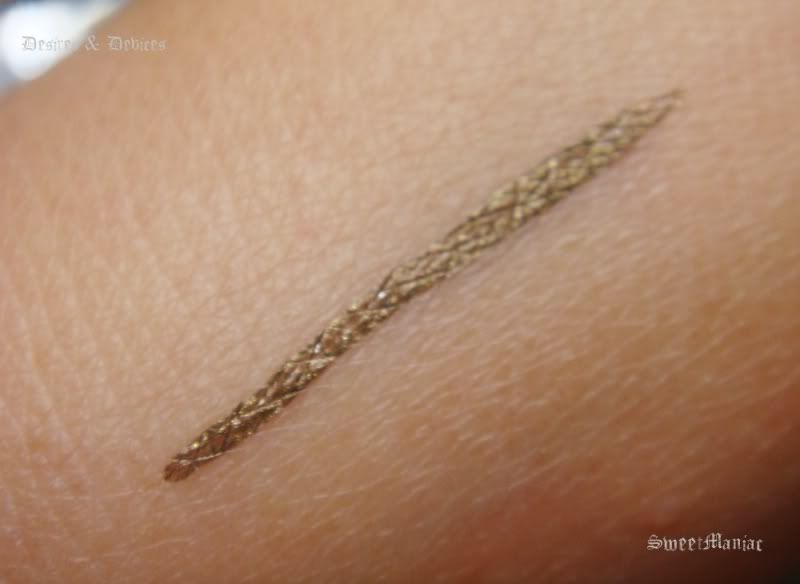 It looks like Olive green isn't it ? Can be easily remove/take off when its still wet.
There's only one lipstick that I got from this collection. Its from the Palace Pedigreed part..
Its called .. Aristo-Cat (frost) ~ Its a Mid-tone frosted Purple Mauve.. very2 pretty colour. I think it goes well on fair-darker skin tone. The colour pigmentation is build-able and would be very lovely if you combine this with the purple lipglass (its called Docile~if you prefer not to look weird) that came out together with this collection. I skipped the pretty purple lipglass *sobs* since I already have quite the same shade.. and to cut my budget (cant DENY that huhu! ) Aristo-Cat and the blue lipglass(Best of Breed) works best as well. A pretty unique combination, I would say.
Aristo-Cat on my lips.
off 9 beautiful lipglasses , I picked up only two of 'em. The most unique colour.. Jealous on the right and a goldish yellow lipglass, Schemer on the left
Schemer lipglass ~ Mid tone yellow camel, with red and gold pearl.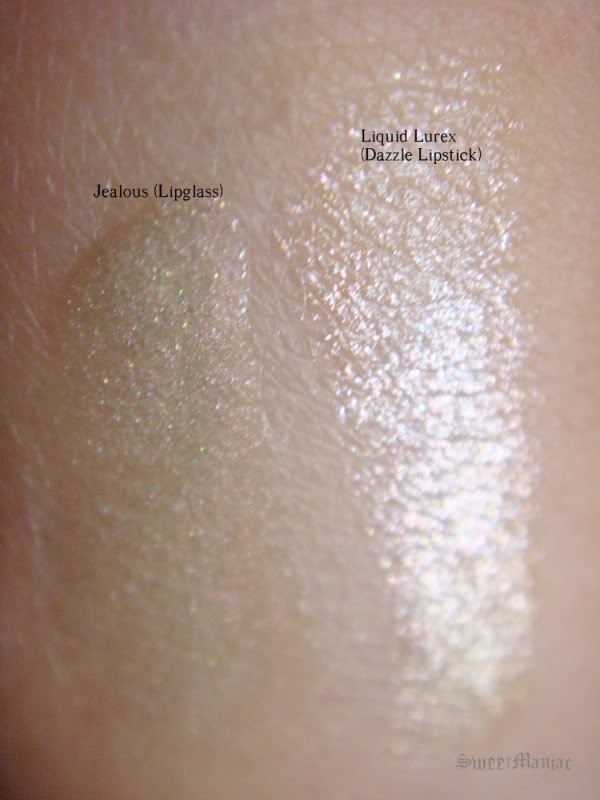 Swatches of Jealous ~ Light Dirty Green with pearl ... goes on very sheer on my lips.. doesnt show off the green at all when applied alone, but I believe it would be fabulous as the topper of any lipstick shades. Experiment to discover something you would never have imagined ! :)
Last but not least, from this HUGE collections (small buys)... the Palace Pedigreed Quad
4 beautiful colours, but Im so dissapointed with the textures .. need more effort to blend Russian Blues(my most fav. colour in this quad.. the toughest one to blend! the end result suxx) Russian Blue is the only reason I bought this palette... I would have chosen the neutral palette ( Leopard Luxe) if I knew about this in the first place !!! agghh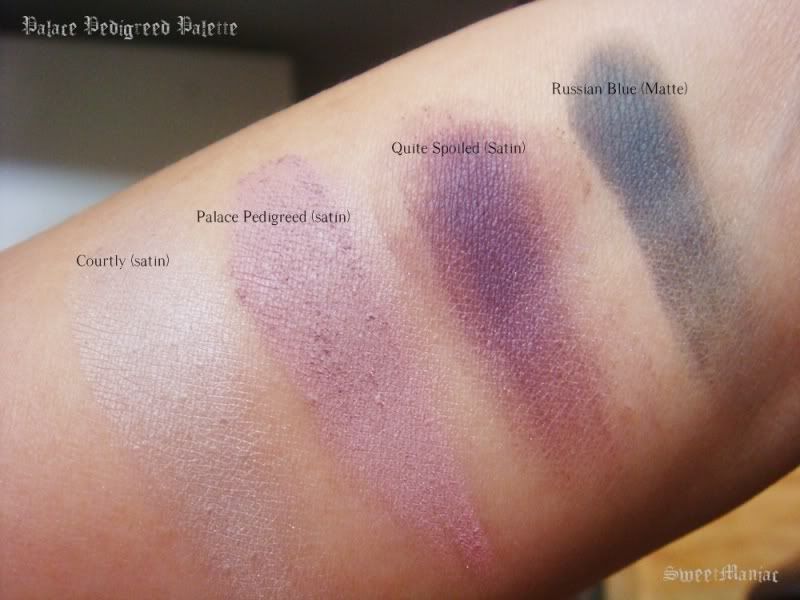 Courtly

Frosted muted light pink beige (Satin) (Limited Edition)
Palace Pedigreed

Deep berry with dark soft pink pearl (Satin) (Limited Edition)
Quite Spoiled

Mid-tone neutral mauve (Satin) (Limited Edition)
Russian Blue

Deep neutral grey (Matte) (Limited Edition)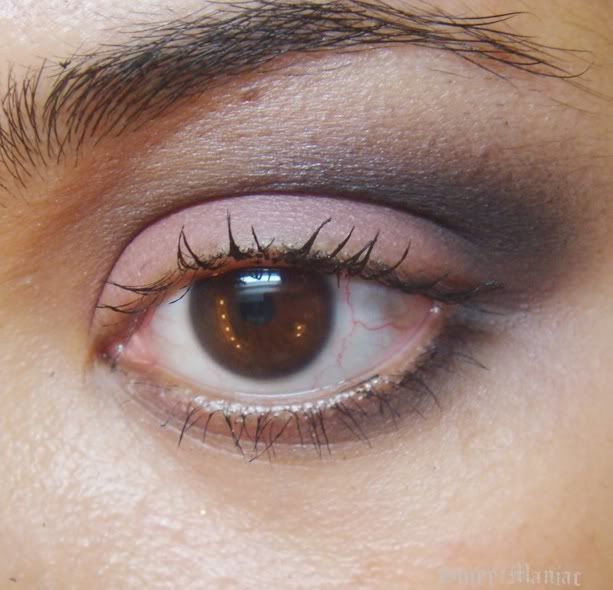 Russian Blue is not smooth, really.. it needs some other colours to blend it out. Try mix Russian Blue + Quite Spoiled before applied on the crease and blend for a better result
Hooray ! Im DONE !! So guys, sorry If you found this post to be boring ! Im so sleepy.. and im off to bed now ! *yawns* (its already 2;14am in the morning ) I will try to blog about the latest MAC Pro Longwear Lipcreme tomorrow ! Have a great day ahead, and happy working :)