Hi again ladies ;) Im back with my update on my recent cosmetics hauuuul .. what I bought at sephora (not that interesting though ugh) .. thats why I think I have to combine it together with other products that I bought recently but no time to share here ;) Lets get started !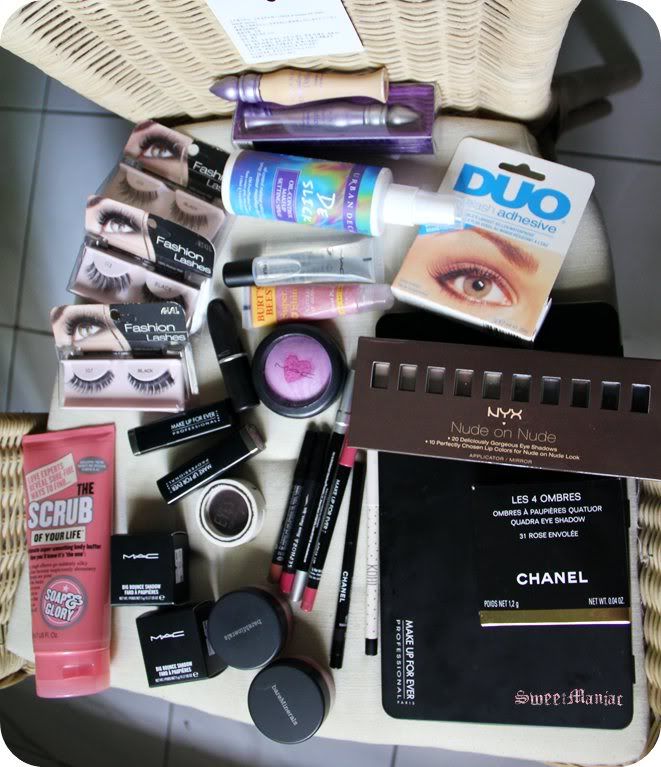 To list down all of the products from the picture above .....
Items bought at Sephora:
1. Ardell Lashes
2. DUO Glue (this can be purchased at any MAC stores as well), but at sephora, you can find two diff brands of adhesive glue , DUO in white colour that dries clear, and dark tone that dries black, the other brand is from Ardell, LashGrip which offers two different types as well as DUO, one that dries clear and the one that dries black)
3. Urban Decay primer potion (yeay !! no need to buy it online anymore!)
4. Urban Decay: De-slick Oil Control setting spray
5. Urban Decay 24/7 black eyeliner
6. Soap and Glory, Body scrub
7. Burt's Bees super shiny natural lipgloss in tube in Sweet Pink
8. bareMinerals blush in giddy pink and laughter
9. Sephora Nano Lip Liners in cute caramel and funky fuschia
10. MUFE lip liner in 15C
11. MUFE rouge artist intense lipsticks in no 30. and no. 31
12. MUFE magnetic palette
Other stuffs...
13. TOP SHOP single eyeshadow
14. TOPSHOP eyekohl pencil in black
15. MAC Mineralize blush in sakura (from quite cute col)
16. MAC lipstick in playtime (quite cute col)
17. NYX Nude on Nude palette s119 (bought this online)
18. Chanel les ombre quadra in rose envolee (spring col.)
19. Chanel waterproof eyeliner pencil in brown
20. MAC Clear gloss
21. MAC Big Bounce shadows - The cool elite and count your assets ( MAC flighty col. for summer)
to be continued ... in part 2 ! wait for my reviews and product swatches of my recent cosmetic hauls in my next post ! ;)
-hugs and kisses -