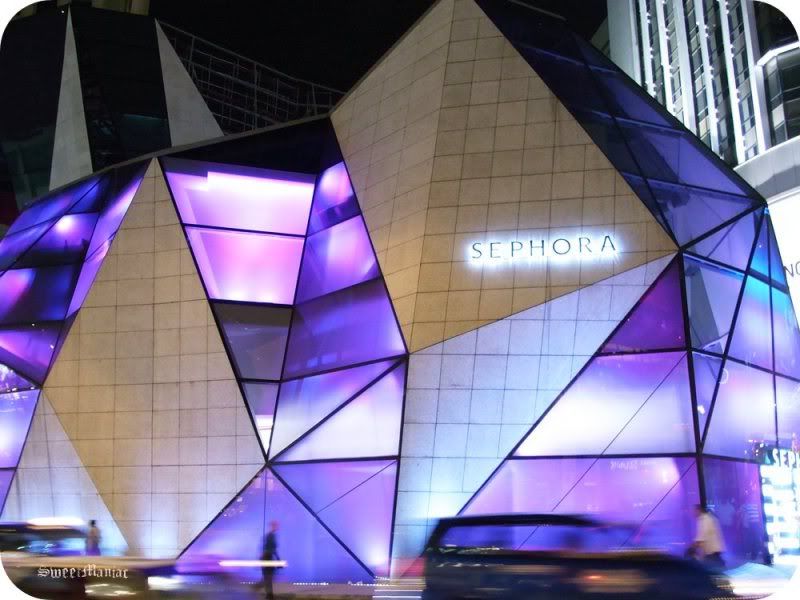 Sephora has officially launched its flagship store in Kuala Lumpur at the Starhill Gallery, along Bukit Bintang Walk. It has opened its door last month, on 28th of April 2011. Lotsa beauty products, which are not familiar here awaits you guys , such as Bare Minerals, Urban Decay, Soap and Glory, Pop Beauty, Murad's Skin care range, Too Faced, Burt's Bees, and a wide range of Sephora line itself !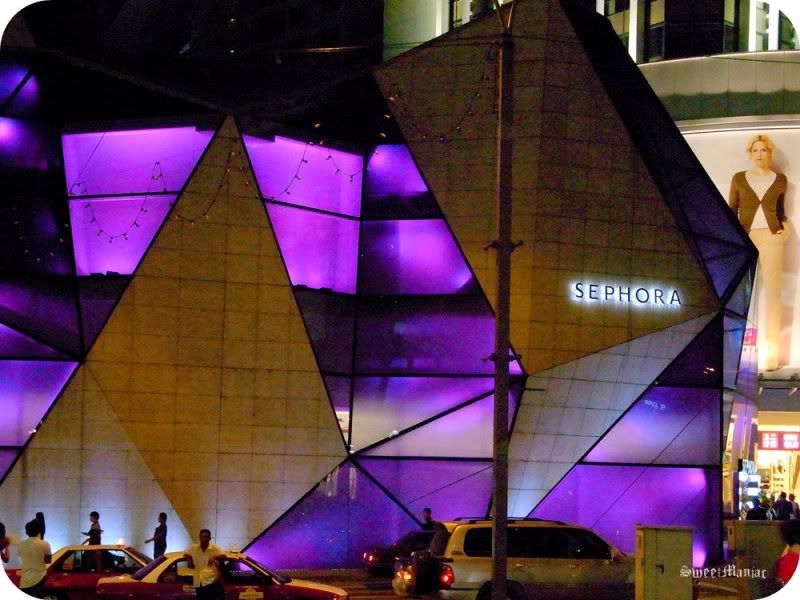 Night view from pavillion
So, beauty junkies out there.. have you checked out the store for numerous beauty products yet ? I know that I should have updated this a month ago ! lol .. but anyhow, I thought maybe its not too late to share about this news in my blog.. Im sure, there are some of my readers who lives outside of KL and doesnt know about the existence of it yet ! For those of you who are not familiar with sephora, you can google sephora to view its website for details ;) Happy, finally the store is in kl and will be opening a second branch at KLCC soon, SO, I dont have to order some stuffs that I love thru ebay anymore, though they should bring more unfamiliar brands here to Malaysia !Yess, Im sure more beauty products will be added soon to the Sephora's collection as the second floor of the Sephora building is still under construction ;))) For the time being, they are only operating at ground level. It will be the largest beauty store in Malaysia... yeaah !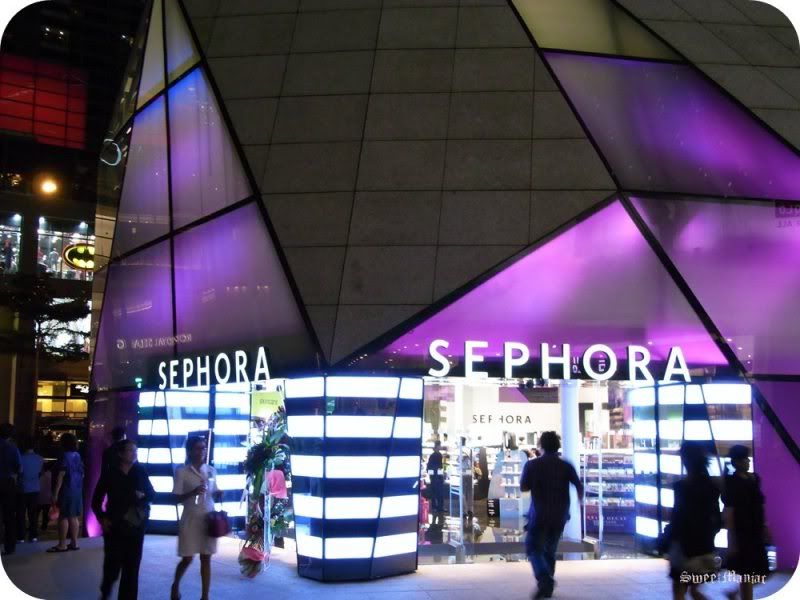 Night view: from Uniqlo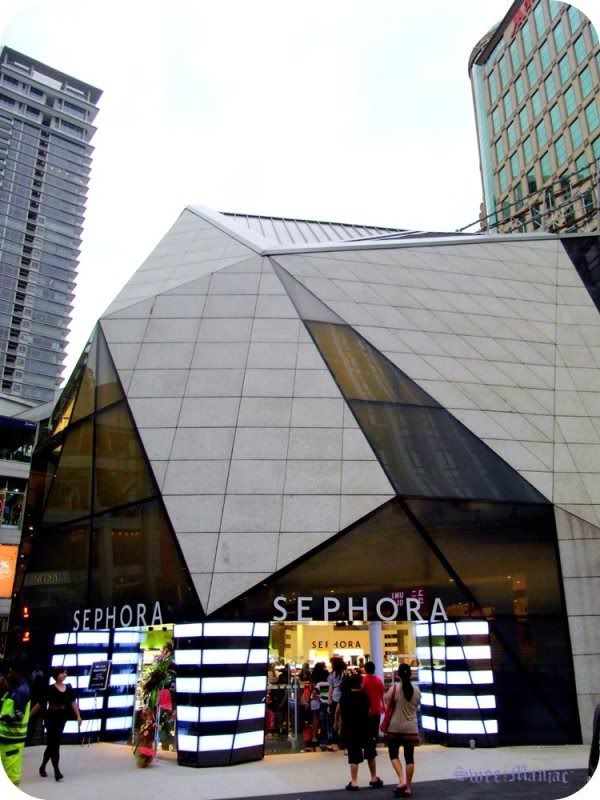 Day View: from Uniqlo
I stepped into Sephora for the first time on the opening day, Ive been there twice already. I was so excited on the first time, but quite dissapointed that they only brought only a few brands here , unlike other Sephora retail stores i.e US that carries a lot more stuffs from lotsa brands.. At least, Malaysia's Sephora is better than the one in Beijing that I went two years back. One thing that I really wanted to buy was Nars, hoping to try their sheer glow foundation so badly ! Well, when I asked the beauty assistant there, she said that Nars will be here next month in June ! hoooraay if its true ! Meaning that, I have to save money for Nars, starting from NOW! ;p
I snapped a few pics around the store.. some brands that caught my interest were...
Bath and body care: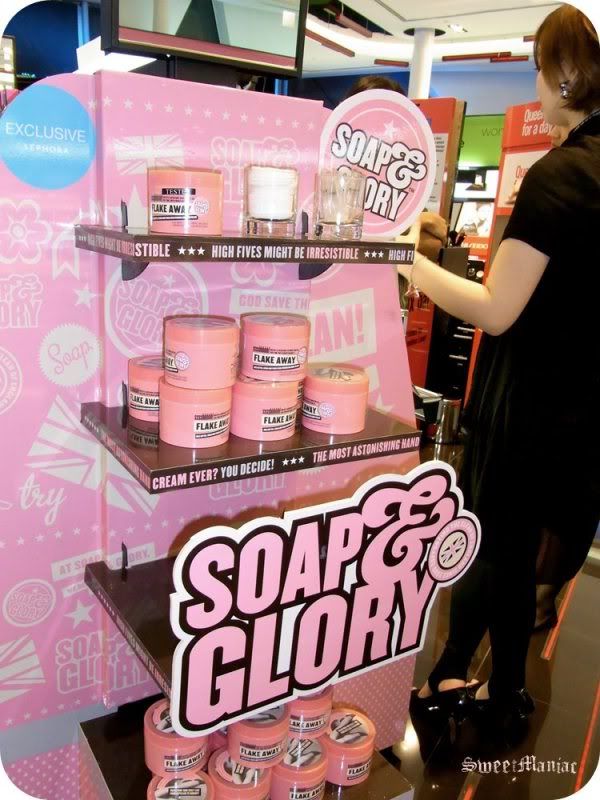 Others not taken pictures are: Korres, and Burt's Bees (these are the ones that I can remember)
Lots of cosmetics range from the Sephora line itself, from Makeup range to skin care products. The makeup selections are like heaven ! so many eyeshadows, foundations, powder, blush, palettes, lip products to choose from. Beauty tools to name a few; tweezers, diff. types of makeup sponges, quality synthetic brushes, etc are also available at affordable price.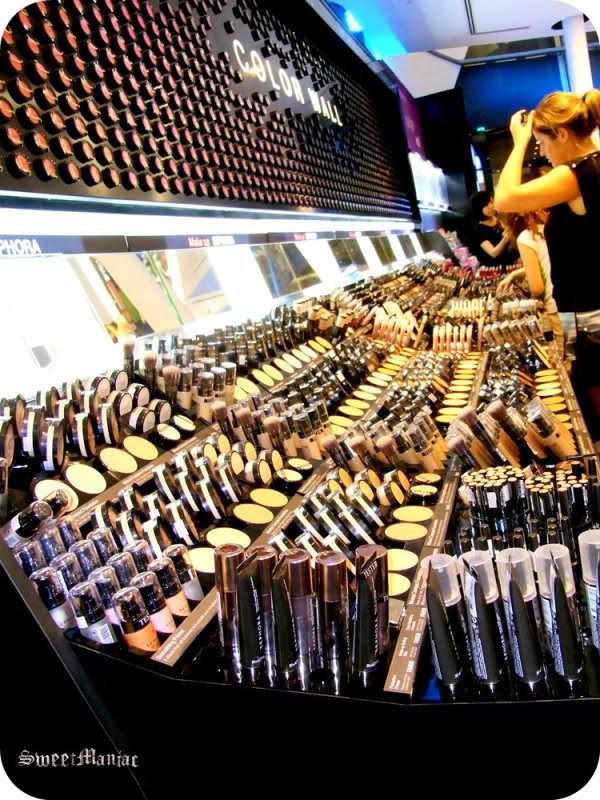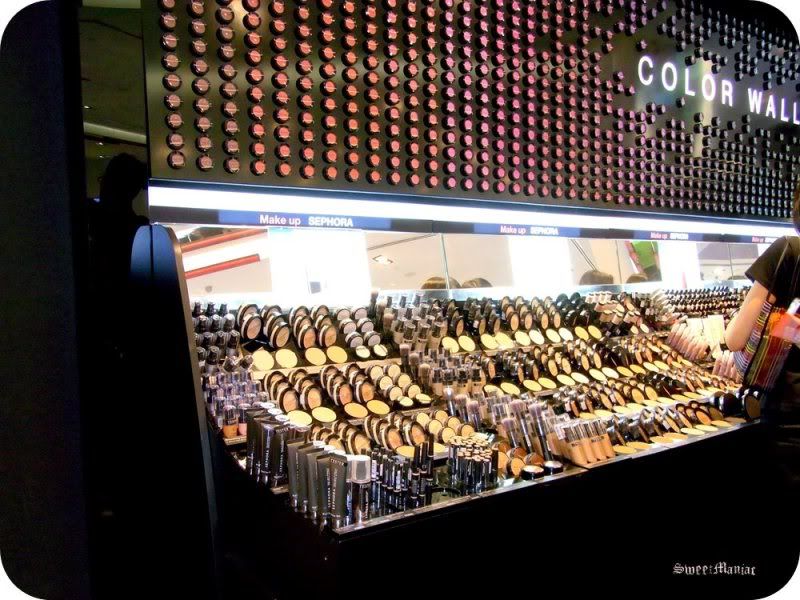 Urban Decay: Interesting fact about this brand is, it carries very good pigmentation of eyeshadows, but not many colour selections, eye makeup primer (primer potion) that everyone can't live without, and different interesting eye palettes to choose from.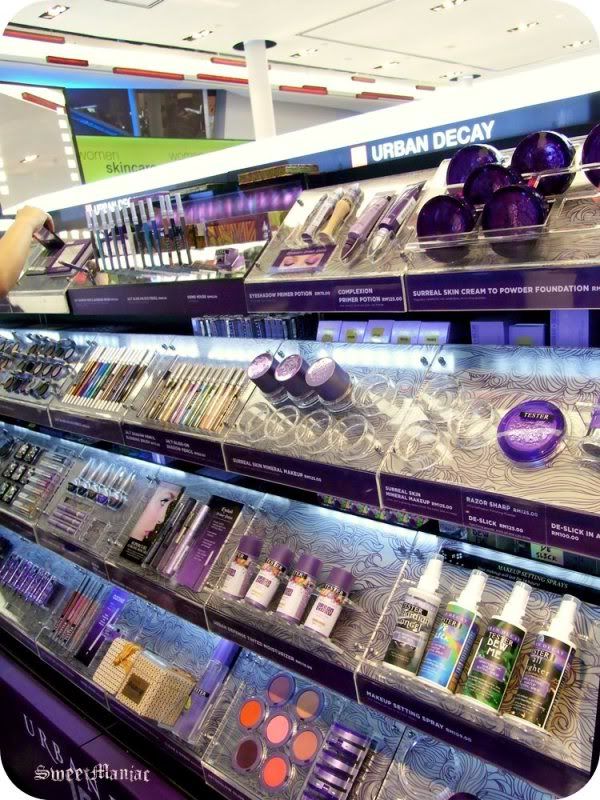 bareMinerals especially meant for acne prone skin: so many colour tone of mineral loose powder, powder blushes, and good quality makeup brushes.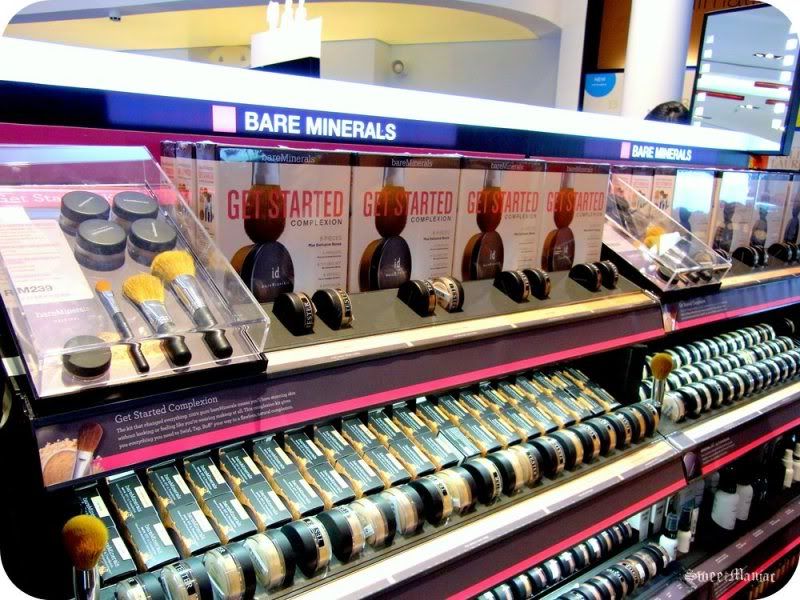 I would love to try their starter kit someday !
Pop Beauty: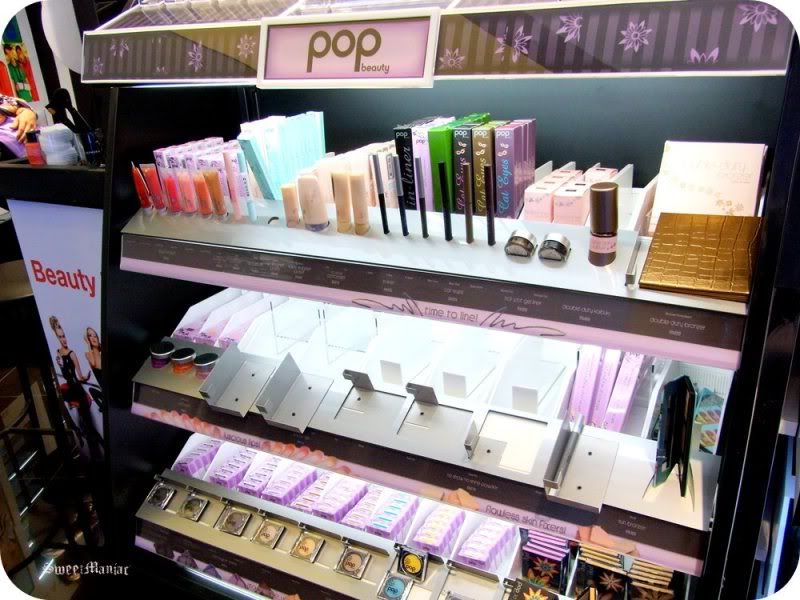 Too Faced: The shadow insurance is a good selection for eye primer + less pricey than UDPP but of the same quality, beautiful bronzers, palettes for natural day time make up, + their products are packaged in a cute chic lit style just like benefit.
Other brands available at sephora are:
SkinCare:
Dr. Brandt, Perricone MD, Murad, Strivectin, Estee Lauder, Juice Beauty, Dr. Hauschka, Sephora, Mario Badescu, Boscia, Ole Henriksen
Make Up:
Some familar brands here

: Make Up Forever, Smashbox, Benefit, Dior, Givenchy, Estee Lauder
Many Selections of Perfumes
for the perfume lovers also available at sephora.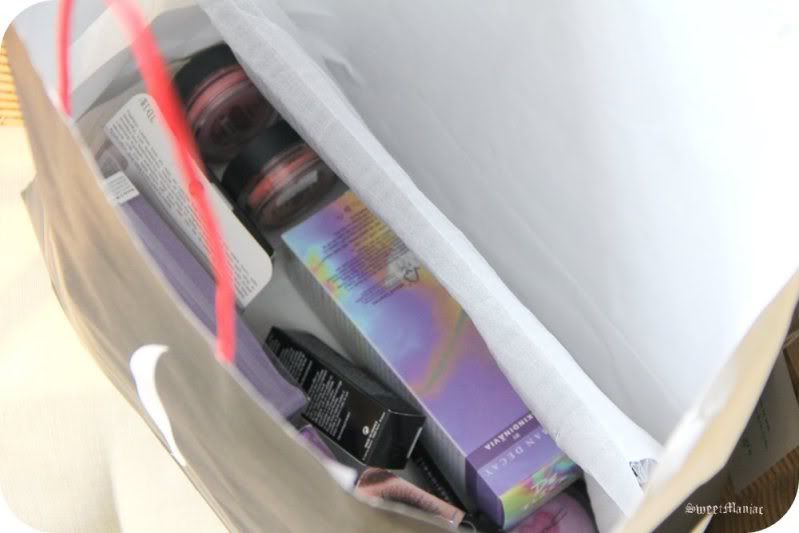 I just bought a few items at Sephora though ... coz Ive been spending lots of money on cosmetics recently. If you wonder what I bought there .. stay tuned on my next post for my recent cosmetics purchase ! ;) Till then