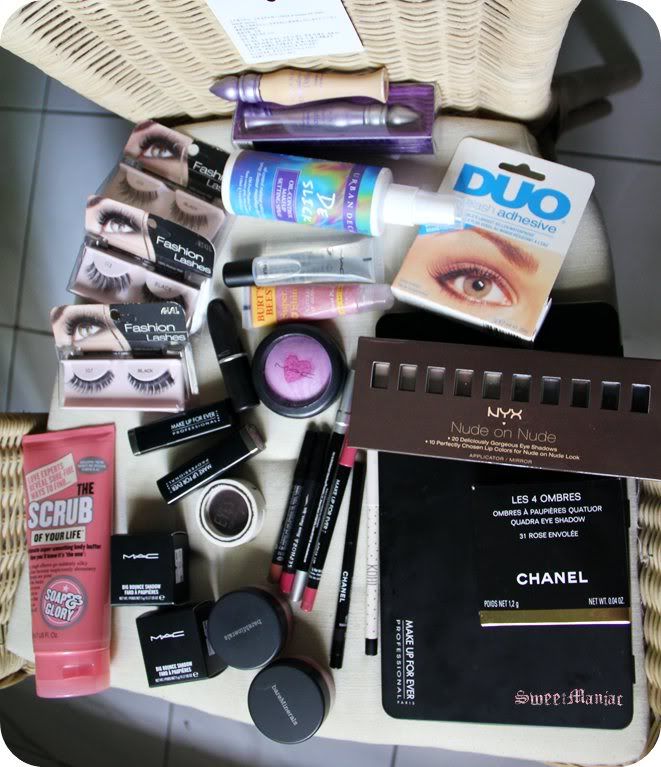 Here comes my reviews and swatches of all the products that I recently bought..
some close up pictures first ...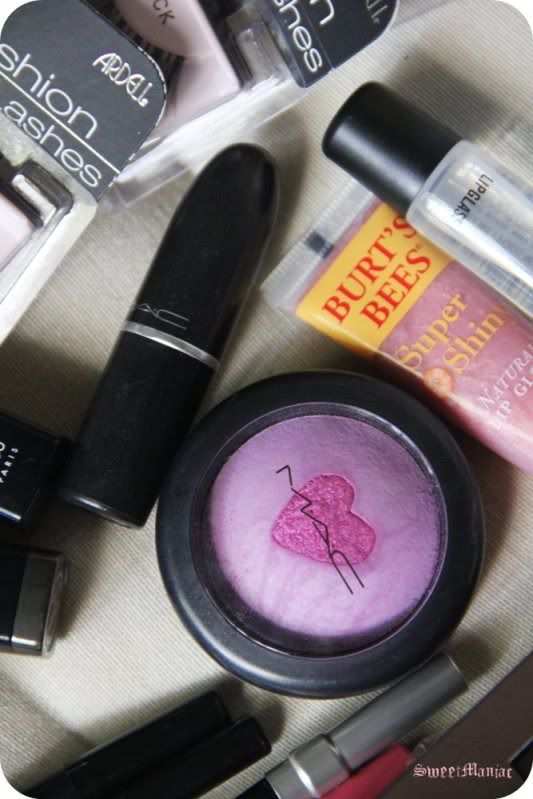 My new fav. blush from MAC, from the Quite Cute collection, fast play lippie from the same col, MAC clear lipgloss, and super shiny natural lipgloss from Burt's Bees.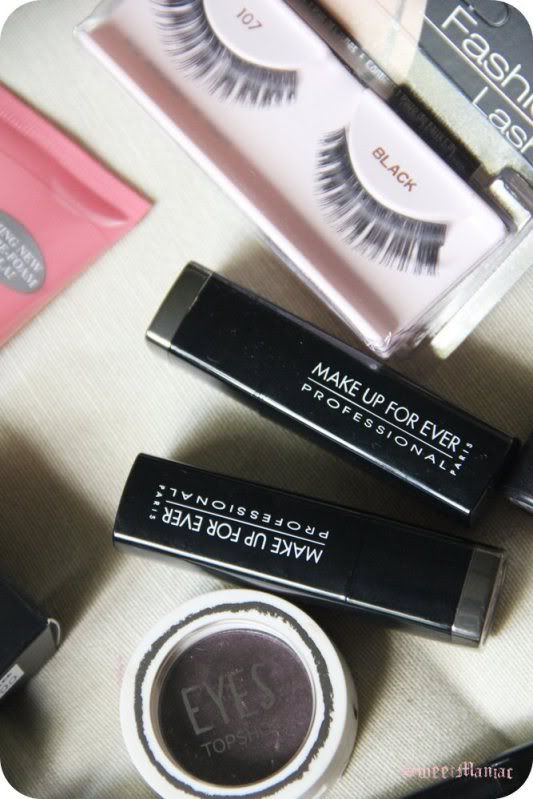 From Top-Bot: Ardell lashes #107, MUFE Intense Rouge Artist Lipstick, Top Shop eyeshadows in Potion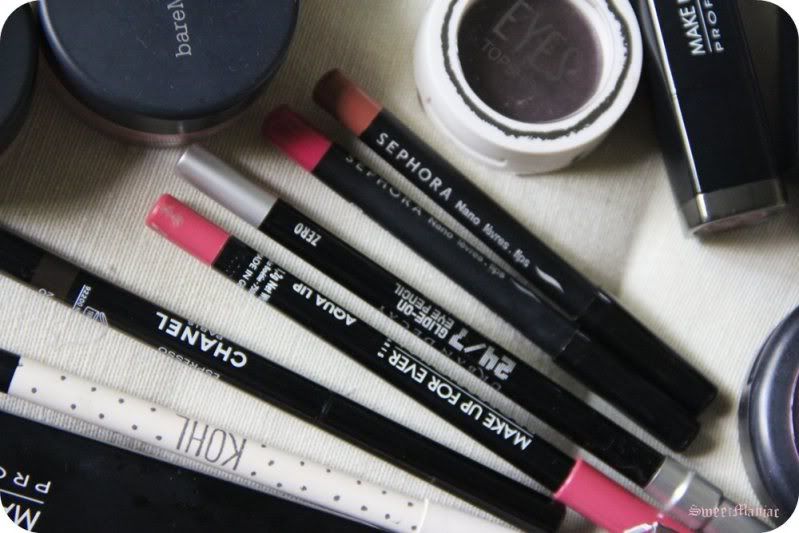 From Top-Bot: Sephora lipliners, Urban Decay 24/7 eyekohl, MUFE aqua lip liners, Chanel waterproof eyeliner, and TopShop black eyekohl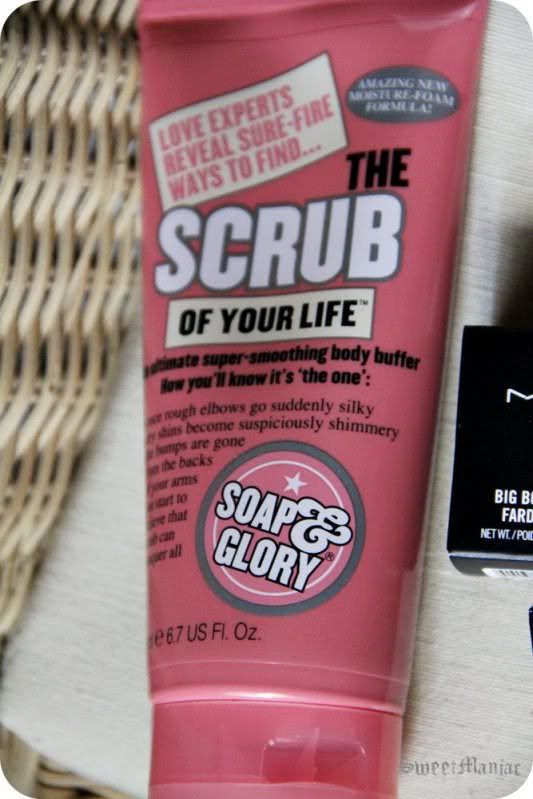 Soap and Glory Body Scrub
(RM39) : Definitely worth trying, and all I can say, its one of the best body scrub that i've ever tried ! I love it because, it has lovely scent (combination of fresh bergamot and mandarin, rose, jasmine, peach, strawberry, oakmoss, amber, woody notes and warm vanilla ), one thing for sure is the scrubbing beads are of the right ratio, not rough on skins like a cheap body scrubs (i.e St Ives), very moisturizing, it really helps on my elbow and my rough feet. Its an alternative body scrub for me coz this one is way much cheaper than my previous body scrub from L'occitane. This one is absolutely THE SCRUB OF YOUR LIFE ! Will definitely purchase other beauty products from soap and glory to give a try ;)
ARDELL Lashes ( RM22 each):
Ardell lashes are one of the most natural looking fake lashes that you can buy at affordable price ! You can get 2-3 of Ardell lashes for the price of 1 MAC / Shue Uemura lashes which I think is similar in quality. Ardell lashes come in diff. styles with clear / black strips, but the types of lashes are a bit limited though compared to the MAC lashes. I opt for lashes with clear strips since it gives the most natural looking lashes, plus its easier to apply if you are putting it on yourself. I normally use tweezers for easy application. Its very nice and cheap coz it can be reused couple of times if you gently remove the old glue, wipe off any excess mascara/eyeliners with baby oil/make up remover using cotton bud, and place back into the box neatly.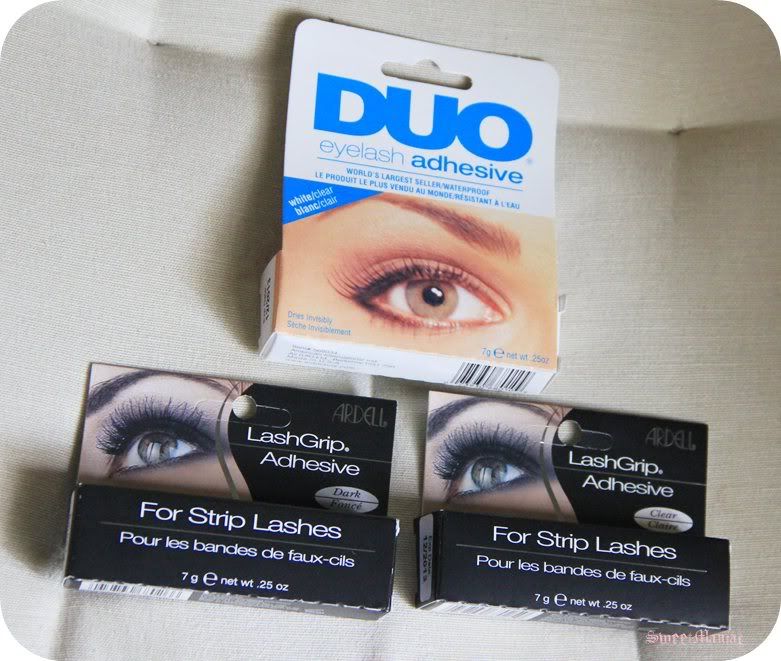 DUO adhesive (RM36) and Ardell LashGrip (RM22)
: Both glues are available at Sephora. DUO is a world's lagerst seller for false lashes glue and its waterproof. Comes in two types, that dries clear and dries black. Its much more expensive than the Ardell lash grip. If Im not mistaken, I previously bought the glue in larger size with the same price. I assume that the price of the item has being marked up by 50% coz the new packaging is half of the old version ! The new packaging is smaller in size compared to the old one.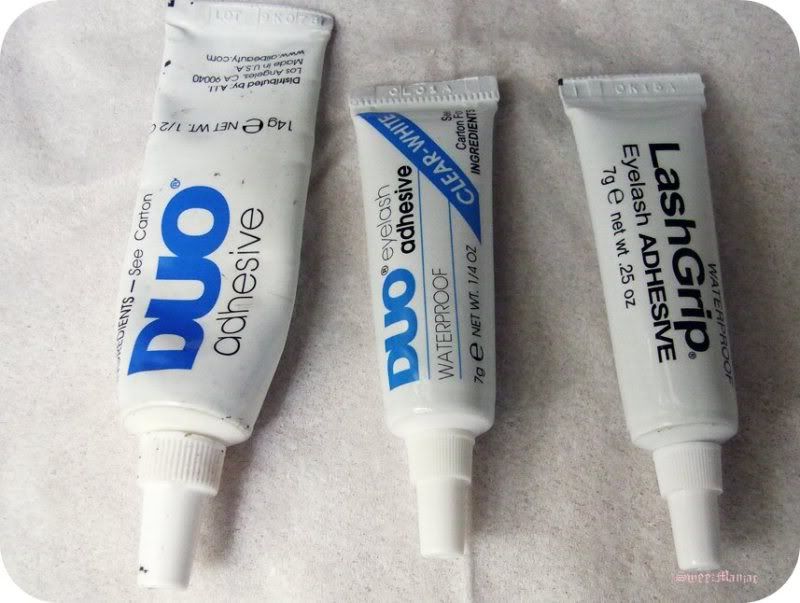 From L-R: DUO old packaging ( 14g), DUO new packaging (7g), Ardell LashGrip (7g)
Ardell LashGrip comparison in two diff. types. Both are effective and very fast drying, the difference between the two is just that it gives different colour appearance after it dries, one dries invisibly and the other one turns into black. Definitely worth buy since its cheaper than DUO.
MAC Quite Collections: Play Time lippie (Cremesheen), Sakura Mineralize Blush
Overall thoughts on Quite Cute collections: I only bought these two items from the col. so lucky that I dont have any interests to grab the other items from the cols. since its not really wearable unless you love playing around with all the funny colours ;p Among all the lippies, I think this is the most acceptable that I can wear. There's one barbie pink lipstick;Saint Germain which I already have, its a repromote from last years collection (MAC Sugarsweet collections), looks really tempting, but you will end up like a clown/ daisy duck if you wear it alone without putting the rest of eyes/face makeup, unless you are very2 fair enough to pull off that colour. It can be mixed with a darker lip colour though if you want to slightly lighten your darker pink lipstick ;) The lip liners are all of nice shades but I already have them, so I skipped them all ! ;)
MAC Play Time lippie (RM63):

Play time is a nice sheer purply colour with a slightly sheen to it. The formula is cremesheen which makes it very moisturizing on the lips, apply very sheer and not opaque so it gives a very soft looks on the lips, just like the look of wearing lipglass (except that its not too glossy) but actually you are wearing lipstick ,meaning...not sticky like wearing a lipglass! I picked up along with Sakura mineralize blush and they both compliment each other! So in love with the combination ;) I normally apply this along with a pink lipliner and blend together whenever I dont want it to be so purple.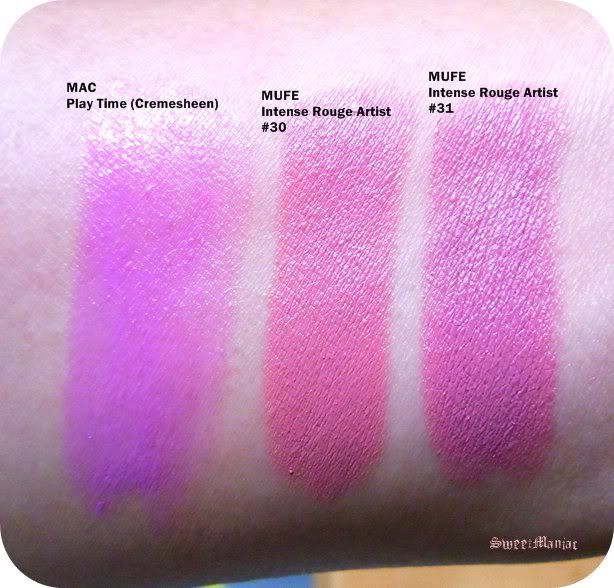 Lip Product Swatches: MAC Play Time, #30 and #31 of Intense rouge artist by Makeup Forever (review will come later)
MAC Sakura Mineralize Blush (RM100)

: This cute blush is a lilac toned blush with a slightly pink tone to it coz the love at the center is a dark magenta tone and when mix together, You get a 3D kind of effect, lilac + pink shimmer to it. Love the blush, coz its quite a cool colour if you already bored with pink/peach tone blush...try this one ! This one can be worn as an eyeshadows as well, you get three colours: lilac, magenta and lilac+magenta = purplish pink ;)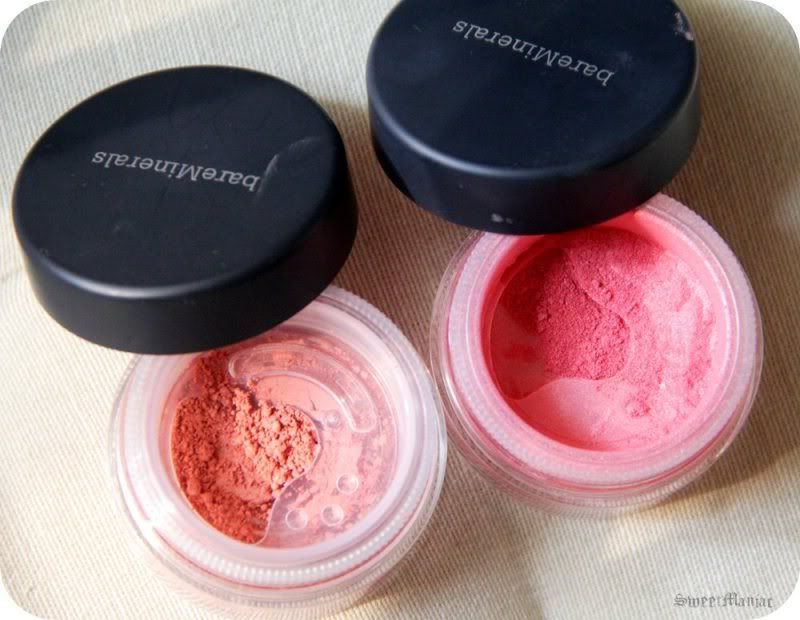 L-R: bareMinerals blush, laughter, giddy pink
bareMinerals Blush (RM89/each):
bareMinerals got a lot selections of blusher to choose from, there are 14 colours available but I picked up only two of those, which are laughter and giddy pink. Whats interesting about the blusher is, its in powder form, turns into creamy kind of texture when applied onto skin., packaged in a mini jar container
. Best applied with a blusher brush.
The blush is described as :
"Creamy, 100% pure bareMinerals blushes give you a beautiful, healthy tone that looks natural, because it is. Add a soft, radiant glow to your complexion with our silky cheek colors"
Benefits:
Infused with 100% pure bareMinerals.
Preservative-free.
Naturally good-for-you cheek color.
Gives a healthy, beautiful tone.
Provides pure pop of color.
Soft and creamy.
Buffs on like silk.
Can be layered over one another for unique looks.
Versatility allows you to wear them on cheeks, lips and eyes.
Ideal for all skin types, including sensitive and problem-prone skin.
Works for all skin tones.
source from: http://www.skinstore.com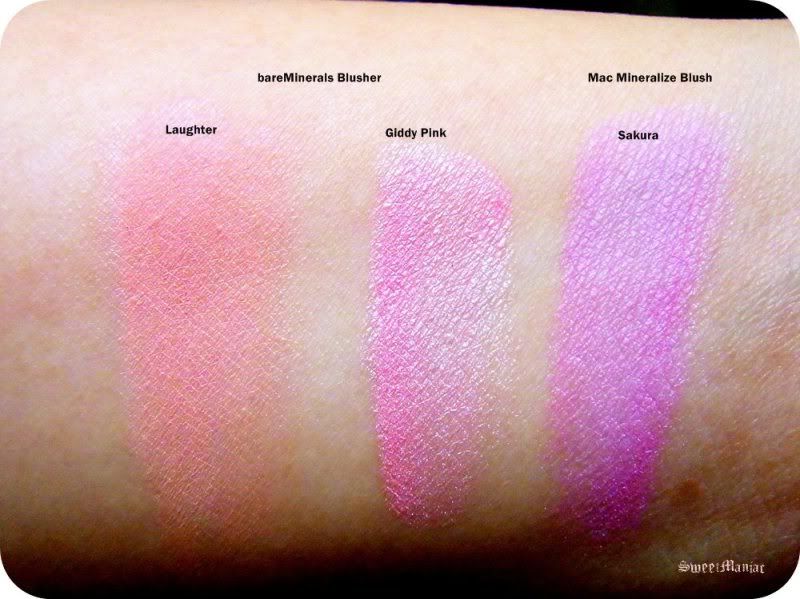 The swatches bareMinerals blush and MAC Mineralize Blush.
L-R: Laughter, Giddy Pink and Sakura
Laughter
: A Coral Rose colour which is more on the orange side. It looks very peachy when applied on the cheeks. It will make your cheeks very warm, a satin finish which doesnt have any shimmering particles. A nice blush for daily wear, though I have to apply many layers on the cheeks to add the intensity. The blush is usually gone after 1-2 hours - not long lasting. I love the fact that it looks very natural on skin, very easy to apply and blend.
Giddy Pink
: This is described as a warm baby pink though when swatched, it looks more to blue tone blush for me and it's quite shimmery. It gives the similar effect with the mineralize blush from MAC, very shiny and it makes your cheeks glow! .. but this blush does not give the same intensity and pigmentation as MAC blush. This would definitely suits fair-medium skin tone and great choice for someone looking for a barbie doll pink blush. This blush also gone after a few hours but really love the colour pay off.. so I dont mind re-applying !
Make Up Forever Intense Rouge Lipsticks (RM85/each) & Make Up Forever Aqua Waterproof Lip Liner pencil ( RM 65/each) :
These are lip products that I am loving right now !! Their items are quite expensive but
they are awesome ! I will definitely purchase more of the lipsticks and the lipliners in the future... a must have in your collections at least one ! ;) The pigmentation of MUFE lipsticks is super great, where you get high coverage in just one single stroke, and very long lasting. They are available in 50 shades and 3 different finishes, which are Matte, Satin and Pearly ( like a frost finish) . I have picked up two different shades in number #30 and #31 (both are Satin finish), where #31 is a satin Mauve Pink and #30 is Satin Light Rosewood.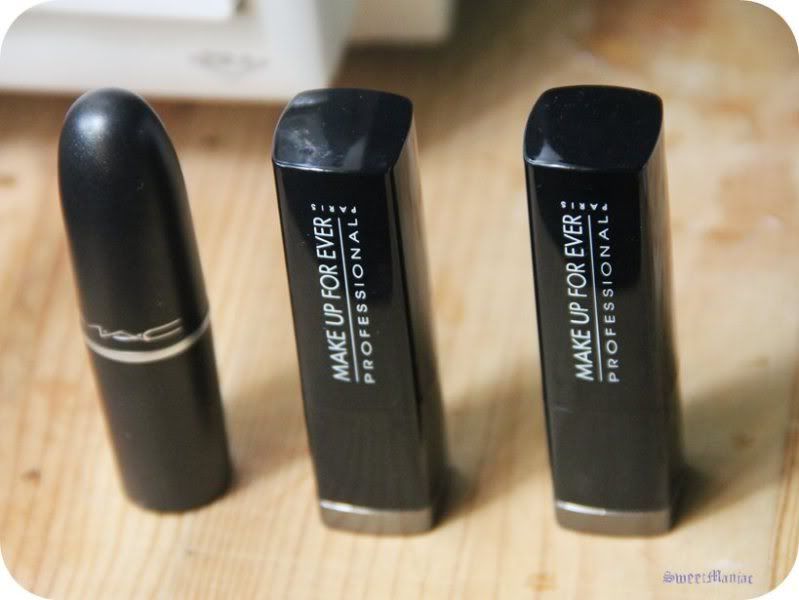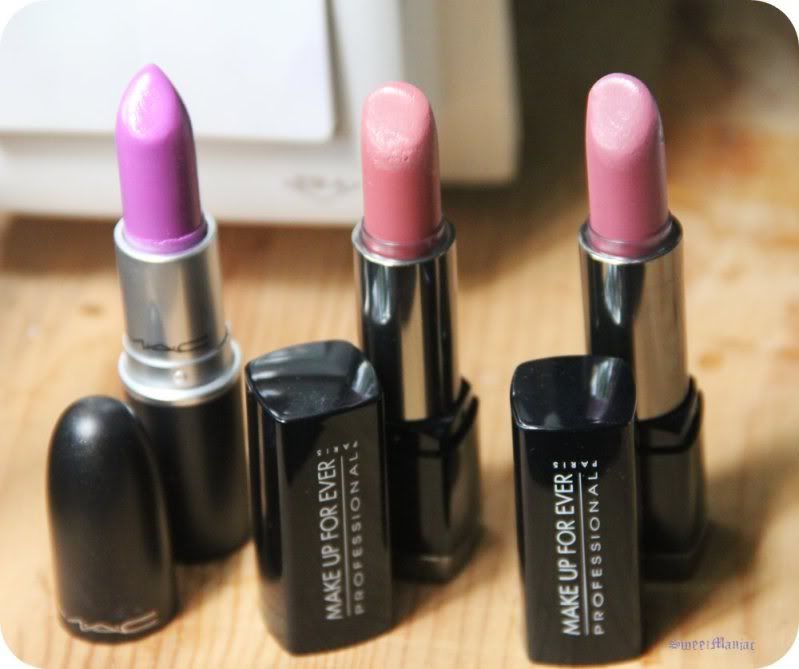 L-R: MAC Play Time, MUFE in #30, #31
#30: Satin Light Rosewood- A pinkish coloured lipstick with a slight brown undertone, makes it appear peachy pink on the lips. Reminds me of Sandwash Pink lipstick by Bobbi Brown but #30 has slighlty more brown tone to it.
#31: Satin Mauve Pink - Pink that has purple tone to it. A gorgeous colour, couldnt think of any dupes for this colour from a diff. brand, but I found MUFE lipsticks to be quite similar in formula and finishes with the one that Bobbi Brown carries.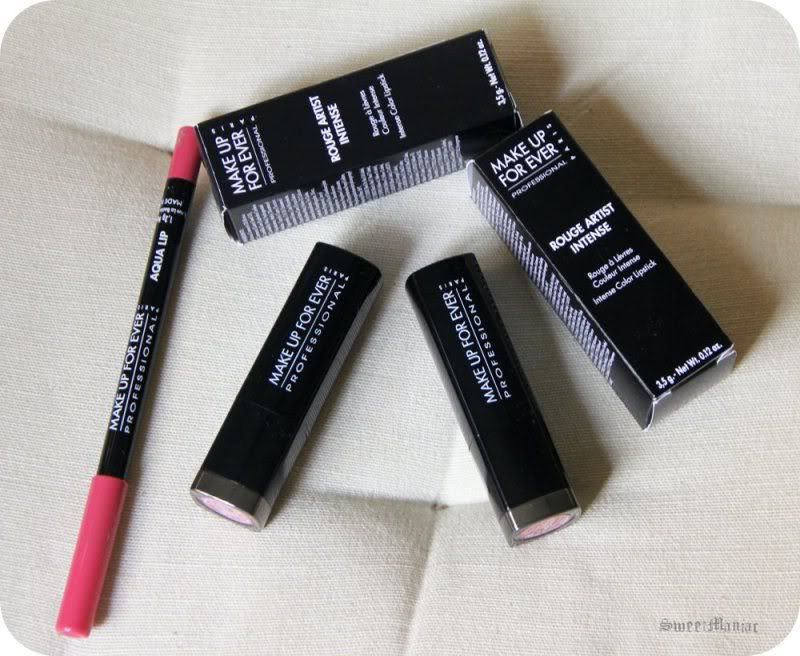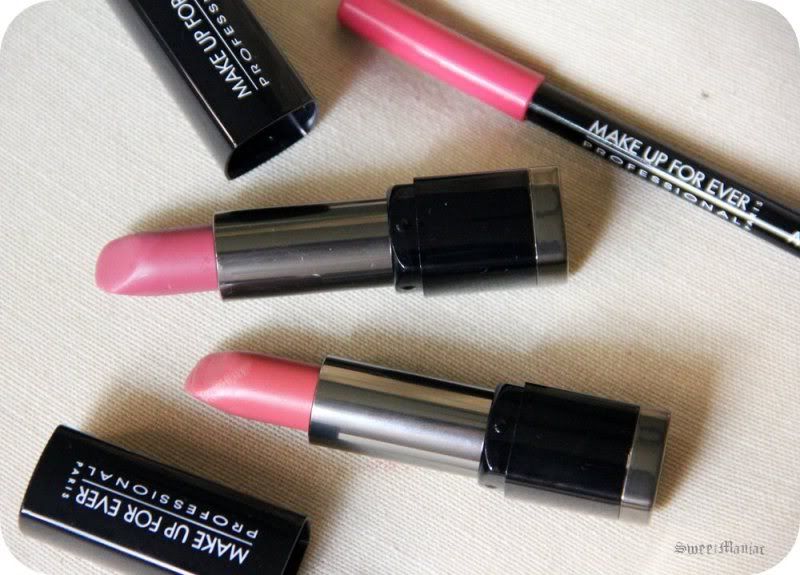 MUFE Intense Rouge Lipsticks in #30, #31 and MUFE Aqua Lip Waterproof Lipliner pencil in 15C
Aqua Lip Waterproof Lip Liners: The lip liner is so damn great, very long lasting coz its waterproof ! Available in many gorgeous shades, highly recommended if you are looking for an extremely long wearing lip liners. I picked one, in shades 15C ( pink shade). Ive been searching for a lip liner in a nice pink shade and I found this to be so great to be paired with pink lipsticks ! Would definitely purchase the Aqua lip liners in so many diff. shades in the future (wish that I have moreee money !! ) *sigh*. See more swatches below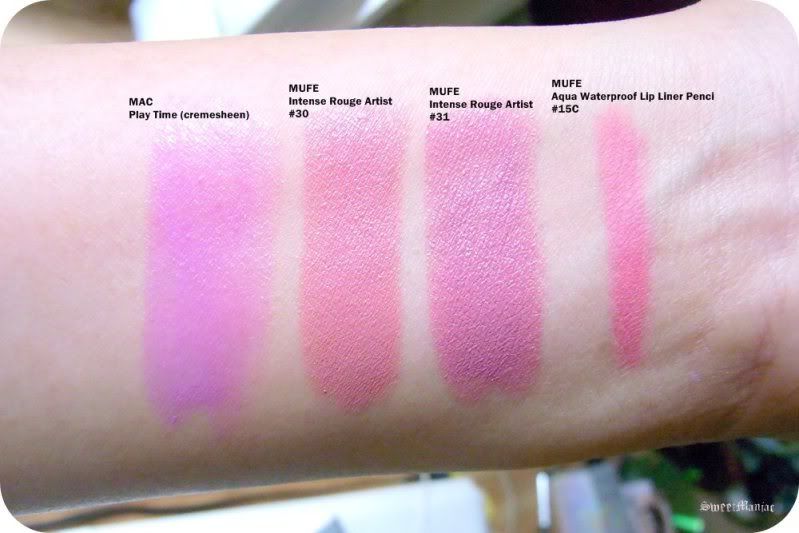 Make Up Forever can only be found at Sephora, Parkson One Utama and free standing store KLCC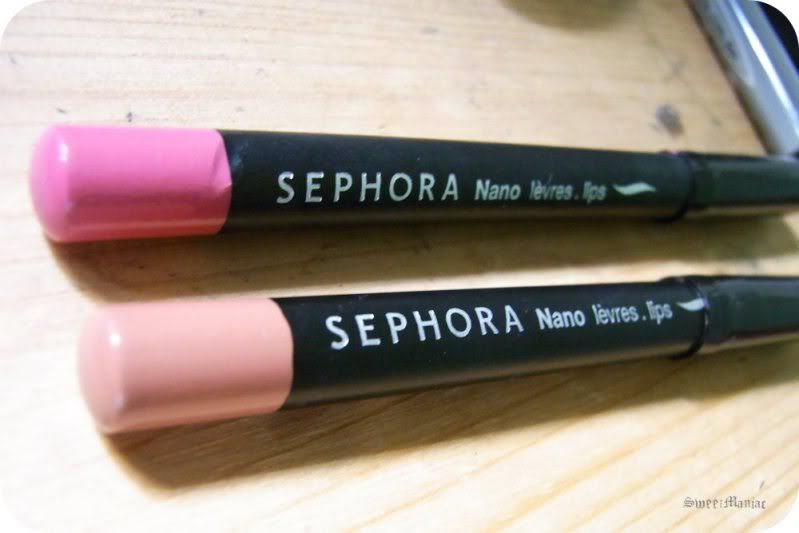 Sephora Nano Lip Liners (RM21/each):
I also picked up two Nano Sephora Lip liners at sephora in Funky Fuschia and Cute Caramel. The Nano Lip liner is quite short in size ( probably about 3/4 from normal size lip liners of MAC / makeup forever) very cheap compared to the high end brand but its very pigmented and got many colour selections. Funky Fuschia can be worn with pink tone lipsticks whereas Cute Caramel is nice to be applied with peachy tone lip colours. See the swatches below: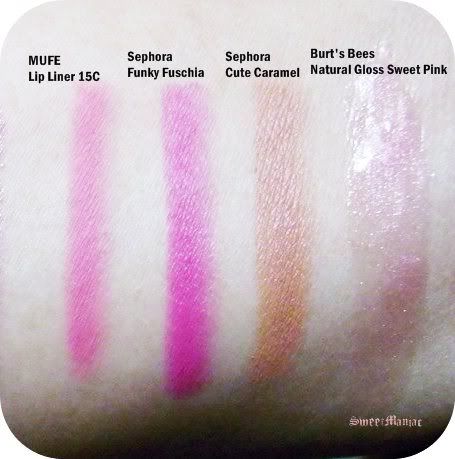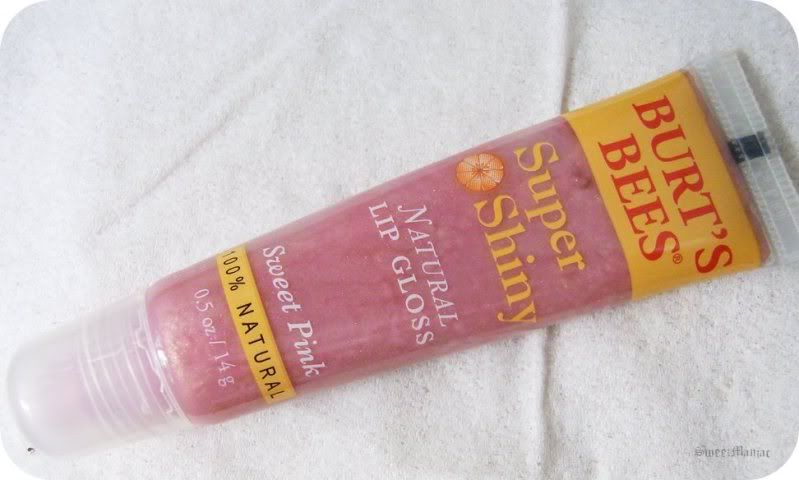 Burt's Bees super shiny Natural Lip Gloss in Sweet Pink (RM36)
: The swatches is as above picture. Love this gloss coz it moisturizes the lips, not too shiny looking like you just ate "goreng pisang" ;p Not feeling sticky like most gloss, can be applied on top of lipsticks as well.It smells lovely !! very sweet and yummy .. feels like sucking it from the tube *gulp* ;p
Burt's Bees carries a whole lot more range of beauty products from Lips, Face, Body, Hair and they are very2 good! My next aim from this brand is : Im gonna grab Burt's Bees Almond Milk Beeswax Hand Creme coz it smells like a baby ...*sniff* hmm yummy. Try it yourself if you dont believe me ;D
Burt's Bees products are available at Sephora and Sunway Pyramid
More reviews and swatches of my recent cosmetics haul to be continued .... Please come back again ;)


p/s: I feel so tired + sleepy.. need to rest *yawns*. Hopefully will regain the energy and in the mood again to update my blog !
-xoxo-