These are the wooden tray/ box that me and hubby been working for lately.. especially for my dear friend who has getting married last friday.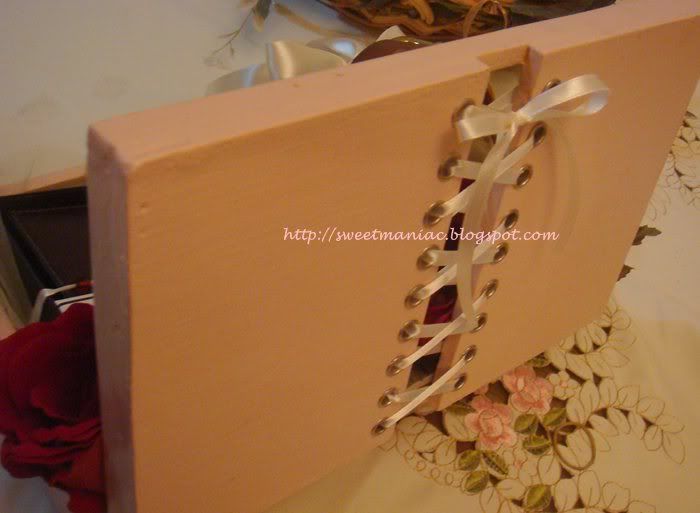 These were the wedding gifts from bride to groom. Actually, I was suppose to decorate these according to her colour theme which was (black, red and grey theme).. where I planned to paint the box, with grey colour and use a black ribbon instead of white....and decorate it with the same red roses + white hydrangaes (this time I just use artificials, I have to follow the customer's budget, my priority !) ... unfortunately, the greenish grey paint that I bought turned really minty green as I paint the wood ... and another bluish grey paint turned very light blue !!
So I decided to paint the box with pretty peachy pink colour so that it compliments the red roses :) Pink will always make something looks very sweet and romantic, isn't it ? I designed this box which is inspired by a corsets , and this thing can change the way it looks by just changing the colour of ribbons and flowers. I will make another set of this design which will be painted with white so that I can have multi ways to match with other diff. colours according to theme. Oh, one more thing is .. there will be 1 set of all pails/tubs of diff. size for rental soon.
To work on these woodcraft thing was kinda depressing job for me coz I dont like the sanding process ... yes, and it makes your palms, rough .. so, my advice: use a lot of hand lotion after finish your work ! hee hee
I decided to create my own trays and boxes coz I couldnt find the one that satisfy my needs .. There are only limited English designs trays in our market place and people use the same ideas for every wedding. So, think out of the box sometimes for some refreshing looks. I'm currently working on other design of "hantaran" ideas which are exclusively handmade and open for rental service.