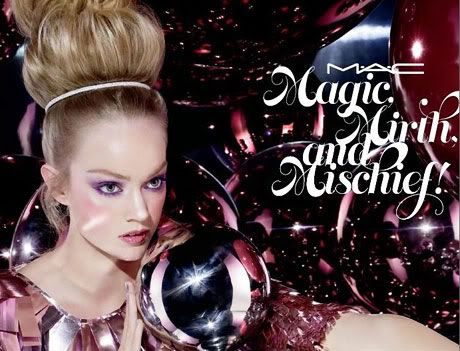 Sorry for this late reviews on the 3M, holiday collections from MAC. Im not gonna review in details .. mmm just to share with you guys what I got ! You know that its not an easy job to take pictures and it needs some editing thats for sure .. ( just resizing and cropping makes my life difficult sometimes :p) hehe the laziness really bothers me !
Since Im new to MAC and only follows the limited edition stuff early this year, so I cant make any comparisons between this year and the past. But, from reviews that I read from other blogs, they said that this year has improvement in terms of colours, products and the packagings are so adorable arent they ? What have I purchased from this collection ? lets check it out ... ! :)
The only reason that I took this one is .. because of the Dervish lipliner and of course the cutey lip bag in pink!!! I realized that the other lip set suits me more after I bought this .. hmmmm my mistakes !
I bought two out of 4 palettes coz I think these two have the most beautiful colours .. and I dont have this e/s colours yet ... the other two are just the ordinary one .. somehow wish to have them all if I have the budget :p If I were to choose between these two .. I might get the Sorceress palette ! Love it very much :)
Iris accents - Eye kohl pencil which cant be worn on your waterline coz it has some kind of sparkling particles ... afraid that your precious eyes might be infected ! So, it can only be used as eyeliner ... so frustrated ! hmmmm
I love to collect lipgloss .. so I took 2 of the cremesheen glasses since I already have the other one which is Ever so Rich ( lilac colour ).. bought it on ebay long time ago and I still have it ..
Im not a big fan of Dazzleglass! Am I weird ? coz I know many Mac lovers out there are soo into the dazzleglasses .. but I decided to buy this She zam coz its so kewl.. its a silver colour gloss with colourful glitters !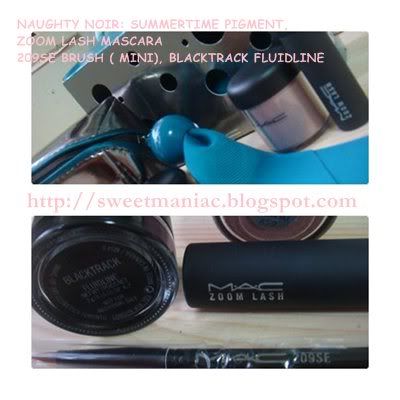 For RM150 , You get 1 blacktrack fluidline (~RM62), 1 pigment (forgot the price), 1 mini Zoomlash mascara, and a mini 209SE brush ~ Save a lot of money !
I already have some of the brushes in this brush set, but I think this one might be good for travelling .. though I know these brushes are not handmade like the permanent range..

Ok, Thats all about my Mac Holiday Haul .. I didnt get any of the Mineralize shadows since Im not a big fan of them .. though I admit they are all gorgeousss !!! esp the blue sorcery .. the one in teal colour. In my opinion, I think the MSF kit and Naughty Noir (eye set) are pretty worth buying ! So lucky not to get the Shimpagne MSF on ebay before !