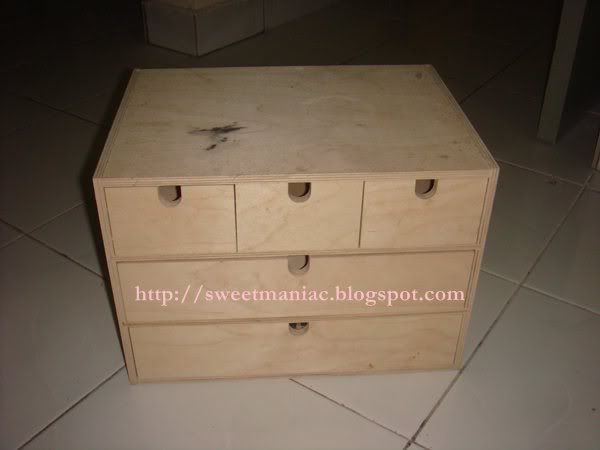 The original IKEA mini drawer
Today on Sunday, me and hubby decided to be at home to do some craft works. Usually we always go out for window shopping or else during weekends ! Somehow, we realize that there are so much things that we can do together at home instead of going out that we tend to spend money ! Luckily we share the same interest and hobby, yeaaaaay ! :) He is planning to build he's own working table and I decided to do a decoupage project ! Well, to be honest this is my first decoupage project, hehe and I dunno whether this will turn out beautifully as I imagined.. well lets see the outcomes later on .. I heard about decoupage long time ago while I was in secondary school. At that time, Debbie Travis The Painted House was one of my fav tv programmes on Astro. I think that programme is the best interior decorating show ever !!! I learnt lots of art makings from her TV show. Wish that Astro makes Debbie Travis The Painted House be showing again on Tv, coz we can be inspired by her works that we can do it ourselves .. does it makes sense ? well it does makes sense to me ...
I have this IKEA mini chest with 5 drawers which I bought a year ago for my makeup storage. Now, Its been left since I already have my dressing table and makeup box ! hehehe ... as the famous Malays saying " Habis madu, sepah dibuang" :p But Im sure Im gonna use this drawers after its been decorated beautifully .. hahaha. Maybe, for storing my threads and sewing tools :)
Before being painted
After applying first coat ... actually was eager to paint with Olivine colour or moss green, (which are my fav. colours, ermm but all colours are my fav. , seriously...) unfortunately they arent many colour choices available for cheap paints :p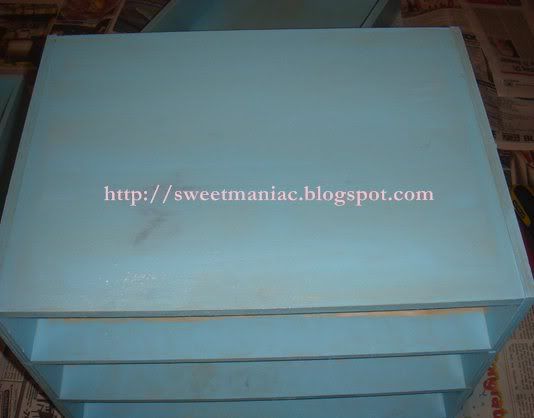 First coat .. soon to be layered with second coating after the first coat becomes dry to the touch... lots of procedure isnt it .. *sigh* passion is the neccesity in the arts making process :)
Here are some of the pictures before the decoupage thingy .. I will be updating the progress as soon as the next step is complete :) ~cheers !