Ahaha look at my shiny face ! Its the make up look for summer. Summer makeup is about dewy look with a bit of translucent powder. The key point is to look fresh and not too overdone.I did a makeup look yesterday using the new stuffs ! tired of very black eye liner ... ?? try it with other colours .Im sure it would be so much fun and not that boring common look!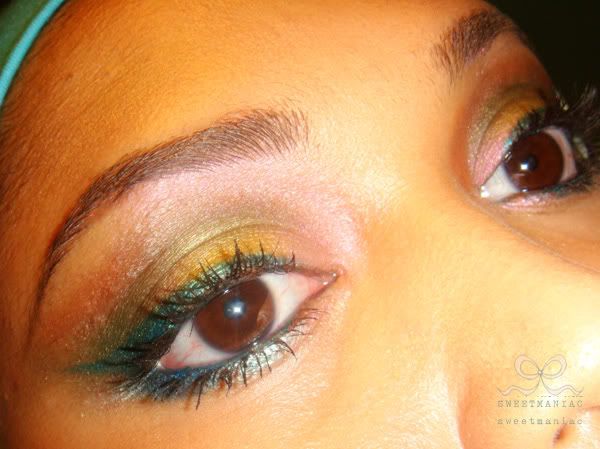 Eye Make Up: I used Sweet & Punchy on the lid, blend Humid at the outer V and crease towards the inner corner of the eyes. Blend Humid upward towards below the brow bone with Firecracker eyeshadows. Higlight the browbone with Nanogold (from Mac spring colour forecast col.) and on the inner corner to open up the eyes. I love nanogold coz its a frosty creamy colour that has pink and gold reflects. It appears as pretty pink sheen, very great for highlighters ! It gives a 3D effect. It would turn out differently if different colour of eyeshadows is mixed with it. As for eyeliners and waterline, I used the teal eye kohls from to the beach summer collections which is called Float On By. Blend a lil bit of shimmermose on the lower lashline.To complete the eye make up, I used the Loreal Ultra-Volume Collagene Mascara in Black. No False lashes. Put on the falsies for more dramatic effect.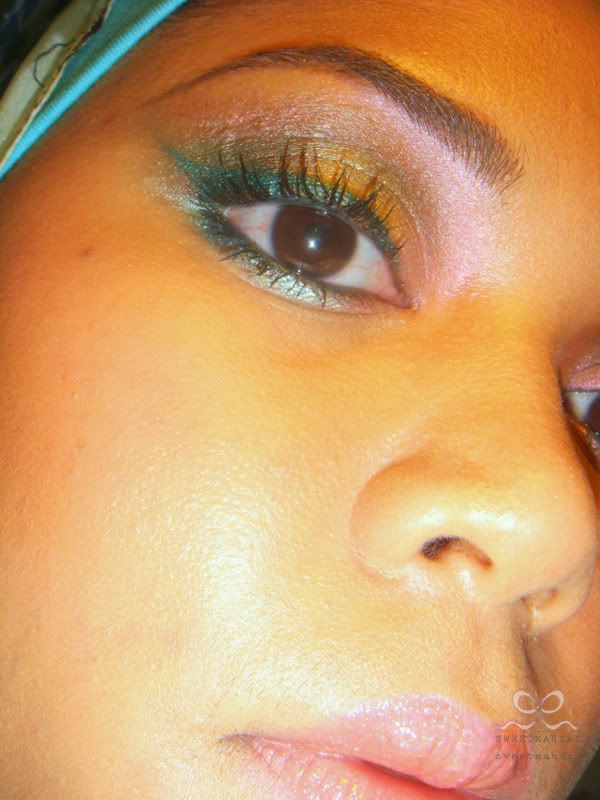 Its a very close up image. I set the camera to extreme close up.. u can even see my pores + not so great skin texture *blush* just ignore that :p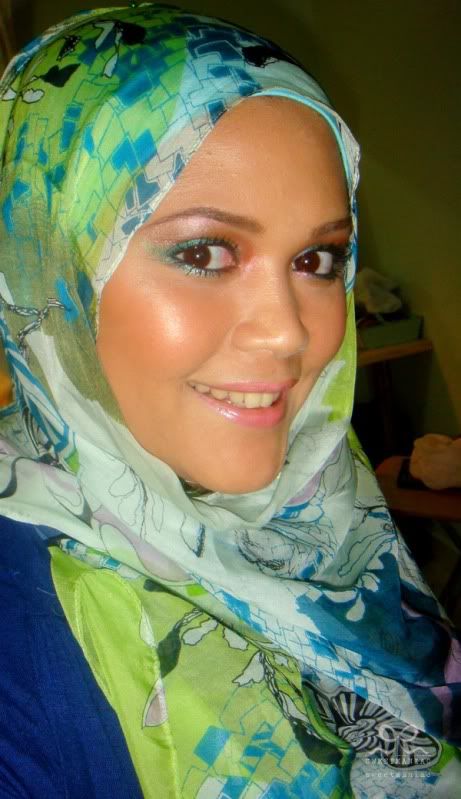 The complete look. For this kind of effect. I used strobe creame by MAC before applying the face primer. Set it for 15-20mins. Let the creame absorbed to the face. After applying face primer, I mixed 2 pumps of Mineralized Satin Finish Foundation with just a tiny drop of Lustre Drops ( Pink Rebel) on the back of hands first and swirl the brush onto the face until it covers the whole face. Conceal any blemishes or scars. Set up with loose powder. I used the Bobbi Brown loose powder in Soft Sand. I didnt powder up my face with any compact powder to avoid the matte look ! I contoured the cheek with refined golden bronzer, and just applied the Marine Life highlight powder on the apples of cheeks and blend it with the bronzer. I decided to add more shine on the cheek bone, so I put on a lil bit of By Candlelight MSFs on the bridge of nose and on the cheek bone.
On lips: I coloured my lips with the Life's A breeze lip liner, and applied the Flurry of Fun Lip glass onto it. so its kind a mixture of pink + orange = turned out very soft peach colour.
Give it a try ! :) Have a great day ahead. xoxo