Hi Lovelies, Happy Friday .. and yay ! T'row is weekend, so my hubby will b around ;)
Im sure most of you guys have already checked out the holiday collections by MAC. The packaging is to die for isn't it !! I just picked up a few though.. not really into the products but most of the things I got are the one I think is worth getting.The sets of course ! If you read my previous post, I did list up a few of my wishlist items from this collection. FYI, I skipped some of those which for me, is kind of forgettable :p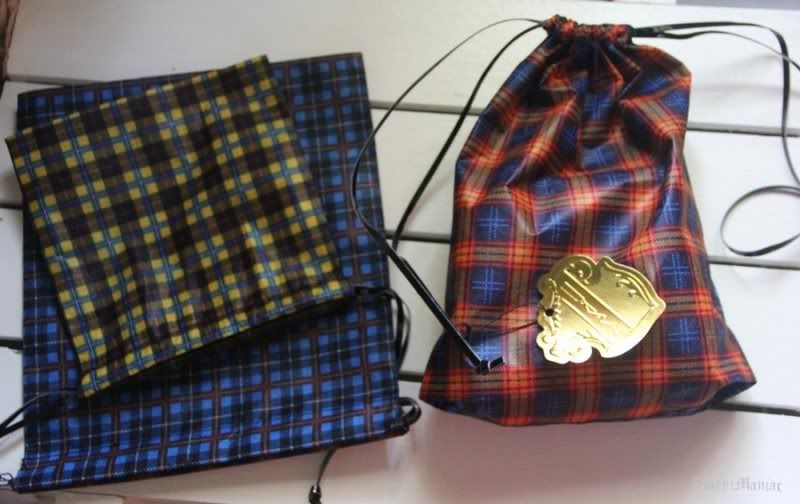 If you buy any items from this collections, you will get the goodie bag, a tartan design.. and I got two extras ;))
Im actually gonna use the smallest bag as my makeup pouch. Its small yet pretty that can fit into my handbag.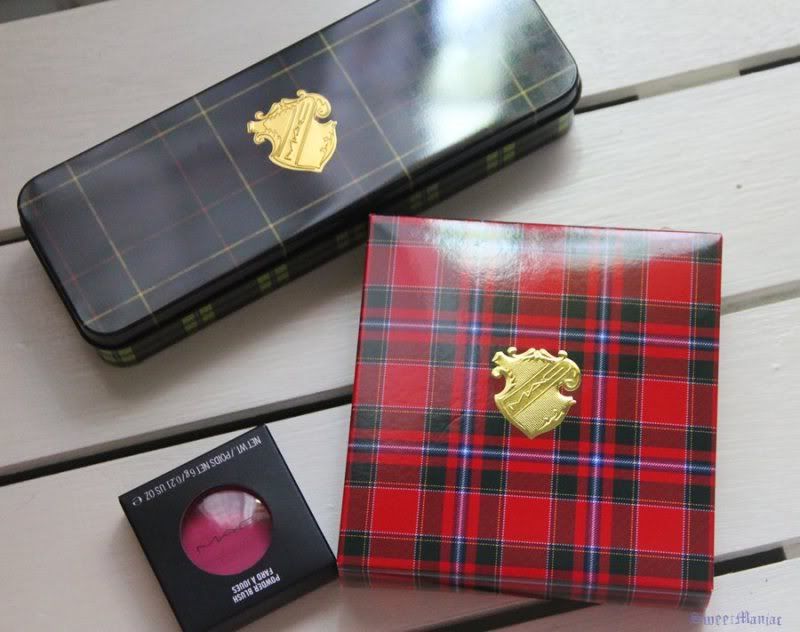 These are the only things that I purchased from a Tartan Tale Collections ;) I got three items,
the mineralized kit, lip set and a blusher.
The mineralized kit actually consists of 4 beautiful items, 1 mineralize eyeshadows, 1 paint pot, a lipglass and a mini zoom lash mascara, which compliments each other. I chose the pinkish set, its called My Scottish Fling. Its a limited edition set packaged in a reusable tartan tin of MAC Holiday.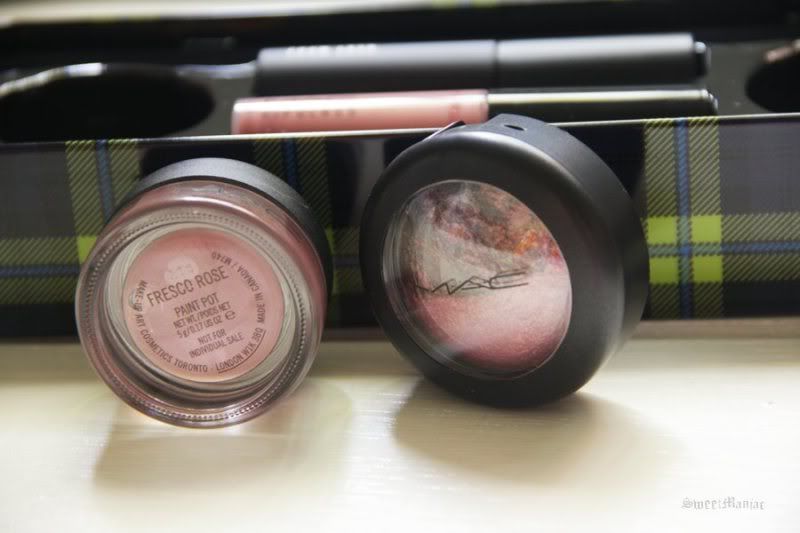 Fresco Rose Paint Pot is actually a discontinued item but MAC has reproduce and repromote it in this col, where its very2 great as a make up base for pinky eye shadows .. well especially for the mineralized eye shadows that came along in this kit.
Fresco Rose Paint Pot + Pink Split MES, Budding Romance Lipglass (Soft muted pink)
Fresco Rose paint pot is a beautiful rosey pink with matching pearl, while Pink Split MES is marbelized pink, pale blue and bronzey colour.I found this to be so sheer when applied,I dont like the messiness of the glitter chunks but I think this wouldnt be a problem when applied using a synthetic brush + sprayed with mixing medium. Its a great colour for a subtle everyday look if applied alone without the paint pot. It would be more pigmented on top of the fresco rose paint pot though.
Lipstick in Melow Mood is a pretty pretty colour. Its a lustre in sheer pink. This is the reason I bought this set besides the boring same thing Baby Sparks dazzleglass.. and the lip liner.. eww its pretty horrible on my lips ! The colour is like sooo bubblegum pink, which suits only the fair skin tone. .. but it turned out ok when I blend the lip liner+melow mood together and apply the dazzleglass on top. pheww !
This one is my fav. blush, Her Blooming Cheek. Its very bright kind of fuschia colour with a satin finish. Mac describes this as very bright iridescent blue pink. I believe this one is suitable from fair to darker skin tones. It might look scary in the pan but gorgeous on the cheeks. I always take a small amount of blush from the pan and tap it off on the palm or away first, use a fluffy brush for a sheer finish. Re-apply to build the colour as desired. This one is too pigmented, better be careful with this one or if you have made mistakes.. maybe the colour is applied too strong.. diffuse it back by using loose powder ;)
I guess that's all for now. Its movie time with hubby ;)

p/s: I got a veryyy nice palette, its from the holiday collection as well... but from a diff. popular brand. Now, its my current fav. eye shadow palette ! Ill do a review on that sooon ;) So, keep coming back, ya.