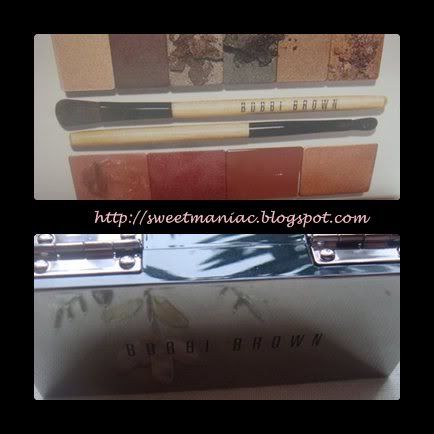 I always adore Bobbi Brown Palettes because she always include multiple combinations of eye shadows, lip colour / lip gloss, and sometimes with blusher and brushes in 1 palette. Usually the palettes are designed to be suitable for all skin colour, which are great ! I think the lip colours are not so intense though, when it comes in palettes form. I never like the pigmentation of the lip colours/glosses coz they are quite sheer and doesnt really show up on my lips but I can consider the pigmentation of eyeshadows in most of the palettes. I cant resist buying because of their smart packaging... very simple.. compact.. and its very suitable for travelling coz u dont have to load up your bag with lots of makeups! Sometimes, the lip colours also can be used as a blusher ....

I picked one of Bobbi's limited edition palette after a long time of not buying Bobbi Brown... which is the Earth Metal Palette. It consists of 6 natural shimmering eye shadows, and 4 lipcolours. What attracted me to buy this palette was because of the beautiful accented chrome packaging and there are various colours of eyeshadows which are earthy, metallic and some are golds ! I think the flip top mirror designed to keep this palette pretty compact is a genius idea !
Description:
For eyes:
Autumn Shimmer Wash Eye Shadow: A light golden green
Earth Metal Metallic Eye Shadow : A rich plum
Zinc Metallic Eye Shadow: A medium golden green
Black Spruce Metallic Eye Shadow: An evergreen
Sunset Gold Metallic Eye Shadow: A gold brown
Antique Gold Metallic Eye Shadow: A gold bronze
For Lips:
Paisley Rose Creamy Lip Colour ( A pink beige), Rose Garden Creamy Lip Colour ( A rose nude), Rose Bud Creamy Lip Colour ( A warm brown) , Barefoot Shimmer Creamy Lip Colour ( A golden pink)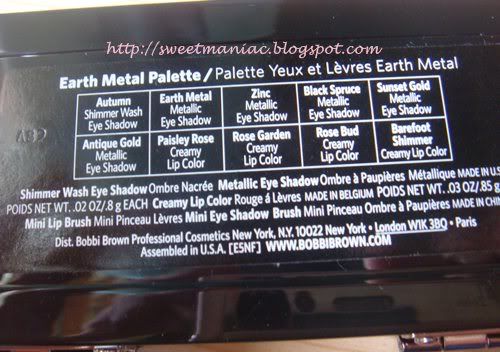 The description of products inside are very clear at the back of palette..compared to most of MAC palettes .. sometimes really confusing...
The palette shades ... this palette comes with two mini eye shadow and lip brushes

The swatches under flash light: I tried to give the best swatches as I can .. but I found that Autumn, Zinc and Sunset Gold are not really as pigmented as the other 3 e/s. The 3 lip colours look really similar to each other .. and rose bud has the most intense colour. The name of all colours are sweet, dont you think ?