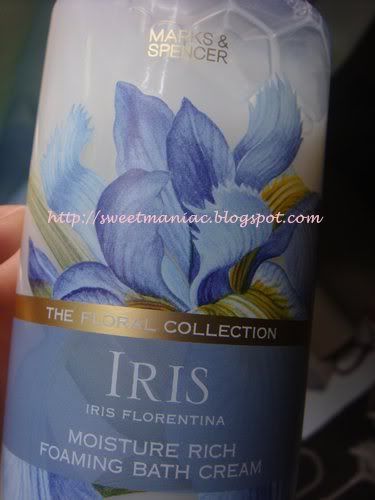 Other than the famous Per Una ,Marks and Spencer, floral collection has always been my all time fav. when it comes to bath products and deodorants ! MnS has came out with the latest floral scents, Iris. There are various types of products under Floral Collection series such as Talcum Powder, Shower Bath, Bath Cream, Deodorants, Hand Wash, etc. I've been using MnS deodorants for ages and I really lovee it and never ever switch to other deodorant of diff. brand ever since I started using it. The latest one which is Iris has very mild, pleasant smell . I dont consider it has sweet smell .. just average flower scents which does not give me a headache ! That is soo important when I choose something which has fragrance ! Im allergic to very sweet and strong smell .. yuckk ! hate it !!!
So far, I've tried a few different deodorant from MnS .. I've tried .. Aloe verra, Peach + Almond, Cocoa Butter + Vanilla, Rose, Lily Of the Valley (discontinued) and the latest one is Iris. I love them all esp. Lily of the Valley (my all time fav. ! ), Cocoa Butter + Vanilla and of course the latest one, Iris !! hehehe .. I think im gonna grab and stock Iris before it is discontinued like Lilly of the Valley !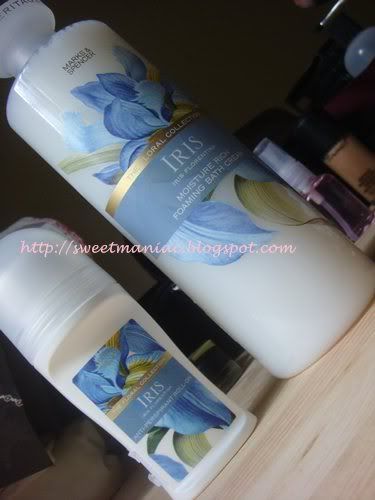 I normally purchase shower cream instead of shower gels, because shower cream formula gives more moisture to my dry skin. From other floral collection whether it is Rose, Magnolia, China Blue, Lavender and the discontinued one Lily of the Valley ( which I love very much !!!) , they provide both shower cream and shower gels... but Iris only comes in Bath Cream ! hmm really confusing me sometimes ... what are the difference between bath cream and shower cream ? From the usage directions @ the bottle for bath cream .. "POUR INTO RUNNING WATER AND IMMERSE YOURSELF INTO THE RELAXING FRAGRANT BUBBLES" .. and then again .. it says, " .......THIS MOISTURE RICH LATHERING BATH CREAM WILL GENTLY CLEANSE AND MOISTURISE WHILST YOU SOAK LEAVING YOUR SKIN SOFT AND DELICATELY FRAGRANCE" so from that I conclude that this one is purposely for bubble bath ... but because Im really into this smell .. I bought it and use it for shower :) hehehe .. just pour a little to your loofah and use it like the other shower gels .. hmm indulge yourself in this luxurious affordable shower bath at only RM 25 for 500ml ! In love with the packaging too !
Other shower bath range from MnS that I've tried and love them all are:
Re-purchase: Lilly of the Valley (discontinued), Peach, Water Lilly, Aloe Verra .. and Iris ( would re-purchase ! hope its not going to be discontinued)
I dont Re-purchase: Lavender, Rose