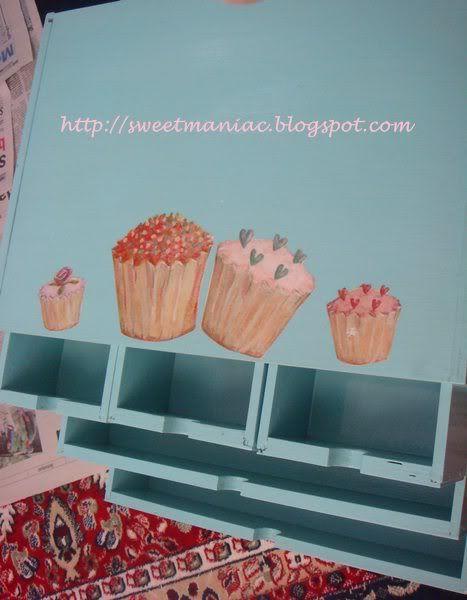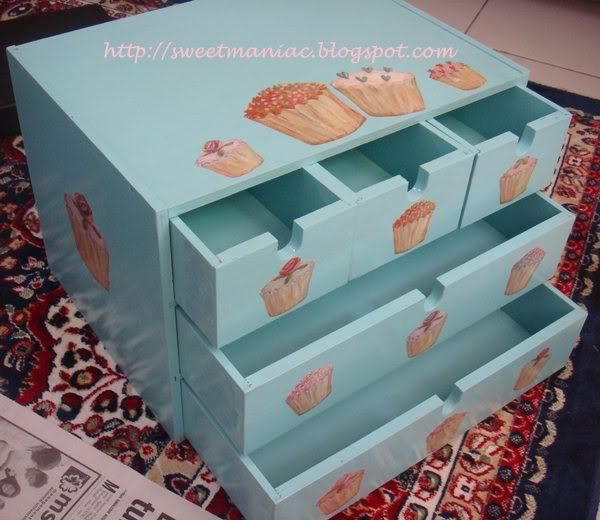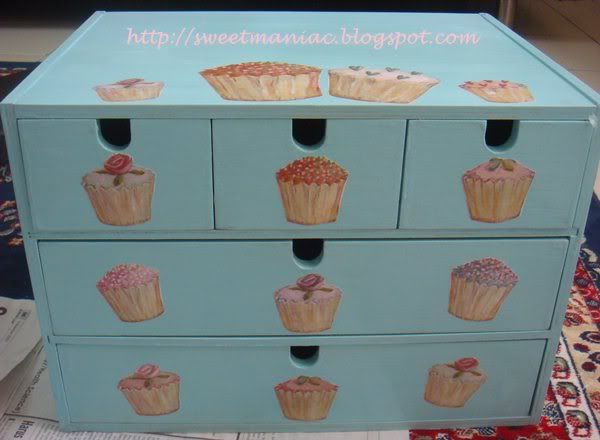 The cupcakes pattern really makes this mini drawer so cartoon ... dont you think ?
Here it comesss .. after almost 2 weeks of doing this .. here is a final product ! I can say Im so happy with this.. since its the first time of me doing decoupage ! I read several issues and problems regarding decoupage before, some says that Mod Podge is not good for decoupage because its a water base glue which cant be used on wood that has been painted with oil base paint ( coz water and oil don't mix) and the paper that we use might wrinkles during the drying process .. bla bla bla ... but I have no problems dealing with this .. and Im so grateful ! :) This will be the cutest ever mini drawer in my 'Boudoir' .. hehehe.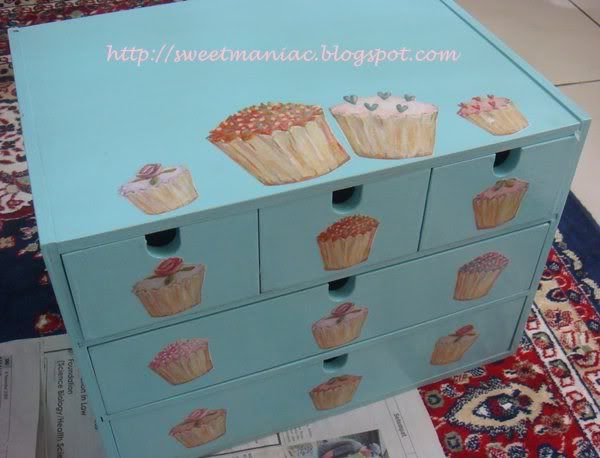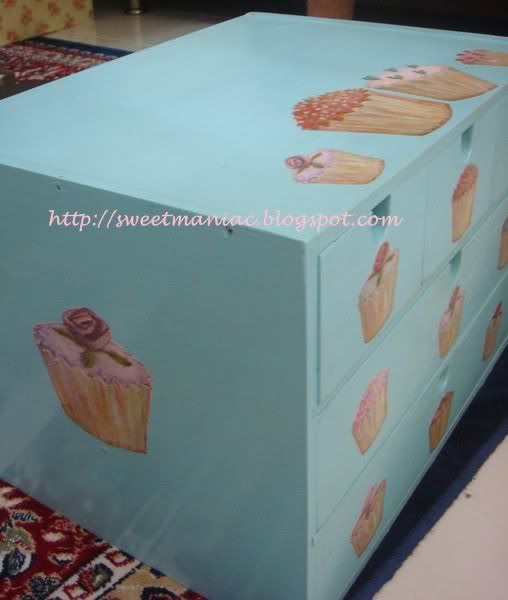 The side view .. has been decorated with two different cupcakes cutouts on each side
Stuffs for decoupage:
-Scissors and knife for cutting out the pattern
- Mod Podge Glue that costs me about RM45 ( I ordered it thru ebay early this year, but I've found out that ART FRIEND located at Gardens also carries many diff. kinds of Mod Podge Glue which is cheaper ). This Mod Podge act as a glue, sealer and varnish.
- Wrapping Paper ( Rm3.00 at D Nata KLCC ) .. the reason why I chose the cupcakes pattern coz its easy to cut out :p Eventhough at first I wished to turn this mini drawer into something English Country look .. I didnt find any easy to cut roses wrapping paper !!
-Paint .. small tin costs me about rm16
-Paint brush - Rm3
-Syntethic Brush for applying Mod Podge - Rm2
-Sand Paper #300, #800 - (Rm5 for 5 pieces)
Anecdote on the Process:
I have painted the drawer with 3 coats of wood paints which requires filing with sand papers between each coats ... the decoupage thing has to be varnished with at least 5 coats of Mod Podge where it must be dried up for about 15-20 minutes between each coats. The drying process makes decoupage takes longer time to finish ... its a Tiring job ! but I had so much fun doing this ... I might do tissue decoupage for the next project , well .. will see if there's anything interesting in my house that I can decorate with decoupage technique ... seems like I'm addicted to this :p
~THE END ~